Nastia Tarasova and Irina Shatalova, Russian documentary filmmakers, are living, what can be considered an independent filmmaker's dream. They are showing at festivals, traveling the world and making films on their own terms, through their own studio: Albatross. All this at a time when many filmmakers – documentary or not, independent or not – struggle to finance and distribute their work. Have Nastia and Ira, who have seven films out and another one in the works, discovered some sort of a secret? What does it take to follow your heart and avoid compromising your artistic principle, and even to help like-minded colleagues along the way?

Soon after their graduation from VGIK (Russian State Institute of Cinematography), where Nastia studied under the well-known filmmaker Igor Geleyn, and Irina's mentor was Vadim Yusov , they established their film studio, Albatross. Nastia and Irina have four films on The Garage. Their other work includes the documentaries "Faithful" and "Unemployed." You can find the trailers for those projects on Vimeo, where they also have a channel. Nastia has just finished editing their first full-length film, "Linar", made over the course of three years, financed by Nastia and Irina and filmed in Russia and Italy. Currently the filmmakers are looking for the potential buyers and distributors for this film. This summer they will be shooting an American-produced "documentary adventure", in US and Canada. You can read their blog (in Russian) here.
Anna Nieman: How did the two of you meet and decided to work together?

Irina Shatalova
Nastia: We met in VGIK. I studied to become a director and Irina was a year behind me, majoring in Cinematography. Here's what I think is important: if the educational establishment doesn't provide enough knowledge, one should, at least try to find the right people that you can collaborate with in your future profession. Cinema is, first and foremost, a collective creative effort. This should be understood and placed before any other idea. Our professors emphasized this point. You mull this over and begin to intuitively seek out such creative and spiritual connections. This is how our collaboration began - from a small spiritual attraction in VGIK. At this point, as co-authors, we have seven small and large works under our belt.

Nastia Tarasova
A.N.: What brought each of you to making documentary films?
Nastia: I worked as a TV journalist and it was bumming me out. I could not express a single idea that came to me while I worked there. I didn't have enough experience or talent then and, most important, no one in broadcasting cared enough. Soon I realized that I could work in a different field. As you have probably guessed, this field was film. I never really separated documentary cinema from any other kind. I just listened to advice from people that I had a lot of respect for; they suggested that I major in documentary film. Today I can't even imagine my professional future if I ended up in any other department.  I had a great mentor, I was lucky, I believe. I'm quite sure that everything turned out just right. I was intentionally shaping my destiny, but really I haven't given much thought to why I ended up a documentary filmmaker. I like it, so I don't analyze it too much.
Irina: I should thank Nastia for bringing me into documentary film. On the one hand, I am glad, because we continue to work together. On the other hand, it makes me pretty sad because it means that the system of teaching cinematography in VGIK does not extend any consideration to documentary film. In short, as a student of the leading film school in Russia, I had no idea of the magic and excitement that is documentary filmmaking. The people I worked with helped me discover that. It makes me incredibly happy, because thanks to them, I was able to formulate my own style of cinematography, though I still lack experience. I am 100% sure that if not for this experience with documentary cinema, I would not have achieved this. It doesn't mean that I am against other genres. I love watching films and making them, but I'm looking at them through the magical prism of reality.
A.N.: After the success of your student film "The Old Dacha" you decided to continue your work in documentary cinema. Looking back, how realistic were your expectations?
Nastia: Success? That's an exaggeration! Really there wasn't much of a success. It was great to receive the Grand Prix in Poland - it was our first award. We were pleased to participate in the program at Cannes. But even then we knew this would not affect our professional life much. I didn't think that a successful student film would bring a lot of proposals after graduation and that the studios would be fighting to work with us. Our wise teachers didn't feed us these kind of fairy tales. To the contrary, they were trying really hard to get us to understand that, "Nowadays, no one needs documentary filmmakers in this country, sweetie." In general, the chosen major will bring us nothing but grief, we were told. In this kind of mood we graduated our alma mater. That's why I can honestly say that we didn't hold any kind of illusions regarding our future.
There was only one illusion, one dream: If everything is that bad, then maybe I, we, my classmates will be able to change it. I have to admit that this one last dream is still alive in me.
A.N.: In what state have you found Russian documentary filmmaking after your graduation?
Nastia: When we finally left the walls of the film school, we saw that there was no financing; there was no distribution, which meant that there was no audience. Most people made no definition between the junk on TV and real documentary filmmaking. It seemed as if every fifth person in the country decided to make documentary films. If you have a camera and the editing software in your computer, you can make films and pitch them to the festivals. A multitude of smalltime so called "producers" started screaming left and right that you can make great documentary films for small change; meanwhile they were laundering money through Goskino (State Committee for Cinematography in Soviet Union and, later, Russian Federation. A.N.), which resulted in a product that was far from real cinema. Irina and I even came up with a name for films like that: "films with limited abilities", just to be polite and not to call them crippled.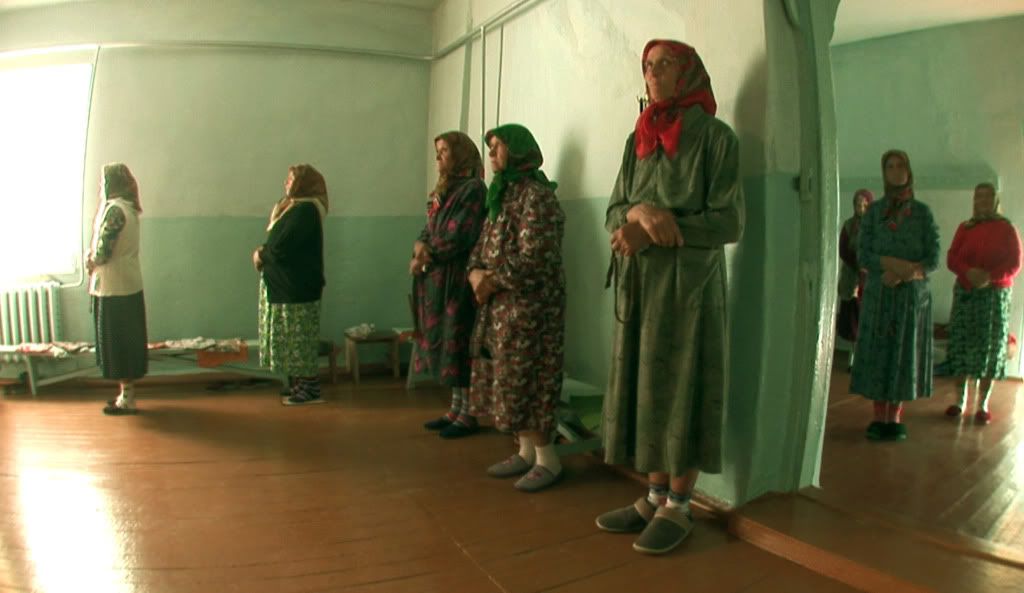 Just like any other evil tendencies it spread very quickly and blurred the lens through which just a short while ago something truly good could be seen.
The condition of Russian documentary cinema was showing its worst side to us. Little has changed since then. This more than anything else makes us stick to our principles and make the films that we want to make: ones that demand both mental and financial investments. All else be damned!
Irina: I would add to this that such situation calls for more than just cursing. We had to create unique, yet effective methods of finding financing and distribution. Of course, what I'm talking about is the professional assistance from abroad, where documentary cinema is treated much differently than in Russia. We try to take part in their experience, and this keeps our spirits up. Of course, there are plenty of problems and professional ignorance in Europe and the United States. However, the way we see it, there's more good than bad over there.
One more thing, as a cinematographer, I can say that there is no school of documentary filmmaking in Russian cinema right now. Those rare cases of skilled documentary cinematography are a cause for celebration. Sadly rarely does one see something that is common in Poland or Holland: a well thought out image being an important aspect of a film, where even if the film itself is not that good, there is well-styled photography. In Russia, young cinematographers are more interested in making stylish videos and expensive commercials. This kind of work guarantees success and recognition. Many of my colleagues actually consider me a loser. But that's before they see my films. He-he!
A.N.: In your films, you seem to be making a point of focusing on people and issues that are less than glamorous. Even in "No Borders," the hot subject of Chinese expansion is presented in a low-key, almost chamber style. How would you explain this?
Nastia: Let me give you an example, when I love someone, someone close to me, I love this person with all my heart, my soul and my mind. This person becomes my hero, the hero of my life. Same with my films. I look at life and see my heroes. It's important for me in choosing the subjects for my films to fall in love with them, to understand and accept them, as they are. I have to devote a lot of my attention to them.
It all really depends on the director. On the screen you can sense how the creators of the film feel towards their subjects. The film relies upon the atmosphere that existed on the set. If I were to make films about glamorous people, I would also make them with a feeling, but I suspect that feeling would have been a complete opposite of love. Could I make a film based on this feeling? Of course I could. But in my films I don't want to express my dislike for anything, and much less for anyone.
Regular people seem to me to be deeper and more complicated, than the ones in the public eye, eager to get on the screen. It's just that simple. Of course, it doesn't mean that I am against public or famous people being featured in documentary films. If a filmmaker discovers and shows something human in their subject, discovers a fresh point of view, unexpected sides in a person that became a cliché, it would be invaluable for film. But this person has to become the hero of your life. So far, I haven't come across anyone like that.
A.N.: How did the financing and distribution of your films worked before you have created Albatross in 2008?
Nastia: Actually, before Albatross there was no distribution of our films. Before Albatross, we had a chance to make three short films at the studio where the producer was my mentor Igor Geleyn. The films were financed by the state. In my opinion, we performed our professional duties with honor and pride, along the way satisfying our creative ambitions. Meanwhile, the state money could not be spent on distribution, promotion and advertising of any kind. It wasn't even in the budget. Once completed, the films were simply "put on the shelf". The term appeared in Soviet times when films were banned from distribution, "put on the shelf", for one reason; now films were "shelved again", but for reasons that were quite different. I can't blame the state for everything, but, by the same token, I can't put the blame on my poor professor, who in his entire life never had to deal with promotion and distribution of his own films.
Harshly speaking, this widespread passivity, when it comes to your own films, can be characterized as an awful irresponsibility. It's only by chance that films like "Light of the White Sea" and "Children of the Great Lake" happened to be submitted to some festivals. Not the studio, or the producer, nor we, the filmmakers, sent these films to festivals. We did not engage in their promotion, didn't lift a finger because of our inexperience and lack of foresight.  Besides, we were too busy for that. The only thing that, thank God, we thought of doing a couple of years ago, is to put these pictures and the student film on the Internet, and somehow they got to the viewer. Now they are on The Garage.
With our next film, "Faithful," we conducted an experiment. Along the way we have begun to develop our own studio, Albatross. Besides, we simply wanted to see what happens if we will make efforts to promote the film. It took time, sometimes too much time. After all, we devoted most of our time to making the film, but soon we saw results. We were able to participate in some fairly prestigious festivals, we found a TV buyer for this movie in Europe. Using the general excitement created by the promotion of this film, we seized the opportunity and had our older works viewed. Soon we were able to sell those as well. Now we understand that promoting your own films and getting results -- it's real. Besides, we understand that we're getting minimal results with minimum effort. Hey, not bad for an experiment though!
A.N.: How did you find the financing for your films before Albatross?
Nastia: As I said, before Albatross, our films were financed by the state. In Russia we had this entire system of submitting the pitches to the state. It was a total lottery - out of 3 or 4 proposals submitted to The Russian State Committee for Cinematography, one would pass. I don't really know who was making a decision, who disapproved or approved a proposal, who decided how to allocate the money, how the system works in general. If I start playing this guessing game, I am afraid I'll confuse the hell out of everyone here.
At the moment of Albatross' creation, we had already participated in the Polish project "Russia-Poland: New Gaze." We managed to find co-producers for our next project, "The Unemployed." In fact, it was our first independent film – no government financing. It was a great experience. I hope we'll have more. We worked with the wonderful Polish producer Krzysztof Kopchinski who was invested in making a quality film. We pitched this project a lot, and it finally happened. Of course, the producer played a huge part. This made Irina and me happy, because we could just concentrate on our work.
Now we are preparing our first full-length documentary. We've been shooting for three years with our own money. There is no more state financing in Russia. In the beginning, as the producers, we lacked the experience in securing financing. We had to choose between looking for the money and making the film, because the events important to the story were already happening. So now we have a situation where we, as the producers, meaning our studio, have the rough cut of this film, and at this stage, we know exactly the ways to raise money. This is what we are doing now, and we are confident that we will get the money to finish this film and set it out to sail.
A.N.: At what point did you decided to form Albatross?
Nastia: We made this decision at the point of utter desperation. A crazy idea like that can only occur at the point of absolute desperation. I mean, not only to create and register some business, but to make the studio really come to life in its own unique way. Albatross is a far-flying bird, but right now it just paces the ground, attempting to take off.
Irina: I would add that we got tired of careless attitude toward our films and film in general. I have a great respect for the producers with whom we have worked prior to Albatross, but that model was outdated. You can't work on something, waste your life and strength, and then even your friends and relatives don't know where to see the results of your work. It's all very trivial. When we founded the studio, for example, we have not excluded any possibility of organizing public screenings of various films under the umbrella of Albatross. For example, we were able to show a couple of really good documentaries of our friends in Saratov at a decent movie theater in the city, where we found understanding and friendly support. This is not the beginning even, we are just testing our wings. When we will be firmly standing on our own two feet, we'll be sure to release a few documentary masterpieces in Russian theater distribution and on DVD, and then we'll see what will come out of it.
A.N.:  "Unemployed" was made in collaboration with Polish filmmakers.  Who else have you worked with, or are you planning to work with?
Nastia: We are yet to establish the kind of strong professional ties that we have enjoyed with our Polish colleagues on the international level. Recently we established a relationship with the Dutch.  At this point it's more of lending each other a hand, rather than serious partnership. Also, since last fall, we are developing a project with the Americans, who invited us to participate in a very interesting documentary in the U.S. and Canada.
A.N.: What resources do you use to finance and promote your films?
Irina: Honestly, while I had a break in shooting, I've enjoyed learning a new profession. Basically, I was the acting producer, or, actually, the executive producer of the film.
First, I created a site for our new film that contains all the necessary information. It's the first time we've done something like that. Not to say that in Russia no one creates special sites for a documentary. We decided that it was imperative. In working with American filmmakers we've learned that nowadays a site goes up almost before the crew is assembled. It makes perfect sense.
Secondly, I have collected contacts in local distribution companies all over the world. My main concern now is signing up with those who are involved in the worldwide distribution. In principle, if the picture is noteworthy, then all the filmmakers have to decide It has to be the right decision with whom to entrust its worldwide distribution. If everything works out, the responsibility for the promotion, festival submission and distribution of our films will shift to a long established professional company. Our studio will remain the producer. It would be ideal at this point.
Irina: There are different resources, unfortunately, once again, elsewhere, not in Russia. Our country lacks the resources for financing and promotion of documentary films. We are active users, for example, of the famous site for European Documentary Network. It's a paid, but a very useful, resource. You can find information on festivals, international broadcasters, various other companies involved with documentary film, news, pitches and forums, and so on. It also has a great community of documentary filmmakers.
In addition, we are pleased to have participated in several international markets held by all major documentary film festivals. There are "Docs for Sale" at IDFA, and "DOC OUTLOOK Market" Festival "Visions du RÈel", and "East Silver", which is the first documentary market dealing exclusively with topics in Central and Eastern Europe, and a market within Festivals "Leipzig DOK", "Hot docs" and so on. All these efforts are bearing fruit. Many buyers and distributors see films through these electronic markets. Thanks to this we have connected with people with a variety of proposals, sometimes not very interesting, but often totally unexpected and exciting.
A.N.: Has your gender had an effect on your experience in the film business?
Nastia: I can't say it has; there are a lot of women involved in film in general and in documentary film in particular. Professionally this is not even a part of the discussion. Actually, when it comes to working with our subjects the fact that we are women seems to help.
Irina: I won't deny that many people still hold on to the stereotype that a woman can't be a cinematographer. To me, of course, it's an archaic prejudice, along the lines of the notion that women can't drive a car or deal with appliances. It entertains me, actually, sometimes when various burly dudes are shocked to see me with a camera and tripod!
A.N.: Can you share some hard-earned wisdom with your colleagues here?

Irina Shatalova and Nastia Tarasova
Nastia and Irina: We can wisely say that we haven't learned that kind of wisdom. Not just yet!
This interview was done in part over Skype and partly through e-mail in April of 2010.