Agnès Varda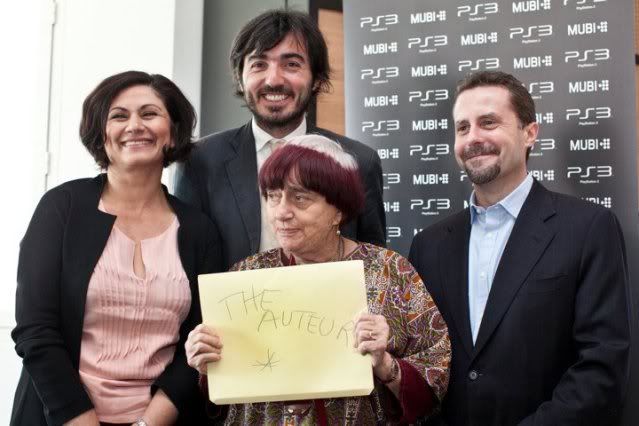 Ranked.
Tier One: Favorites
1. Cleo de 5 a 7 / Cleo From 5 to 7
2. Les demoiselles de Rochefort/The Young Girls of Rochefort
3. Les glaneurs et la glaneuse/The Gleaners and I
4. Les créatures
5. Salut les cubains
6. Jane B. by Agnès V.
Tier Two: Decent Films
7. Les plages d'Agnès/The Beaches of Agnes
8. La Pointe-Courte
9. Le Bonheur/Happiness
10. Les fiancés du pont Mac Donald ou (Méfiez-vous des lunettes noires)
11. Black Panthers/Huey
12. Les glaneurs et la glaneuse… deux ans après/The Gleaners and I: Two Years Later
13. Jacquot de Nantes
14. Sans toit ni loi/Vagabond
15. Oncle Yanco/Uncle Yanco
16. Mur Murs
17. L'opéra-mouffe/Diary of a Pregnant Woman
18. Plaisir d'amour en Iran (1976)
19. 101 Nights/Les cent et une nuits de Simon Cinéma
20. L'une chante, l'autre pas/One Sings, The Other Doesn't
21. Lions Love
22. Les dites cariatides
23. Daguerréotypes
24. Le lion volatil/The Vanishing Lion (2003)
25. Le Petit Amor/Kung-fu master!
26. Documenteur
To add:
Gwen From Brittany (Theater) NOT AT IMDB From the Cinematheque program: "a short portrait of the encounters over the last decade of Agnès Varda and Gwen Deglise, programmer at the American Cinematheque, shot at the Aero and Egyptian Theatres while Varda was in Los Angeles shooting THE BEACHES OF AGNÈS."
Note: If you're interested, here is a list of more films directed by women.
Visit my site: Cinema Becomes Her

01

Agnès Varda

02

Jacques Demy

03

Agnès Varda

04

Agnès Varda

05

Agnès Varda

06

Agnès Varda

07

Agnès Varda

08

Agnès Varda

09

Agnès Varda

10

Agnès Varda

11

Agnès Varda

12

Agnès Varda

13

Agnès Varda

14

Agnès Varda

15

Agnès Varda

16

Agnès Varda

17

Agnès Varda

18

Agnès Varda

19

Agnès Varda

20

Agnès Varda

21

Agnès Varda

22

Agnès Varda

23

Agnès Varda

24

Agnès Varda