CENTRAL ASIAN CINEMA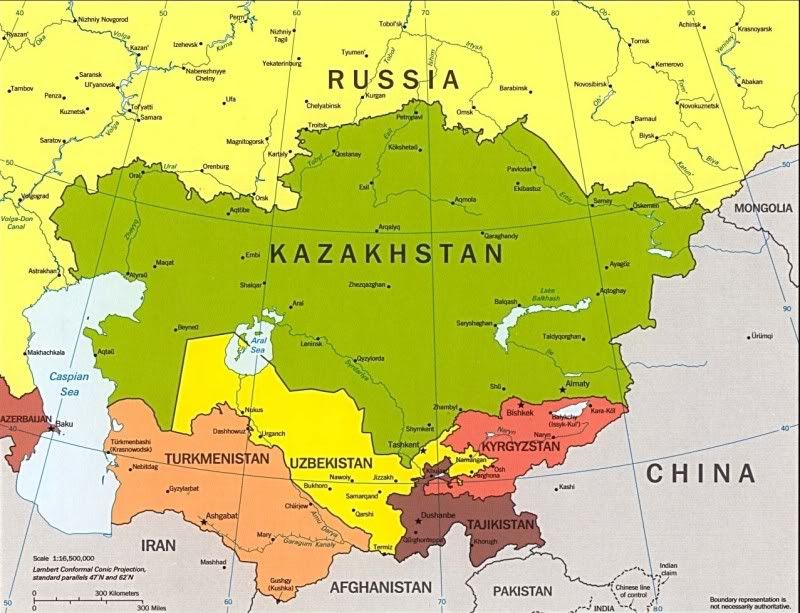 — "In the early Nineties a hitherto blind spot on the world cinema map seemingly all of a sudden became one of its most colorful regions: Central Asia, a former outpost of the Russian Empire, in both its monarchical and Soviet incarnations. The region's several distinct film cultures, particularly Kazakhstan, seemed to have struck a chord with audiences on the international film festival circuit. Full of mythical places whose mere names conjured lavish and ancient images of a bustling multicultural world of plenty – Tashkent, Buchara, Samarkand, and the all-encompassing Silk Road, symbol of East-West exchange and the possibilities of fruitful cultural coexistence – perhaps this new territory appealed to Western viewers' inner Lawrence. And it fitted in with the Nineties fascination with Asian cinema – even if, as with Iran, Western viewers didn't see it in those terms. Moreover, Central Asia seemed so remote and otherworldly and so seemingly lacking in noteworthy political currency that its different cinemas could be enjoyed free from any historical burden. You could watch the films as films – what a relief after the propaganda-laden days of Soviet cinema! Perhaps this tabula rasa impulse explains why so many of the films that have been justly celebrated, like Darezhan Omirbaev's Kardiogram ('95) or Serik Aprymov's The Last Stop ('89), are modest, (neo)realist works that play in a somewhat abstract semi-imaginary realm that recalls ascetic realists like Ozu, Bresson, et al., while some of the region's finest masterpieces, like Ardak Amirkulov's The Fall of Otrar ('91), a historical epic steeped in Kazakh history, have never received the international recognition they deserve. That said, Central Asia's contemporary auteurs rarely touch upon political subjects.
Central Asia consists of five independent states: Kazakhstan, Kyrgyzstan, Tajikistan, Turkmenistan, and Uzbekistan. During the Soviet era the region was also known as Middle Asia, excluding Kazakhstan, which, due to the resettlement of millions of Russians and Germans was at once the region's largest republic and the one in which the nominal nationality was actually a minority. A third, less political, more cultural definition of Central Asia would also include Afghanistan and China's western-most province, Xinjiang, where many Kazakhs live.
Although the region's population is of a mixed cultural heritage, its main religion remains Islam – all the more so since independence, especially in Tajikistan, where the Party of Islamic Rebirth was at the forefront of the Civil War of 1991-97, and in Turkmenistan, probably the least secular of the five states, which has a president for life and no political opposition. Kazakhstan remains the only Central Asian state with a parity between Muslims and Christians, although the latter's numbers – here as in the other states – are declining due to (re)emigration; in some parts of rural Kyrgyzstan there's also a strain of Islamic belief that's strongly influenced by much older, shamanistic religious practices which continue to have a certain presence in Kazakhstan's religious life.
Except for the Indo-Iranian Tajik, all of the region's nominal languages are of Turkish origin – although the region's lingua franca remains Russian; all of these languages are written in Cyrillic script, although Kyrgyzstan, Turkmenistan, and Uzbekistan have long been planning to change over to the Latin alphabet.
At first glance the question of the region's languages and spelling systems might seem marginal, at least compared to its religions. But in fact it strongly reflects the political changes these countries went through during the era of Soviet domination. Although the Central Asian states, as parts of the former Czarist Russian empire, were already part of the USSR's first incarnation in 1922, only Uzbekistan and Turkmenistan were granted status as Soviet Republics; due to the regional instability resulting from the struggles of various Islamic independence movements, the other three had to wait until 1936. The early Bolshevik era was generally characterized by a certain liberalism towards the non-Russian parts of the union: cultural independence was supported, particularly with regard to language: the Central Asian republics were permitted to use their native tongues as their respective official language alongside a general change from Arabic to Latin script in an attempt to distance them – and in due time the region's cultures – from their Islamic roots. With the advent of Stalinism all this changed: Russian became the official language and Cyrillic script was imposed. The Sixties Soviet Thaw produced only a partial reversal: while the status of the languages and their spelling was unchanged, a certain renewal of cultural autonomy was awkwardly promoted – local color was appreciated, although any stirrings of nationalistic feeling were always duly suppressed.
The rise of Central Asian cinema began during this period. At any given point in its prior history, different republics or states have predominated. Not surprisingly, given that it was the region's most densely populated republic, Uzbekistan was the first Central Asian Soviet republic with its own film studio – Buchkino, a subsidary of Leningrad's Sewsapkino studio, was founded in Buchara in 1924; the following year Uzbekistan's "Star of the Orient" film factory opened in Tashkent. Ashehabad, the capital of Turkmenistan, got its own studio in 1926 – the Ashchabad Kinofabrika. In 1929 Kazakhstan got a documentary film unit which was a subsidary of Vostokkino, in 1929 and its studio, in Alma-Ata (today Almaty) in 1934. Tajikkino (later Tajikfilm), Tajikistan's documentary and newsreel-studio, was founded in 1930. And finally Kyrgyzstan got its first film studio (documentaries and news reels, of course) in 1942.
The first Uzbeki features were shot in 1924, among them Pachta-Aral by Nikolai Shtsherbakov and Minaret of Death by Vyatsheslav Viskovsky – exotica for Westerners with strong educational messages aimed at the indiginous audience (resist local insurrectionists, support emancipation, etc.). Turkmenistan's first feature was White Gold (29), a semi-documentary agit-prop tract on collectivisation by hack director A. Vladycuk – but it was too much of a documentary for some, who consider Dmitry Posnansky's Never to Forget (31) to be Turkmenistan's first true feature. The first Tajik feature, Lydia Petshorina's When Emirs Die, which also focused on Kolkhoz-building and collectivization, appeared in 1932. It took seven years for Kazakhstan to finally produce a feature, Moishe Lewin's Amangeldy (31) – although Mikhail Karostin's Dzut (31) should rightfully be considered the first Kazakh film but is usually dismissed because it was produced by the non-local, Central Asian production unit Vostokkino, as part of an initiative from the Western to jumpstart production (disputed patrimony arises with many early Central Asian films). In the rear as usual, Kyrgyzstan was granted its first feature in 1955: Vasilli Pronin's Saltanat – in essence a Mosfilm production with a local subject. The first homegrown Khyrgistanian film, My Mistake, was shot by Ivan Kobyzev in 1957.
Central Asia's film pioneers generally came from the Western republics – Russia, the Ukraine, Belorussia – and were drawn from the second and third ranks of film production: cinematic conservatives like Viskovsky or the simply less talented like Shtsherbakov, Lewin, or Pronin. One initial underlying reason why casts and crews were imported was the locals' reluctance to work with film due to Islamic strictures regarding the practice of image making. It was only in the Thirties that the first local talents finally began to emerge – although that did little to alter the character of the film output.
During WWII the Central Asian film studios became the center of Soviet film production: the studios of Moscow, Leningrad, and Kiev were evacuated and transplanted to the safety of the Union's outer reaches – hence, for example, Eisenstein's Ivan the Terrible was shot in Alma-Ata. After the war the western Russian studios left much of their equipment behind in their temporary homes, further-boosting Central Asian filmmaking in terms of facilities. However, in terms of subject matter it remained dependent on the whims of a distant Moscow. The contradictions of this period are probably best exemplified by Uzbeki pioneer Nabi Ganiyev's Tachir and Suchra (45), a fascinating amalgam of high production values, less than brilliant direction, and a strangely obsessive, Romeo and Juliet-ish narrative set against the backdrop of the Mongolian invasion of the 13th century. While the film obviously works as a parable about Germany's invasion of the Soviet Motherland, it takes great pains to achieve a sense of cultural autonomy which conflicts with both Ganiyev's sense of loyalty to the Party and its doctrines on the one hand, and his apparent feeling of cultural inferiority on the other.
Central Asian cinema truly came into its own in the Sixties. The Soviet Thaw cleared away the last remnants of Stalinism and in the arts this meant an end to the official monumental style which resembled a Madame Toussaud's exhibit, only less animated. A more realistic, more personal kind of cinema was encouraged – within the limits of the Party's interests, of course. (Which isn't to say that the Stalinist era didn't produce any interesting or even highly personal cinema, as certain film histories suggest, just that it wasn't officially sanctioned). A great deal of money was invested in the film industry and production grew. The continued development of regional film studios, not only in Central Asia but also in Georgia, the Ukraine, and Armenia was also to the benefit of the lesser republics. Again, this development was accompanied by the advent of Western-USSR filmmakers in Central Asia – young turks this time, like Vladimir Motyl in Tajikistan or Larissa Shepitko and Andrei Konchalovsky in Kyrgyzstan; the latter two filmmakers were the first to adapt the works of Tshingiz Aitmatov – Shepitko's Heat (63) and Konchalovsky's The First Teacher (65), both masterpieces – and basically paved the way for the Kyrgyzstan cinema to come by turning the very poor local production facilities and the republic's strong documentary tradition to aesthetic advantage. This move to the outer edge of the Soviet empire also enabled Shepitko and Konchalovsky to use their respective films to consider the moral limits of the Soviet utopian ideal of progress: here the locals look less backwards than the outsiders, just too far out.
The two probably most important Central Asian filmmakers to emerge during this era were Uzbekistan's Ali Khamraev and Kyrgyzstan's late Tolomush Okeev. Khamraev was a Ghengis Khan-ian giant of genre filmmaking who walked the tightrope of serving the Soviet cause and its dictates while experimenting with a unique, stylized approach to filmmaking. Okeev, by contrast, was a somewhat reclusive master of a discreet pantheistic cinema. Both of them encapsulate the essence of their respective cinematic cultures.
Khamraev's action films, musicals, historical epics, and documentaries (not exactly his forte) depended on the mood of the day. To give just one example: when the "Sov-Eastern" (a kind of revolutionary version of the Western genre, often shot in the Central Asian wilds) became the thing to do after the runaway success of Motyl's White Sun of the Desert (69) and Chaken Aitmanov's Death of the Ataman (70), Khamraev made his classics The Extraordinary Komissar (71) and The Seventh Bullet (72) in the same vein. Khamraev has a great sense of genre, for working with the sheer essence of story, an approach that favours movement instead of reflection. That said, in the contradictory universe that is Khamraev's oeuvre, it comes as no surprise that his first major work, White White Stork (66), is a quiet drama about an extramarital affair in a small town, a subject rarely dealt with directly in Soviet Cinema. And if there is a subject to which he returns to again and again, it's the oppression of women – although, judging by his most recent and absolutely dismissable effort, Bo-Ba-Bu (99) and his treatment of his lead actress, one must doubt his sincerity a little (or is it just that he's incapable of delivering Western-style sex and crime?). His strength is a tangible, restless sensibility with a taste for bold directorial strokes and, later, dense, expressive color. Man Follows the Birds (75), a kind of Uzbekian A Walk with Love and Death, follows an innocent young poet on a quest for beauty in a war ravaged medieval Central Asia – now that's Khamraev's kind of story: the ambiguities of reality threatening a morally stable universe.
If Khamraev is a born storyteller, Tolomush Okeev is a born poet, an auteur of the smallest nuances, of the beauty of details. But to consider Okeev it's important to note that in terms of development Kyrgyzstan is Central Asian cinema's odd man out because it's defined by the work of a single man, writer Tshingiz Aitmatov. His novels and screenplays aren't just the basis for much of the country's film classics but also served as aesthetic examples – even if Aitmatov wasn't directly involved in a film's production, he still exerted a strong and unmistakable artistic influence. Okeev is a prime example of this: Although Aitmatov worked on only a few of his films, his sense of lyricism is omnipresent. Okeev tells his stories mainly through their landscapes, within which people constituted one element subsumed into the whole – a point of view that became even more clear in his later, eco-politics-infused works like The Snow Leopard's Decendant (84). His storylines are usually minimal, with few plot twists – instead he patiently studies the rituals of daily life at decisive moments during seemingly eternal cycles like hunting or harvesting, telling stories that feel like passages even when their nominal dramatic arcs are completed. Okeev is concerned with necessities rather than developments, and the essence of a landscape is reflected in its beauty, its innermost expression of harmony.
The rise of Kazakh filmmaking in the late Eighties proved to be the last major change in Central Asian cinema and the last of Moscow's efforts to encourage filmmaking there – one of the few Five Year Plans that paid off, in fact better than anybody expected. In 1984 the VGIK put together a class of Kazakh film students for a course led by youth film auteur Sergey Solovyov and the theater director Anatoly Wassilyev with the aim of invigorating Kazakh film culture, which was in a dire state. Solovyov and Wassilyev taught their students to work with very little and to trust into improvisation. "Solovyov's Gang," as the class became known, made its debut in 1986: Ya-ha-ha, a now-legendary medium length film directed by Rashid Nugmanov, featuring rock 'n' roll icon Victor Tsoi of the band Kino. Ya-ha-ha was everything Soviet cinema wasn't: visually stark, fast-moving, more or less completely improvised, and unabashedly pissed off-punk had come to the USSR. The following year inspired by the work of his students, Solovyov directed his masterpiece Assa, with Victor Tsoi once again playing the protagonist, while Sergei Bodrov went to Kazakhstan to shoot his cool rock 'n' roll road movie
The Amateurs. The same year, Kazakhfilm offered Nugmanov, who was still a student, his first feature film, The Needle (88): Nugmanov transformed this standard genre material into a manifesto of a new kind of cinema, which went on to become a huge big box office hit. Nugmanov had tapped into the spirit of the times, with the crumbling empire and its human detritus. The film's scenario of drugs and Mafia is very new yet at the same time ancient and archaic, and there's a surreal sense of landscape – far removed from the conquerable space of the Sov-Easterns – indifferent in its magisteral presence to its inhabitant's struggles and failings, twisted madness, and spiritual running-on-empty. Finally, in 1989 three feature debuts confirmed the emergence of the Kazakh New Wave: Serik Aprymov's The Last Station, Abaj Karpikov's A Small Fish in Love, and the somewhat older Talgat Temenov's A Wolf Cub Among Men. In addition, a handful of films by already-established directors were invigorated by the gutsy cinema of their succesors. The wave finally broke in 1991 with the last two important Kazakh debuts: Darezhan Omirbaev's Kairat and Ardak Amirkulov's The Fall of Otrar, one of the great unrecognized masterpieces of the Nineties, which doubtless fell victim to the political turmoil of the day.
Between August and December 1991, the Central Asian Soviet republics became independent states-another new chapter had begun."
WIND FROM THE STEPPES: A Brief History of Central Asian Cinema during the Soviet Era by Olaf Möller).
______________________________________________
"I have never felt bad about missing out on the excitement of discovering a new, hitherto-untouched-by-western-eyes cinema, mostly because the danger of inflationary rhetoric and overspecialization is mighty high. Not that this has been the case with Central Asia. There is a wonderful camaraderie among filmmakers and their assorted champions, and the level of territorial wrangling is nothing compared to the titanic feuds and grudges between the Pacific Rim specialists.
Which raises the question: how is it that these glorious films, spread across roughly 40 years and five countries, with bursts of activity coming at different intervals, have never excited the land-rush mentality that took hold of us westerners when we got our first glimpse of product from Hong Kong, Taiwan, Iran? Perhaps it's because the great films from Kazakhstan, Kyrgyzstan, Uzbekistan, Turkmenistan, and Tadjikistan are made by loners, more modest than a Hou or a Kiarostami. To be clear: it's not the films that are modest, but rather the sensibilities that shape them. Such modesty seems to float through the air breathed by an Okeev, an Omirbaev, a Narliev, or even an extroverted stylist like Ali Khamraev. There's an inherent distrust of grand statements: it's impossible to imagine any of these filmmakers doing something as grandiose as the affirmation of life in The Wind Will Carry Us or the past/present fusion near the end of . Not to imply a judgment on anyone, but I think that these directors might be even more deeply caught up in a love of cinema per se than their peers in more economically robust countries. The Central Asian filmmakers have learned to distrust neither the power nor the value of art.
Despite its proximity to where the action is right now, Central Asia remains one of those corners of the world by which the west has never exactly been transfixed. We tend to be interested in a given country only to the degree that it affects our own interests (remember last year's quickly evaporating fascination with Afghanistan). I'm not counting such purely mercenary phenomena as the steady stream of businessmen arriving in Kazakhstan in search of oil, or Uzbekistan's military base potential. The fact is that the films made in the five former Soviet Asian republics, sometimes known as Central Asia, have never broken out of the festival circuit. Cultural remoteness aside, there are many reasons for this state of affairs: dissemination problems (initially caused by the Soviet Union, then by its sudden absence), a lack of artistic flamboyance, a heavy reliance on outside sources for funding, a dearth of any local film scene whatsoever (unlike, say, movie-mad Iran), and an overall immersion in a culture, or series of cultures, of which we westerners have absolutely no grasp. We can't get our minds around these countries that are sort of Russian, sort of Middle Eastern, and sort of Asian. They know all about George Washington and Abraham Lincoln, but we know absolutely nothing of Manass, Ulugbek, and Timur the Great. Our colonialist hangover afflicts politics, business, and the arts as well. It even afflicts the very language we use. The unspoken rule is that a region is worthy of recognition only in proportion to the amount of muscle it's flexed, or how easily it can be defined or packaged. If this seems like a stretch, then read Peter Bart in a recent Variety on all the suckers out there who traipse off to far-flung film festivals like Ouagadougou÷unbelievably, Bart tried to milk the name itself for laughs. The Central Asian films resist easy categorizations, both cultural and cinematic. The best of them are stubbornly handcrafted and quietly local. It may seem like an easy generalization, but the films made during the Soviet era tend to cleave to regional history and cultural identity, while the post-Soviet films articulate that odd quality that Jim Hoberman nailed in the subtitle to his underrated book, "Red Atlantis – a communist culture in the absence of communism."
Let's call it a cinema of collective solitude.
This January, I found myself in Central Asia with a colleague, Russian film programmer Alla Verlotsky. We went there to see films and meet filmmakers, in preparation for a retrospective of work from the region. In the past decade I'd fallen in love with the films of Kazakhstan's Darezhan Omirbaev, whose work – Kairat, Cardiogram, and, most recently, The Road – has received the most significant international exposure. Ardak Amirkulovâs delirious historical epic The Fall of Otrar (90) astonished me at the 1997 San Francisco Film Festival, and that led to the contact with Alla. She opened my eyes to the astonishing riches tucked away in the five regions, made by names hitherto dropping exclusively from the lips of European festival-goers and the most dedicated critics and fans: the Kirghiz Tolomush Okeev, an outdoor filmmaker to rival Malick, but earthier and less cosmically minded, more grounded in the mountainous landscape where he spent his youth; the Uzbek Ali Khamraev, far and away the most flamboyant director in the entire region and an artist of rock-solid humanism and amazing expressive power (his 1975 medieval pocket epic Man Follows Birds merits comparison with Paradjanov, but it has a more boyishly melodramatic undertone); the other Kazakh masters Amir Karakulov, Serik Aprimov, and the man who more or less inaugurated the Kazakh New Wave, the supremely elegant storyteller extraordinaire, Ermek Shinarbaev.
The buildup to this trip was odd. When I talked it over with family and friends, there was a mixture of envy and puzzlement. As in: wow, how great to travel to such faraway places, but why those faraway places now? "You're very brave to come here," said Yusuf Razikov, our host in Uzbekistan and the director of Uzbek Film Studios, as well as a sharp, sardonic filmmaker in his own right. I didn't share his opinion, but since part of the American self-image is that everyone should be coming to us, it's easy to understand.
Since I knew the region only through its films, mental comparisons between the landscapes we were walking or driving through and the images I'd seen came fast and furious. It seemed poetically right that we should land in Almaty at 3 a.m. in a fog, and my first impression reminded me of another film from an artist not even remotely connected with the region. People milling in the darkness and fog and wood smoke, cab drivers waiting for a fare, men waiting to haul baggage, people waiting to be picked up, or just waiting. In straggling groups of two or three at most, or often alone, shuffling back and forth, hands in pockets. It was impossible to not recall Chantal Akerman's 1993 travelogue D'Est, shot in Eastern bloc countries after the fall of the wall. Akerman was really on to something there, with those mesmerizing tracking moves past waiting people – this was a constant throughout my brief travels in Kazakhstan, Kyrgyzstan, and Uzbekistan. Perhaps only a filmmaker from outside could make something so substantial and revelatory out of such apparently insignificant activity. Another film that often came to mind was Alexei Guerman's Khroustaliov, My Car!, with its refrain of lone individuals wandering through monumental, dilapidated buildings. More appropriate, since Guerman was not only the co-author of The Fall of Otrar's screenplay but an instructor at Vgik, the film school in Moscow where most of the Kazakh filmmakers studied. All the way through our quick three-country tour, I had a strange sense of cinematic déjà vu: the images and sensations from the films were blending into the ones I was forming during our travels, of the mountains and steppes and snowscapes, the May-Day-parade-sized boulevards and grandiose buildings in the cities, the lonesome little eateries, the faces, the colors (somber Kazakhstan, warm Kyrgyzstan, blazing Uzbekistan), the gestures, the overall zeitgeist (lonely Kazakhstan, warm Kyrgyzstan, conflicted Uzbekistan). The more I saw, the more I was touched by these filmmakers committed to defining a sense of cultural identity without an ounce of nationalism, at this strange crossroads between the communist past and the free-market present, between Asia and the Middle East, between a faith-driven society (Muslim, in this case) and a secular one.
The many and various parallels and divides between films, filmmakers, and regions are fascinating, instructive. Kazakhstan, which boasts a land mass greater than Europeâs, is the youngest of the five countries, a national construct only a little over 100 years old. I kept hearing that this was a nation of loners with no sense of history, a despairing diagnosis delivered in optimistic tones. The charismatic Serik Aprimov, with his infectious giggle, gave me the most poetic description. He told us that ãKazakhä means ãthe people who wandered away from the center.ä I checked this out with a few other people, and after a knowing laugh most of them grudgingly agreed that even if it was not absolute fact, the sentiment was right. This loner mystique accounts for the singular devotion of Kazakh filmmakers to rendering the textures of anomie and disquiet on the screen. Serik Aprimovâs The Last Stop (89), a landmark in the valiant heyday of the Kazakh New Wave, hones in on activities and states of mind that most filmmakers donât bother with: what itâs like to sit around with your friends and kill time on a Saturday afternoon, the feeling of being outside at the end of a nothing day, right around sunset (photographed with patient exactitude by Murat Nugmanov, a secret hero of Kazakh cinema), the slow buildup to violence in a town where thereâs too much alcohol and not enough to do. Amir Karakulov covers similar territory in Last Holiday (97), about a group of delinquents on a downward spiral during the May holidays of 1979, but from more of a distance. Where Last Stop has a raw, present-tense immediacy, Karakulovâs compact masterpiece is sadly elegant, a tragedy of lost adolescents viewed from a calm remove. (Karakulovâs underrated new film Jylama 03, shot on DV and improvised with non-actors in a rural setting, is rougher but similarly hypnotic in its concentration on simple actions in their full measure of time.) Omirbaev also deals with anomie but nails it from the inside, using the most precise cinematic language since Hitchcock and Bresson (both names came up when we talked) to illuminate the mental landscape of his troubled heroes. The young man from the steppe in Kairat (92), the family man forced to commit murder in order to pay back his debt in Killer (98), the dissatisfied filmmaker in 2001âs The Road (played by Tadjik director Djamshed Usmonov) are all silent in the face of life, awestruck by its complexity. Iâm not sure if any other director has ever gotten at the strange sense of dislocation that hits at the instant when the interior world meets the exterior world. By contrast, Ermek Shinarbaev, who has to be one of the great storytellers in movies, takes the finest psychological threads and traces them down to their frayed ends. By the time you get to the end of My Life on the Tricorn (92), about a severely disaffected young man in the process of negating himself, or the altogether astonishing Revenge (87), in which the urge to wreak vengeance for the murder of a child is followed across two generations and three countries, you feel like vast amounts of ground have been covered and an enormous slice of experience has been contained in one movie. Even Amirkulovâs handmade, sepia-toned, four-years-in-the-making epic, The Fall of Otrar, a pageant of medieval delirium in which the great Khan extinguishes an entire civilization the way a CEO would downsize a corporation, is shot through with the strangest kind of melancholy, brought on by the knowledge that an entire way of life is going to disappear, to be replaced by something monumental, faceless, mysterious.
You can feel variants on this disquiet in the films from Tadjikistan and Uzbekistan, countries with longer histories and more Middle Eastern cultures. In Usmonovâs The Flight of the Bee (98) and his more recent Angel on the Right (02), ancient traditions butt up against the lawless world of the new capitalism. Usmonovâs films describe a bleak reality with good-humored clarity. They are genuine folk art without being folksy: artisanal, anecdotal ãlittle villageä stories with bite, such as Mairam Yusupovaâs The Time of Yellow Grass (91), which concerns a mountain village coping with the mysterious appearance of a dead body (of an infidel!) in the wilderness. Like Bachtiyar Hudoynazarovâs lyrical Brother (91), a train travelogue through a wasted modern Tadjikistan, Yusupovaâs poem of a movie is more landscape-based than the Usmonov films. Yellow Grass is as geared to the mountain community and its pathways as Kiarostamiâs Where Is the Friendâs House?, but the presence of that corpse gives the movie a fascinating overtone: it upsets the order of an ancient way of life, and colors the action with an odd sense of foreboding.
Uzbek cinema is informed by a similar tension ÷ cultural history vs. Soviet past vs. a possibly westernized future. Of all the cities we visited, Tashkent is closest to a western metropolis, but a western metropolis where inflation is such that people have to walk around with stacks of currency and the marketplaces suggest the 19th century more than the 21st. Zoulfikar Musakov is the great popularizer of Uzbek cinema, and his Boys in the Sky (02) has reportedly been playing to packed houses in one of Tashkentâs few standing cinemas for months now. An antic, intermittently charming variation on Amarcord (complete with the boys taking a first, forbidden look at porn), thereâs an unexpectedly sad undertone to Boys, an unnameable feeling of growing up in an undefined and unsure present. Itâs the beauty of these boys and girls that gives the movie its charm÷their freshness feels like an echo nearly 40 years after the fact of Elyer Ishmukhamedovâs Uzbek New Wave classic, Tenderness (67). The source of this sadness is made explicit in Rashid Malikovâs allegorical The Mystery of Ferns (92). The specter of Tarkovsky doesnât exactly hang over Asian post-Soviet cinema, but when itâs there itâs really there (as in Musakovâs cheeky homage to Stalker in his 1991 ãscience fictionä satire Dedicated to Steven Spielberg). In Malikovâs film, an old professor loses his memory and goes wandering through a series of increasingly fragmented landscapes. The director builds from Tarkovskyâs key move of slow overhead tracking shots surveying stray objects, and makes it pay off: deteriorating individual consciousness is linked to a similarly deteriorating cultural consciousness in a powerfully visceral manner.
If there is a giant who sits astride the history of Uzbek cinema, itâs Ali Khamraev, one of those rare talents like Welles or Godard or Scorsese whose love for the medium is so intense that his best films burst with criss-crossing energies and insights, like a fireworks display. His overly soft last feature Bo Ba Bu (98) aside, Khamraev is a towering figure, a wizard with landscapes (they all seem charged, often enchanted) and an instinctual genius with actors. Anyone interested in the Brechtian idea of the social gestus should study Khamraevâs ferocious 1972 masterpiece Without Fear, which deals with the Soviet modernization of a Muslim village in 1927 and the shock waves caused by the sight of unveiled women. Khamraevâs bravura talent isolates just the right gestures, merging the physical, the visual, and the dramatic with perfect precision. Itâs impossible not to see Yusup Razikovâs mordantly funny Orator (00) as a corrective to Khamraevâs Soviet-era knockout: in the Razikov, a gentle Muslim man who just wants to be left alone with his three adoring wives is given the Soviet seal of approval by virtue of his gift for on-the-spot political oratory. Meanwhile, his wives and the peaceful world around him are systematically and unthinkingly ãmodernized.ä Khamraev and Razikov both work from visual ideas central to Uzbek culture: the patterns of vibrant textiles one sees throughout the country go hand in hand with Razikovâs ornate compositions and the swirling, nearly abstract visual forms of Khamraevâs Man Follows Birds, a mind-bending story of a young thiefâs progress in medieval Uzbekistan. In Kirghiz cinema, or in the work of a Turkmen filmmaker like Khodjakuli Narliev, ancient cultural forms are incorporated into the structure and tone of the work itself. Aktan Abdikalikov has gone on record as saying that the rhyming images and movements in his The Adopted Son (98), one of the only films from the region to garner a worldwide audience (and the only one currently in distribution in America), are based on patterns in Kirghiz art (you can see the same kind of pride and care with form in his nearly wordless 1993 film Selkinchek, which may be an even greater achievement than Son, and in the films of Marat Sarulu). In Narlievâs The Daughter-in-Law (72), a film built around the longing of a young woman attached to the memory of her dead husband who is unwilling to give up her solitary life of service to her kindly father-in-law, memories and associations, flashbacks, and wish-fulfilling fantasies continually punctuate the minimal action. But unlike, say, Point Blank or a Resnais film, the temporal shifts are gently lulling, and the net effect is the filmic equivalent of the warm harmonic complexity found in regional rug or fabric patterns. Tolomush Okeev takes on the question of cultural heritage from another angle. The best films of this magnificent artist are as rooted in the rural Kirghiz landscape as Catherâs novels are rooted in the American west. In 1974âs The Fierce One (written by the omnipresent Andrei Konchalovsky, who also wrote Without Fear, Abbasovâs 1961 Uzbek classic Tashkent, City of Bread, and whose 1965 debut The First Teacher is a landmark in Kirghiz cinema), The Skies of Our Childhood (66), and his breathtaking debut short There Are Horses (65), Okeev appears to know every twist, every turn, every rock, every crevice of the mountainous Kirghiz countryside, and every facet of the traditional life lived there, human and animal. Horses, wolves, and dogs have presence and power in Okeevâs movies as they do in no one elseâs. Like Khamraev, Okeev is a giant to be reckoned with. He is so revered that Kirghiz Film Studio was renamed in his honor after his untimely death in 2001.
Why bother with yet another slew of films from yet another corner of the world? Why indeed. Peter Bart may be a fool, but heâs not the only one asking such questions. So, why bother? Firstly, because weâre told we donât have to, since we make the best movies here. Examine the logic and transfer it to global politics÷it leads all the way to Freedom Fries, Colin Powellâs U.N. charade, and the numbing arrogance thatâs led us to Iraq. It all adds up to the kind of bill of goods that can be sold only to a people who jump at the chance to believe in the myth of their own moral and cultural superiority. Secondly, these movies speak from the corner of the world we now dread most, which is why it behooves us to watch them. Thirdly, Iâm here to report that there are things in these movies that take my breath away, and that remind me why I fell in love with the cinema in the first place.
Lone Wolves at the Door of History by Kent Jones
KAZAKHSTAN
JULY / Darezhan Omirbaev
KARDIOGRAMMA / Darezhan Omirbaev
CHOUGA / Darezhan Omirbaev
THE FALL OF OTRAR / Ardak Amirkulov
THE LAST STOP / Serik Aprimov
LAST HOLIDAY / Amir Karakulov
DON'T CRY / Amir Karakulov
THE NEEDLE / Rashid Nugmanov
VOCAL PARALLELS / Rustam Khamdamov
THE GIFT TO STALIN / Rustem Abdrashev
KYRGYSTAN
THE SWING / Aktan Abdikalikov
THE DOG WAS WALKING BY / Aktan Abdikalikov
MY BROTHER SILK ROAD / Marat Sarulu
THE FIERCE ONE/ Tolomush Okeev
THE SHEPHERD / Bolotbek Shamshiev
TAJIKISTAN
THE FLIGHT OF THE BEE / Djamshed Usmonov
ANGEL ON THE RIGHT / Djamshed Usmonov
BROTHER / Bakhtyar Khudojnazarov
KOSH BA KOSH / Bakhtyar Khudojnazarov
THE TIME OF YELLOW GRASS / Mairam Yusupova
FACE / Mairam Yusupova
TURKMENISTAN
THE DAUGHTER-IN-LAW / Khodjakuli Narliev
LITTLE ANGEL, BRING ME JOY / Usman Saparov
UZBEKISTAN
WITHOUT FEAR / Ali Khamraev
MAN FOLLOWS BIRDS / Ali Khamraev
BO BA BU / Ali Khamraev
ARAL, FISHING IN AN INVISIBLE SEA / Saodat Ismailova, Carlos Casas
THE MYSTERY OF FERNS / Rachid Malikov
TENDERNESS / Elyer Ishmukhamedov
TAKHIR AND ZUKHRA / Nabi Ganiev
ORATOR / Yusup Razikov
BOYS IN THE SKY / Zoulfikar Musakov
01

Darezhan Omirbaev

02

Darezhan Omirbaev

03

Darezhan Omirbaev

04

Darezhan Omirbaev

05

Darezhan Omirbaev

06

Darezhan Omirbaev

07

Darezhan Omirbaev

08

Aktan Abdykalykov

09

Aktan Abdykalykov

10

Gulshat Omarova

11

Jamshed Usmonov

12

Rustam Khamdamov

13

Sergei Dvortsevoy

14

Rashid Nugmanov

15

Jamshed Usmonov

16

Ardak Amirkulov

17

Shukhrat Abbasov

18

Bakhtyar Khudojnazarov

19

Aktan Abdykalykov

20

Ali Khamrayev

21

Zulfikar Musakov

22

Gulshat Omarova

23

Ali Khamrayev

24

Ali Khamrayev

25

Carlos Casas

26

Ermek Shinarbaev

27

Aktan Abdykalykov

28

Zhanna Issabayeva

29

Akan Satayev

30

Serik Aprimov

31

Sergei Bodrov

32

Ermek Tursunov

33

Shaken Aimanov

34

Lola Kamalova

35

Kamara Kamalova

36

Ernest Abdyjaparov

37

Sergei Alibekov

38

Ernest Abdyjaparov

39

Sergei Dvortsevoy

40

Sergei Dvortsevoy

41

Nabi Ganiyev

42

Ernest Abdyjaparov

43

Damir Manabai

44

Marina Kunarova

45

Yusup Razykov

46

Yusup Razykov

47

Bakhtyar Khudojnazarov

48

Elyer Ishmukhamedov

49

Yolkin Tujchiev

50

Yusup Razykov

51

Mairam Yusupova

52

Serik Aprimov

53

Zhanna Issabayeva

54

Ali Khamrayev

55

Marat Sarulu

56

Bolotbek Shamshiyev

57

Yusup Razykov

58

Amir Karakulov

59

Marat Sarulu

60

Zulfikar Musakov

61

Nariman Turebayev

62

Andrei Konchalovsky

63

Larisa Shepitko

64

Yusup Razykov

65

Nazim Tulyakhodzayev

66

Abai Kulbai

67

Marat Sarulu

68

Melis Ubukeyev

69

Ramunė Čekuolytė

70

Boris Kimyagarov

71

Boung-hun Min

72

Shukhrat Abbasov

73

Ali Khamrayev

74

Temirbek Birnazarov

75

Nariman Turebayev

76

Nariman Turebayev

77

Darezhan Omirbaev

78

Ali Khamrayev

79

Ali Khamrayev

80

Vladimir Tyulkin

81

George Ovashvili

82

Irina Poplavskaya

83

Bakhtyar Khudojnazarov

84

Elyer Ishmukhamedov

85

Emir Baigazin