Doctors and Nurses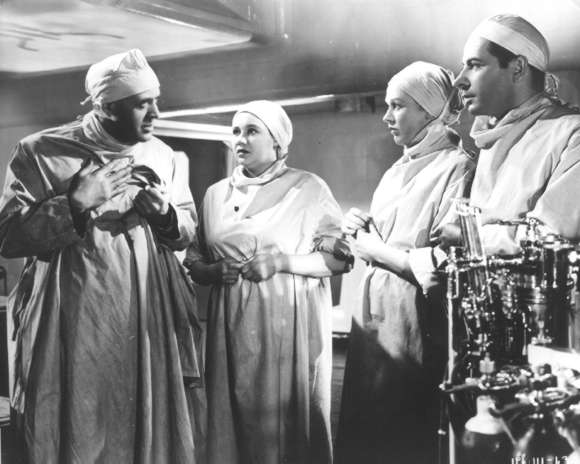 Green for Danger
I'm thinking medical matters along mainly physical grounds, am including a few psychiatric cases but for more on that subject see my list Mental Illness. Year order, suggestions welcome. Von Trier's The Kingdom comes in various parts.

Red Angel

Yaaba/Grandmother

A Country Doctor (part 1)
__
Doctor William Price, who had the most peculiar notion that prevention is better than cure:
"Chartist, heretic, arch druid and pioneer in the legalisation of cremation, Dr. William Price was undoubtedly one of the most flamboyant and indeed eccentric characters in Welsh history.
Born in Rudry near Caerphilly in 1800 and the fifth child of Rev William Price, he was an apprentice to a local surgeon at the age of 13 and later studied at St Bartholomew's Hospital, London where he was made a Licentiate of the Society of Apothecaries and a Member of the Royal College of Surgeons before turning 22.
In 1827 he moved to Nantgarw and became the surgeon for ironmaster Francis Crawshay, practising medicine at the Brown Lenox chainworks where he allegedly performed one of the first skin-graft operations on an injured worker. Dr. Price was ever in and out of the courts, both as a defendant and petitioner. He was charged with the manslaughter of a patient and had his father's body exhumed to prove mental illness. Possessing an extensive knowledge of the law, and draped in a shawl of royal tartan, he would conduct his own defence brilliantly to the crowded gallery.
He was a leader in the failed Chartist rising of 1839, condemning any brute force used by fellow leaders and, dressed as a woman, was obliged to flee to France. Proclaiming himself Archdruid of Wales he regularly held druidic ceremonies on the site of the Rocking Stones, Pontypridd. With a deep interest in the well-being of the local people, he established one of the first Co-Operative stores and also formed an embryonic National Health service for local workers – but would refuse to treat smokers!
Dr Price went on to build the famous Round Houses at Glyntaf, Pontypridd as an entrance to a planned stately home and museum to druidism which failed and when rejected from the land by owner Lady Lanover, the time was right to leave the market town altogether. In 1873 he settled in Ty'r Clettwr, Llantrisant, joined by his 16-year-old housekeeper, Gwenllian Llewellyn who gave birth to their first child, named Iesu Grist (Jesus Christ) in August 1883, when the good doctor was 83-years-old.
The infant died suddenly on January 10, 1884 and Price took the body onto the hilltop of East Caerlan where he cremated it in a container of paraffin oil. This 'vicious act of blasphemy' caused a riot in the town, and crowds led by chapel deacons, dragged the corpse from the flames as the 'blasphemer' was arrested. The criminal trial that followed aroused interest not only in Great Britain, but throughout the world.
In March, he conducted his own defence brilliantly at the Cardiff Crown Court trial over his son's cremation, a typical showman who played to the crowded gallery, claiming, 'It is not right that a carcass should be allowed to rot and decompose in this way. It results in a wastage of good land, pollution of the earth, water and air, and is a constant danger to all living creatures.' Justice Stephens paved the way for the passing of the Cremation Act of 1902, by acquitting him.
Fathering numerous children, he was well into his 80s when his housekeeper, 60 years his junior, bore him two other offspring called Penelopen and Iesu Grist II (later renamed Nicholas). After a fall he took to his settee and died at 9pm on Monday, January 23 1893 uttering the last words, 'Give me champagne.'
His own cremation, for which he left full instructions, took place on the same hilltop; with 20,000 people assembling to watch the iron coffin set alight. A carnival atmosphere prevailed and the twenty or more pubs in Llantrisant ran dry during the height of the day-long festivities."
~
Not on Mubi
Cannibal Vegetarian
01

D.W. Griffith

02

Alice Guy-Blaché

03

Roscoe "Fatty" Arbuckle

04

Robert Reinert

05

Roscoe "Fatty" Arbuckle

06

Robert Wiene

07

William Desmond Taylor

08

Germaine Dulac

09

Ernst Lubitsch

10

Ernst Lubitsch

11

Jean Epstein

12

William A. Wellman

13

Michael Curtiz

14

Marvin Breckinridge

15

Frank Borzage

16

Rouben Mamoulian

17

John Ford

18

Irving Cummings

19

Fyodor Otsep

20

John M. Stahl

21

Lew Landers

22

John Ford

23

Henry King

24

Carol Reed

25

Robert Clampett

26

William Beaudine

27

Clarence Brown

28

Harold S. Bucquet

29

Carol Reed

30

Herbert Wilcox

31

Edgar G. Ulmer

32

Harold S. Bucquet

33

Teruo Ishii

34

Dudley Nichols

35

Reginald Le Borg

36

Maurice Elvey

37

Jacques Tourneur

38

Jacques Tourneur

39

Robert Wise

40

Victor Saville

41

Sidney Gilliat

42

Teuvo Tulio

43

Akira Kurosawa

44

Joseph L. Mankiewicz

45

Jean Negulesco

46

William Wyler

47

Henry Hathaway

48

Hugo Fregonese

49

Joseph L. Mankiewicz

50

Edward L. Cahn

51

André Haguet

52

Minoru Shibuya

53

Jean Grémillon

54

John Sturges

55

Helmut Käutner

56

Ralph Thomas

57

Douglas Sirk

58

Niazi Mostafa

59

Stanley Kramer

60

Edward Dmytryk

61

Jerry Hopper

62

Joseph Losey

63

Ralph Thomas

64

Fons Rademakers

65

Charles Vidor

66

Ralph Thomas

67

Anthony Asquith

68

Luis Buñuel

69

Mario Monicelli

70

Fred Zinnemann

71

William Castle

72

Delmer Daves

73

Georges Franju

74

Joseph Green

75

Phil Karlson

76

Matti Kassila

77

Tewfik Saleh

78

David Swift

79

Terence Young

80

Ralph Thomas

81

Bimal Roy

82

Gerald Thomas

83

Robert Asher

84

Martin Ritt

85

Frank Tashlin

86

Robert Lynn

87

Miklós Jancsó

88

Akira Kurosawa

89

David Lean

90

Ingmar Bergman

91

Juraj Herz

92

Satsuo Yamamoto

93

António de Macedo

94

Yasuzo Masumura

95

Gerald Thomas

96

Richard Lester

97

Luigi Zampa

98

Werner Herzog

99

Gerald Thomas

100

Mario Amendola

101

Ramón Fernández

102

Robert Altman

103

Stephanie Rothman

104

Robert Fuest

105

Frederick Wiseman

106

Blake Edwards

107

Alexander Kluge

108

Ralph Thomas

109

Robert Fuest

110

Lucio Fulci

111

Arthur Hiller

112

George Armitage

113

Krzysztof Kieślowski

114

Lindsay Anderson

115

Vittorio De Sica

116

Rod Amateau

117

Jonathan Kaplan

118

Jud Taylor

119

Gerald Thomas

120

Jack Hill

121

Alan Holleb

122

Jesús Franco

123

Arthur Omar

124

Werner Herzog

125

Miloš Forman

126

Jaime Humberto Hermosillo

127

Claude Sautet

128

Derek Ford

129

Clint Kimbrough

130

Denis Héroux

131

Michael Crichton

132

Dariush Mehrjui

133

Al Adamson

134

Krzysztof Zanussi

135

David Lynch

136

Jerzy Hoffman

137

John Landis

138

Walerian Borowczyk

139

King Hu

140

Dan Piţa

141

Atef El-Tayeb

142

Agustí Villaronga

143

Dušan Trančík

144

Jon Amiel

145

Kei Kumai

146

Moustapha Diop

147

Jacques Deray

148

Robert Kramer

149

David Cronenberg

150

Vladimir Bortko

151

André Delvaux

152

Guy Maddin

153

François Dupeyron

154

Frederick Wiseman

155

Robert Kramer

156

Idrissa Ouedraogo

157

Penny Marshall

158

David Lam

159

Satyajit Ray

160

Lucian Pintilie

161

Roland Joffé

162

Temur Babluani

163

Jun Ichikawa

164

Rolf de Heer

165

Derek Jarman

166

Roger Spottiswoode

167

Lars von Trier

168

Sandip Ray

169

Bassek Ba Kobhio

170

Darezhan Omirbaev

171

Michael Apted

172

Anthony Minghella

173

Gaston Kaboré

174

Shôhei Imamura

175

Stanley Kubrick

176

Pedro Almodóvar

177

Michel Deville

178

Johnnie To

179

Pan Nalin

180

Krzysztof Zanussi

181

Jay Roach

182

Neil LaBute

183

Eugène Green

184

Kazuyuki Morosawa

185

Aleksei German Ml.

186

Denys Arcand

187

Lucrecia Martel

188

Cristi Puiu

189

Walter Salles

190

John Curran

191

Stephen Quay

192

Suzan Pitt

193

Djamila Sahraoui

194

Kornél Mundruczó

195

Apichatpong Weerasethakul

196

Koji Yamamura

197

János Szász

198

Aleksey Balabanov

199

Tony Kaye

200

Julian Schnabel

201

Joe Wright

202

Shlomi Eldar

203

Hirokazu Kore-eda

204

Miwa Nishikawa

205

Ventura Pons

206

Đặng Nhật Minh

207

Anocha Suwichakornpong

208

Michael Haneke

209

Kôji Shiraishi

210

Barry Levinson

211

David Schalko

212

Dr. Damodaran Biju Kumar

213

Olias Barco

214

Urszula Antoniak

215

Julien Maury

216

Yoshihiro Fukagawa

217

Giorgos Lanthimos

218

Daniel Fridell

219

Song Chuan

220

Nuri Bilge Ceylan

221

Sérgio Tréfaut

222

Daniel Junge

223

Xavier Bermúdez

224

Don McKellar

225

Axelle Ropert

226

Denis Sneguirev