INSPIRED BY SISTER WENDY, KENJI SETS OFF IN SEARCH OF NUNS

Sister Wendy Beckett, the caravan-dwelling art critic, and friend of TV chef/Norwich football supporter Delia Smith. Her books on art have taught me a lot and given me many hours of pleasure (and i like Delia too- she towers over the current crop of gimmicky egotistical celeb chefs. I digress)
~
What splendid mysteries lie behind those cloistered walls? Once as a student returning home on a dark winter's night in a drunken state i clambered over the wall protecting the grounds of the Little Sisters of the Poor, and there i discovered……. well, i think my lips will remain sealed
Another time, in my youth, hitch-hiking in France, tired and footsore after hours of walking, my path crossed that of a nun, who wished me well. Barely had i gone a hundred yards than a car stopped for me! Divine intervention for sure; what strange powers must these women have? thought i.
"Alone in my cell, by day my thoughts turned to Diderot, the Irish laundries and the brutal education my sister-in-law received at the hands of she devils in veils, while at night my dreams were filled with nuns in stockings and suspenders as eager to mete out punishment to a bare buttock as to receive it." (Ijnek Railasi- Confessions of a Sinner)
"As i stood by the cross i was filled with such fire i removed all my clothes and offered Him all of myself"
~

Black Narcissus
~
NUNSPLOITATION
"Nunsploitation is a subgenre of exploitation film, which had its peak in Europe in the 1970s. These films typically involve Christian nuns living in convents during the Middle Ages. The main conflict of the story is usually of a religious or sexual nature, such as religious oppression or sexual suppression due to living in celibacy. The inquisition is another common theme. These films, although often seen as pure exploitation films, often contain criticism against religion in general and the Catholic church in particular. Indeed, some protagonist dialogue voiced feminist consciousness and rejection of their subordinated social role. Not surprisingly, many of these films were made in countries where the Catholic Church is influential, such as Italy and Spain. One atypical example of the genre, however, is Killer Nun (Suor Omicidi), set in, then, present-day Italy (1978).
Nunsploitation, along with Nazisploitation, is a subgenre that ran a parallel course alongside Women in prison films in the Seventies and Eighties. As with prison films, they are set in isolated, fortress-like convents where the sexually repressed all-female population inevitably turns to lesbianism and perversity. The element of religious guilt allows for lurid depictions of "mortifying the flesh" such as self-flagellation and painful, masochistic rituals. The Mother Superior is usually a cruel and corrupt warden-like martinet who enforces strict discipline (more opportunities for whippings and medieval-style punishments) and often lusts after her female charges. An equally sadistic and lecherous priest is often included to add an element of masculine menace to the story.
Some segments from the Scandinavian silent film Häxan (1922) may be seen as a precursor for this genre.
Amongst other examples of exploitation cinema in Europe over the last sixty years, nunsploitation genre movies are discussed in Mendik and Mathij's recent overview volume on this general trend within regional cinema genres, cultures and audience consumption. Chris Fujiwara wrote a detailed piece discussing examples of the genre such as Killer Nun (1978), The Nun and the Devil (1973) and Flavia The Heretic (1974), in Hermenaut, a US pop culture journal." (wikipedia)
~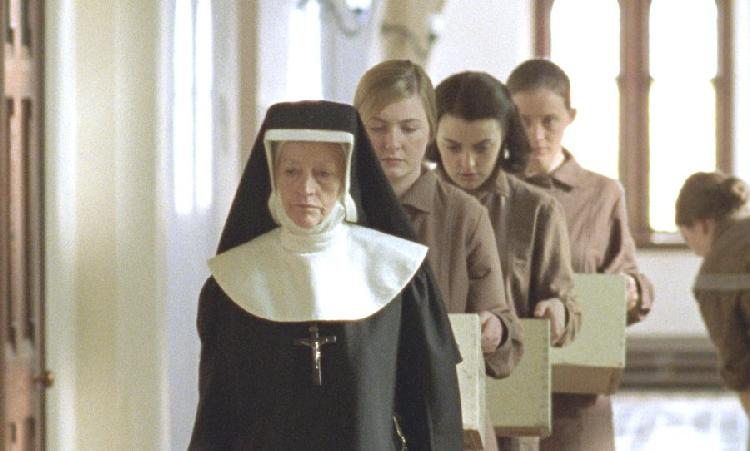 The Magdalene Sisters, which depicts the horrors of the Irish laundries to which "fallen" and "immoral" girls and young women were sent.
Missing from the site:
The Nun of Monza (Eriprando Visconti)
The Devil in a Convent (Melies)
In This House of Brede (TV)
The Gambling Nun (Murayama Shunji)
Daring Nun (Ikehiro Kazuo)
Crazy Nuns
The Abbess of Castro
i can't bear Sister Act, but i'm trying to provide a useful full list
~

The Nun (Rivette) Excellent film based on Diderot's novel about the mistreatment of a young woman (Karina) forced to become a nun against her will.
~
Cinema notables from convents:
Jennifer Jones, Mia Farrow, Valerie Export, Julie Christie, Emmanuelle Seigner, Maribel Verdú, Vivien Leigh, Tallulah Bankhead, Dolores del Rio, Maureen O'Sullivan, Geneviève Bujold, Loretta Young, Carmen Miranda, Marion Davies. Oh and Lady Gaga.
other films which feature nuns (however briefly):
Birds, Orphans and Fools
Trans Europe Express
El Cid
The Milky Way
Rosemary's Baby
Le Amiche
Szamanka
The White Bus
Fellini Roma
~
more please, i would like a compendium for all nun-spotters to refer to- be on the look-out!
see also my list A Library of Religious-Themed and Spiritual Films, and Sonja has done a Nuns list too, which has come up with some additions to this list
~


Judex
01

Georges Méliès

02

Benjamin Christensen

03

Henry King

04

Julien Duvivier

05

Charles Dekeukeleire

06

Rouben Mamoulian

07

Victor Fleming

08

Fernando de Fuentes

09

Vittorio De Sica

10

Robert Bresson

11

Henry King

12

Leo McCarey

13

Emilio Gómez Muriel

14

Michael Powell

15

Henry Koster

16

Alberto Lattuada

17

Douglas Sirk

18

Lewis Allen

19

Kenji Mizoguchi

20

Raffaello Matarazzo

21

John Huston

22

Fred Zinnemann

23

Irving Rapper

24

Roberto Rossellini

25

Raymond Leopold Bruckberger

26

Luis Buñuel

27

Jerzy Kawalerowicz

28

Ralph Nelson

29

Robert Wise

30

Karel Kachyna

31

Serge Bourguignon

32

Georges Franju

33

Ida Lupino

34

Cyril Frankel

35

Piero Heliczer

36

Luciano Salce

37

Jacques Rivette

38

Wim van der Linden

39

František Vláčil

40

Gordon Quinn

41

Grigori Kromanov

42

James Neilson

43

Katsu Kanai

44

William A. Graham

45

Don Siegel

46

Andrzej Żuławski

47

Guy Casaril

48

Ken Russell

49

Joël Séria

50

Jesús Franco

51

Sergio Grieco

52

Domenico Paolella

53

Domenico Paolella

54

Alberto Lattuada

55

Damiano Damiani

56

Dušan Makavejev

57

Gianfranco Mingozzi

58

Noribumi Suzuki

59

Peter Sykes

60

Masaru Konuma

61

Jesús Franco

62

Giulio Berruti

63

Giuseppe Vari

64

Michael Lindsay-Hogg

65

Raúl Ruiz

66

Franco Prosperi

67

Stanley Kramer

68

Juan López Moctezuma

69

Joe D'Amato

70

Bruno Mattei

71

John Landis

72

Walerian Borowczyk

73

Pedro Almodóvar

74

Frank Perry

75

Mike De Leon

76

Norman Jewison

77

Alain Cavalier

78

Jeanette Petrie

79

Su Friedrich

80

Fred Walton

81

Claude Chabrol

82

Jonathan Lynn

83

Nigel Wingrove

84

María Luisa Bemberg

85

Dino Risi

86

Emile Ardolino

87

Abel Ferrara

88

Terence Davies

89

Bill Duke

90

Julie Dash

91

Márta Mészáros

92

Tim Robbins

93

Manoel de Oliveira

94

Agnès Merlet

95

Manoel de Oliveira

96

Alan Parker

97

Giuseppe Piccioni

98

Christoph Schaub

99

Raúl Ruiz

100

Gérald Hustache-Mathieu

101

Peter Mullan

102

Pedro Almodóvar

103

Oren Jacoby

104

Fabrizio Costa

105

Thom Fitzgerald

106

Gilbert Ndahayo

107

Richard Claus

108

John Curran

109

Pernille Rose Grønkjær

110

Gérald Hustache-Mathieu

111

Miguel Gomes

112

Jessica Hausner

113

Eugène Green

114

Lav Diaz

115

Ounie Lecomte

116

John Patrick Shanley

117

Bruno Dumont

118

Vardis Marinakis

119

Stijn Coninx

120

Mahmut Fazil Coskun

121

Tsuki Inoue

122

Ben Affleck

123

Steven Klein

124

Richard Griffin

125

Joseph Guzman

126

Marco Bellocchio

127

Michael Whyte

128

Micheline Lanctôt

129

Spiros Stathoulopoulos

130

Rannvá Káradóttir

131

Jean-Pierre Denis

132

Liliana Cavani

133

Cristian Mungiu

134

Guillaume Nicloux