KENJI'S WELSH ART GALLERY
~
Until the mid-late 18th century native Welsh artists were quite rare. At that time, Wales became attractive for English artists and visitors, with the romantic appeal of wild and picturesque landscapes, peaking in the Victorian era, though Wales was producing some fine (if often neglected) artists of its own. Most artists represented here were born in Wales, others were residents, and i've included some visitors too- for a fuller picture, and since the history of Welsh art involves cross-border movement.
~
PAINTINGS

St Teilo's Church Medieval Paintings
~

Anon: Gawen Goodman of Ruthin (1582)
~

Anon: Sir Thomas Mansel of Margam and his Wife Jane (Pole) c1625
~

Anon: Philip Proger
~

Anon: View of Margam House, Glamorgan, Looking North (c1700)
~

Anon: Dinefwr Castle, Llandeilo, from the North (c1720-30)
~

Richard Wilson: View of Snowdon from Llyn Nantlle

Richard Wilson: Llyn Peris and Dolbadarn Castle

Richard Wilson: The Destruction of the Children of Niobe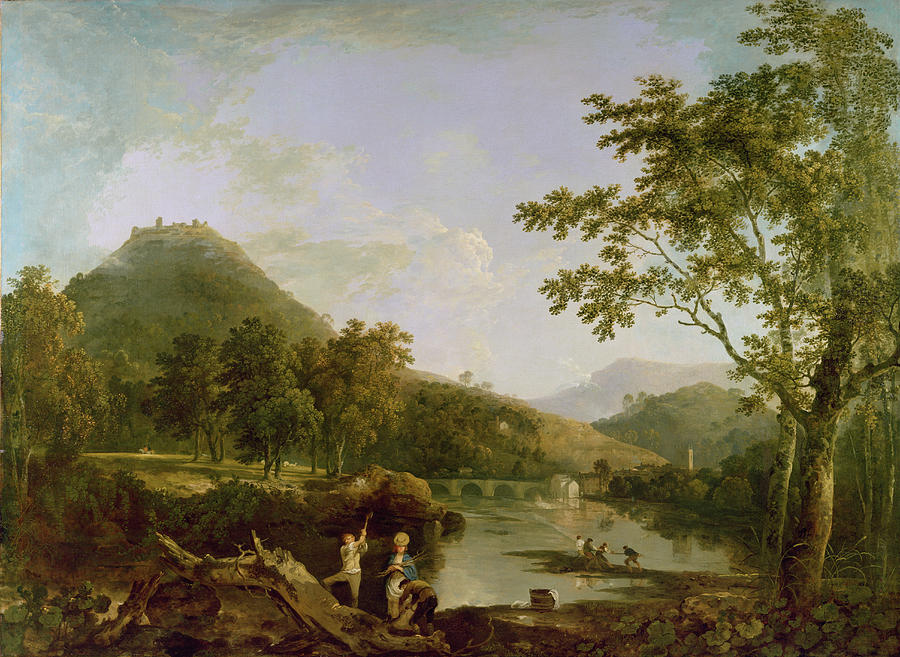 Richard Wilson: Castell Dinas Bran

Richard Wilson: Llyn-y-Cau, Cader Idris

Richard Wilson: Caernarvon Castle
Born in Mid Wales, Wilson (1714-82) has been called the "father" of British landscape painting, an influence on Turner. An admirer of Claude Lorrain, his landscapes are in the idealised classical style, most often Italian(ate) but also many in Wales. View of Snowdon may be his most famous painting; voted in a nationwide poll (along with Thomas Jones' Buildings in Naples and Gwen John's Corner of the Artist's Room) among the 100 greatest paintings in the UK.
~

Paul Sandby: A Welsh Sunset River Landscape
The English artist Paul Sandby's paintings of Wales in the 1770s helped burgeoning interest in Wales as a place to visit for its natural beauty, wild and romantic qualities.
~

Thomas Jones: Landscape with Dido and Aeneas

Thomas Jones: Buildings in Naples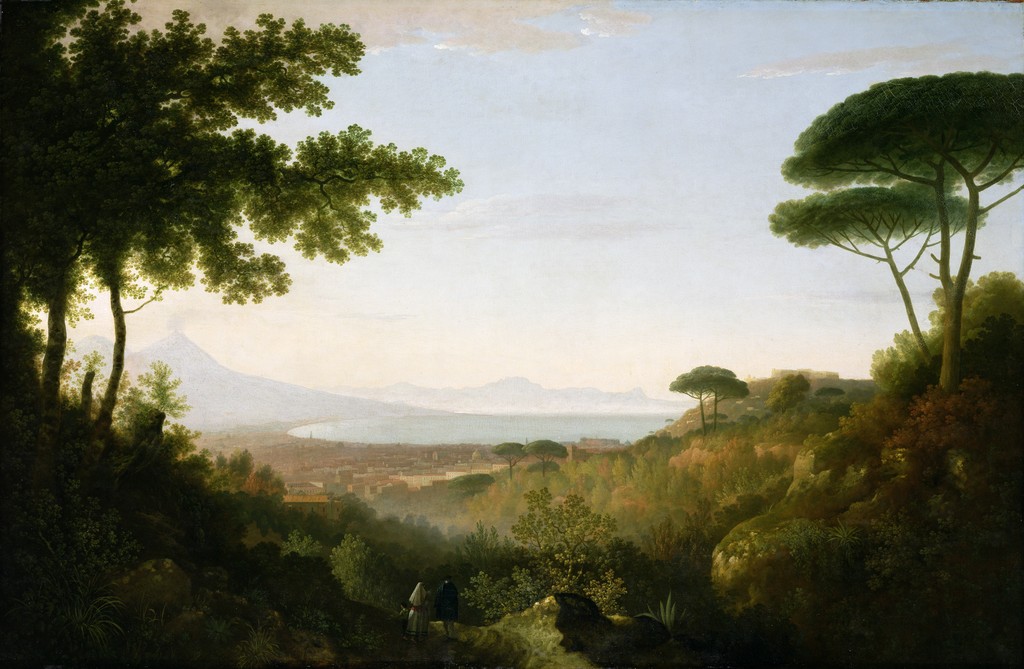 Thomas Jones: Bay of Naples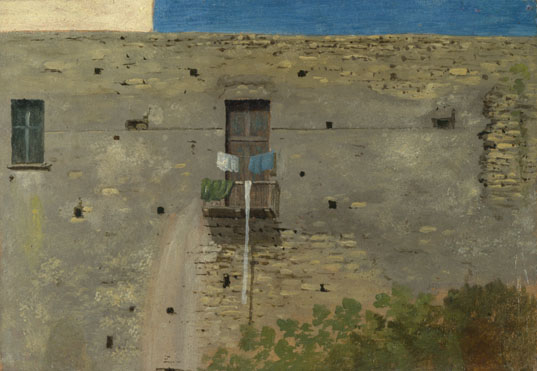 Thomas Jones: A Wall in Naples

Thomas Jones: The Bard
A student of Wilson, Thomas Jones (1742-1803) ranged from the classical to the dramatic baroque, to studies of buildings- a delight in observation for its own sake- that are strikingly modern for a late 18th century artist. Buildings in Naples is a tiny painting and A Wall in Naples the smallest in The National Gallery, London. When i saw it exhibited in Cardiff, it had me all choked up. Maybe i was moved that he hailed from my own little neck of the woods, the unsung former county of Radnorshire. His Dido and Aeneas painting has been in the Hermitage in St Petersburg since the reign of Catherine the Great. Long neglected, in recent years his reputation has rocketed.
~

William Parry: Watkin E.Wynne

William Parry: Omai, Sir Joseph Banks and Dr Daniel Solander

William Parry: Thomas Puleston

William Parry: The Blind Harpist Joseph Parry
William Parry was the famous harpist's son. He died at the age of 47 and became neglected, many of his paintings lost or mis-attributed to English artists, but he is the subject of a recent book by Miles Wynn Cato.
~

Anon: The Ladies of Llangollen's Cats (c1790)
~

John Downman: The Ghost of Clytemnestra Awakening the Furies

John Downman: Portrait of a Man

John Downman: Elizabeth Mortlock and her Son

John Downman: Master Page, Anne Page, and Slender

John Downman: Mrs Siddons
Born in Denbighshire, 1750, Downman was a painter of portraits (often miniatures), theatrical and mythological scenes, who exhibited regularly at the Royal Academy in London. Sarah Siddons the great Welsh stage actress was famously painted by Reynolds and Gainsborough, but here there's more intimacy.
~

Thomas Barker: Twilight on the Dee, North Wales

Thomas Barker: Miss Hannah Mary de Cardonnel Lawson

Thomas Barker: Self Portrait

Thomas Barker: River Landscape with Figures
A Storm at Night (click the blue link)
Known as Barker of Bath, Thomas Barker (1769-1847) was born near Pontypool, and became a well known artist in England. Son of a horse painter, his brothers Benjamin and Joseph and son Thomas Jones Barker were also fine painters.
~

Benjamin Barker II: Fishermen by a Stream in a Rocky Landscape
~

J M W Turner: Flint Castle, North Wales
The great English artist Turner travelled and painted extensively in Wales, which was important in his early career development.
~

Joseph Barker: A Welsh Landscape
~

David Cox: Welsh Funeral
Accomplished English painter Cox is strongly identified with Wales for his numerous tours and paintings of the country.
~

Thomas Tudor: Evening Landscape
Thomas Tudor, born 1785 in Monmouth, was a teenage prodigy as an illustrator, working for his bookseller father, before a career as a land agent.
~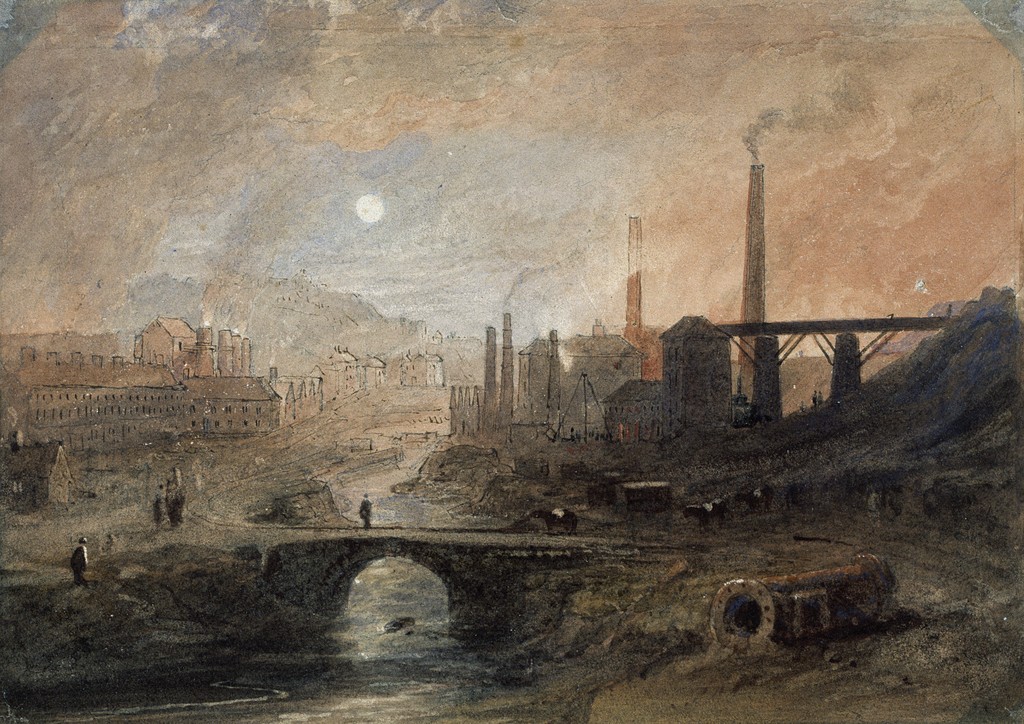 Anon: Nantyglo Ironworks (c 1830)
~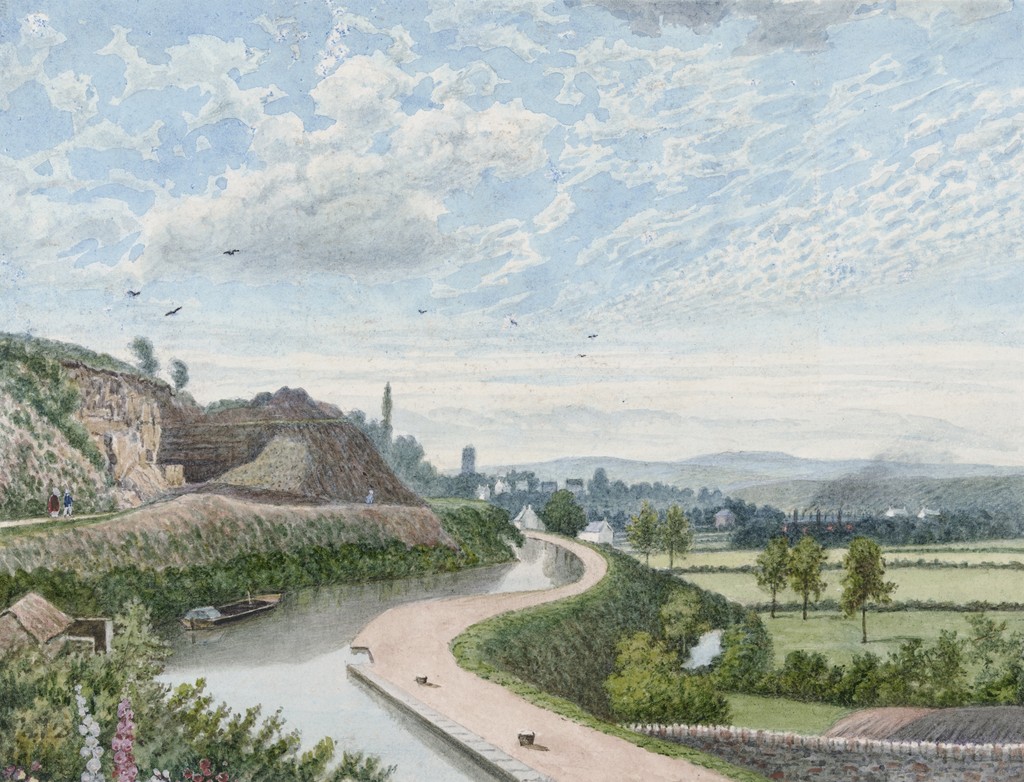 John Petherick
John Petherick from Dowlais became the local ironmaster.
~

Hugh Hughes: Hugh Hughes, Ei Wraig a'i Blentyn (Hugh Hughes, his Wife and Child)

Hugh Hughes: Mrs John Jones of Castle Street, Liverpool

Hugh Hughes: Mrs Janet Davies, Fronheulog, Llandderfel .
Hugh Hughes has been deservedly championed by Welsh art historian Peter Lord, who has done wonders- while struggling against the establishment's "high art" snobbery-in raising awareness and appreciation of previously neglected Welsh artists.
~

Penry Williams: Bridge over the River Taff

Penry Williams: A Distant View of St Peter's, Rome

Penry Williams: Procession to the Christening near Araccia

Penry Williams: Cyfarthfa Ironworks Interior at night
Penry Williams from Merthyr Tydfil painted South Wales and also idyllic Italian peasant scenes. His surprising neglect was recently countered with an exhibition of his work along with Turner's Welsh paintings.
~

Rev. Calvert Jones: The Rialto Bridge, Venice
From a wealthy South Wales family, the Reverend Jones (1804-77), a mathematician as well as painter, was educated at Eton and Oxford, and was a pioneer of photography at Margam.

Joseph Murray Ince: Lake near Dolgellau on the Barmouth Road

Joseph Murray Ince: Hay-on-Wye and the Brecon Beacons
From Presteigne in Radnorshire, Ince (1806-59) was one of the county's few artists of note. A pupil of David Cox, he became master of drawing at Cambridge, then returned to Presteigne, dividing his time mainly between there and London.
~

William Dyce: Welsh Landscape with Two Ladies Knitting
William Dyce was a well known Scottish artist in the Victorian era and this is one of the most iconic images of Wales.
~

William Roos: Thomas Edwards, Twm o'r Nant
~

Edward Pritchard: Crossing the Sands to Swansea Market
~

James Harris senior: Inner Sound, the Mumbles
Resident of Swansea, Harris (born 1810) specialised in nautical scenes.
~

Sidney Richard Percy: Llyn Ddinas
Born in England, the Victorian landscape artist (1821-86) dropped his surname Williams in his work, to be more easily differentiated from other Williamses, including painters in his own family. He had a special affinity for the Welsh highlands.
~

Henry Hawkins: Penrhyn Slate Quarry
~

Benjamin Williams Leader: Tintern Abbey
With so many Williamses- and related to Sidney Percy- Leader also went by a different surname. He painted mainly in North Wales and his birth county of Worcestershire in England.
~

Henry Clarence Whaite: To the Cold Earth
Passionately representing the atmospheric majesty of Snowdonia, Whaite married a Welsh woman, settled in the Conwy valley, with an artists' colony at Betws-y-Coed, and was instrumental in setting up the Cambrian (i.e Welsh) academy.
~

Charles Jones: Donkey and Sheep in a Winter Landscape
Charles Jones (1836-1902), born near Cardiff, was affectionately known as "sheep Jones". Resident for years in London, he specialised in painting animals in English, Scottish and Welsh landscapes.
~

Anon: Edith Eleanor Aberystwyth
One of many artisan paintings of Welsh ships. Edith Eleanor was the last sailing ship built at Aberystwyth, in 1881.
~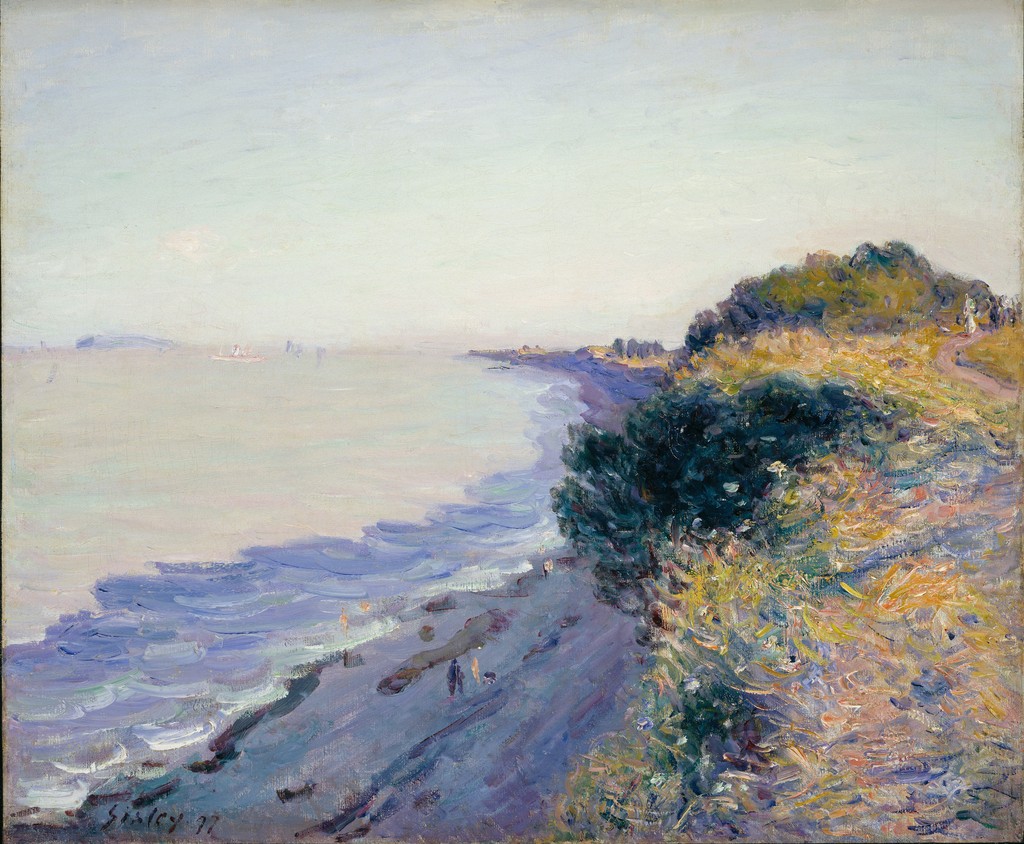 Alfred Sisley: The Cliff at Penarth
The famous impressionist Sisley painted several views of the South Wales coast.
~

Mansel Lewis: In the Golden Weather, Enchanted Castle
Mansel Lewis inherited the family's Stradey Castle estate, Llanelli. A patron of art, he was influenced in his painting by his friend Sir Hubert Von Herkomer, with quite sombre landscapes, but later adopted a lighter, more impressionist style.
~

Edward Davies: A Welsh Cottage
~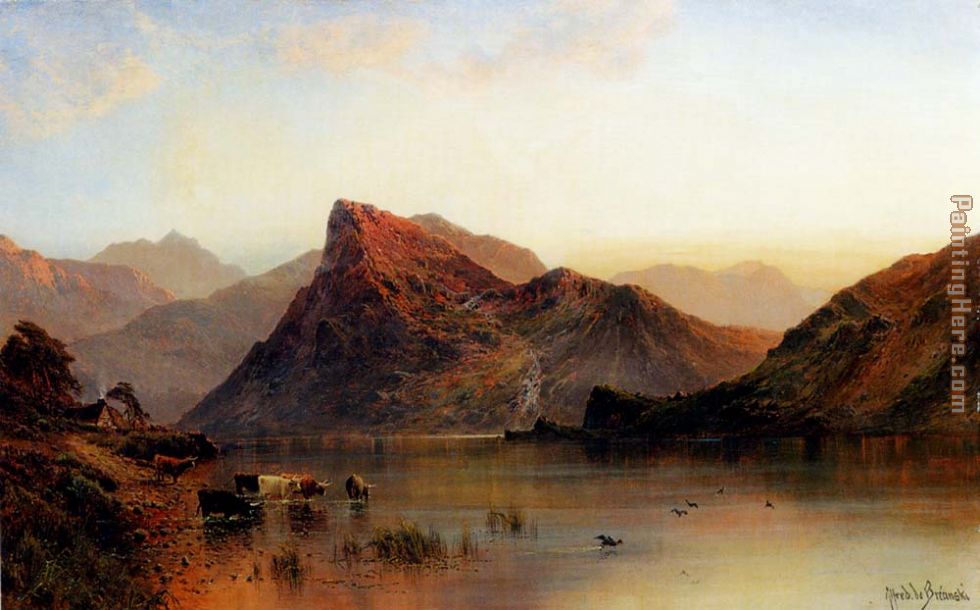 Alfred de Breanski: The Glydwr Mountains, Snowdonia
The English landscape artist Alfred De Breanski specialised in the highlands of Britain
~

George Harris: Steep Holm, Looking over the Bristol Channel

George Harris: Lavernock, Looking over the Bristol Channel to Somerset
George Harris emigrated to Australia, with his family, in his 60s, in 1920. His grandson is the famous Australian TV presenter-artist Rolf Harris. Rolf has now done programmes on 8 Welsh artists: Kyffin Williams, Shani Rhys-James, Josef Herman, Graham Sutherland, Brenda Chamberlain, Augustus John, Evan Walters and cartoonist Grenfall Jones
~

Thomas Prytherch: Cyfarthfa Steelworks at Dusk
~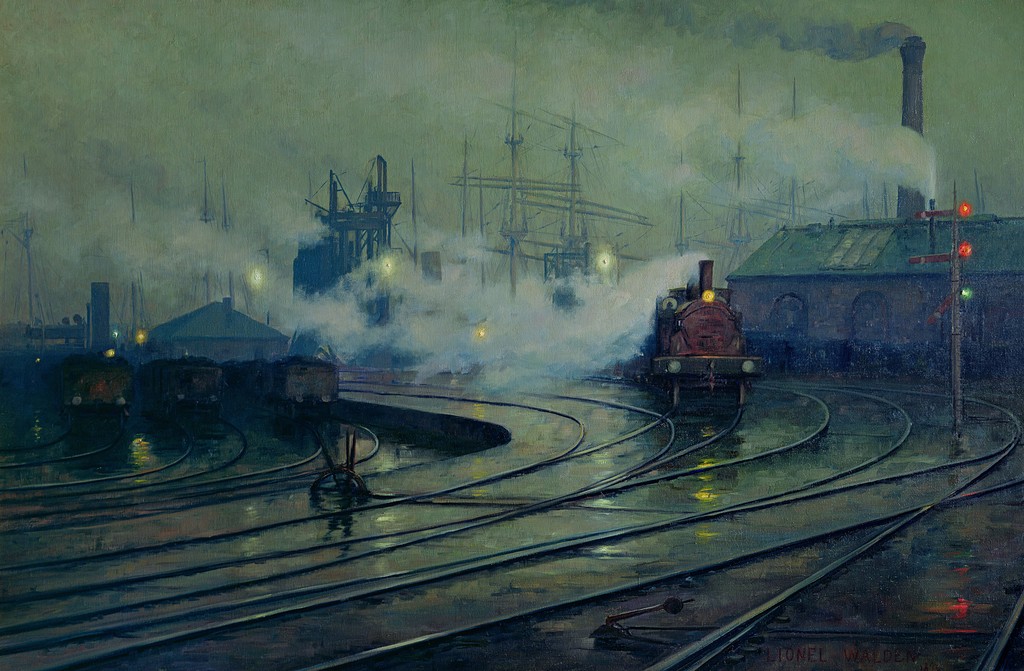 Lionel Walden: Cardiff Docks
Walden was a visitor from USA who painted several South Wales scenes
~

William Williams: River Conwy above Tal-y-Cafn
~

Edgar Thomas: Noon in Autumn, Glamorgan Canal
~

Albert de Belleroche: Nana

Albert de Belleroche: Etude
Albert de Belleroche (1864-1944) was born in Swansea, from a line of French Huguenot aristocrats who fled France for Britain in the 17th century.
He moved to Paris in his youth and mixed with Toulouse-Lautrec, the impressionists and John Singer Sargent. His lithographs in particular were highly esteemed.
~

Frank Brangwyn: Shipbuilders

Frank Brangwyn: Arab Musicians

Frank Brangwyn: Queen Elizabeth Going aboard the Golden Hind at Deptford.
Born in Belgium of Welsh parentage, Brangwyn (1867-1956) was a distinguished and astonishingly prolific draughtsman, painter, lithographer, woodcutter, mural artist and photographer, not only with "orientalist" and international leanings but an interest in history, ships, machinery and industrial labour. From a very high reputation, his work went out of fashion with the advent of modernism, but is now on the rebound.
~

Valerius de Saedeleer: Winter Landscape near Aberystwyth
Valerius de Saedeleer was a Belgian artist who lived in rural West Wales for a few years during the first world war.
~

Christopher Williams: Moonlight, Barmouth

Christopher Williams: Deffroad Cymru/ The Awakening of Wales

Christopher Williams: The Red Dress

Christopher Williams: The Welsh at Mametz Wood

Christopher Williams: Sunset from Barmouth
Christopher Williams was much admired for his imposing landscapes, portraits and paintings of biblical, historical and mythological subjects. Long neglected, his reputation is likely to rise, following a major retrospective in summer 2012. I find the Welsh at Mametz Wood painting quite harrowing- i hope the horror of war outweighs any patriotic sentiment. Christopher Williams' son Ivor was a fine painter, and his grand-daughter Annie won the 2009 Turner watercolour prize.
~

Gwen John: The Precious Book

Gwen John: Mere Poussepin

Gwen John: Interior

Gwen John: Self Portrait

Gwen John: Young Woman Holding a Black Cat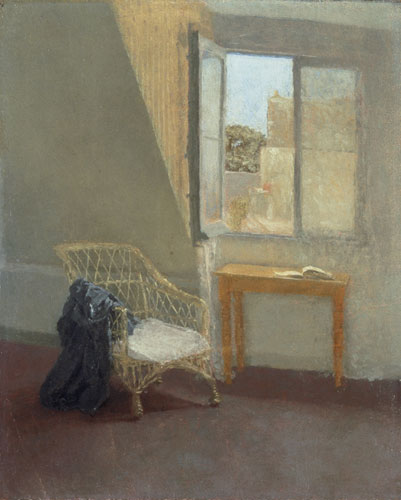 Gwen John: A Corner of the Artist's Room, Open Window
Gwen John's reputation now exceeds that of her once more famous younger brother Augustus, as he himself predicted. The delicacy of her paintings belies a strong-willed passionate nature and attachments. In Paris she got to know Matisse, Picasso, Brancusi and Rilke among others. Having been the model, lover and for years the devotee of the sculptor Rodin, she lived a simple life at the Parisian suburb Meudon, painting quiet studies of girls, cats and (having become a devout Catholic) the nuns of the nearby convent. Although her range was limited, her work has a rare Vermeerian quality of stillness and reflection, along with subtle colour tones, that i find very rewarding.
~

Francis Dodd: An Operation at the Military Hospital, Endell Street
Born and raised in Wales, Dodd studied art at Glasgow and became an established painter in England, and official war artist.
~

Laura Knight: Ruby Loftus Screwing a Breech Ring
Ruby Loftus was an "outstanding" worker in World War II at the Royal Ordnance factory at Newport, where Dame Laura Knight, the famous English official war artist, spent four weeks. The painting was voted best of 1943 by the British public.
~

Augustus John: Washing Day

Augustus John: Guilhermina Suggia

Augustus John: Head of a Jamaican Girl

Augustus John: Dylan Thomas

Augustus John: Llyn Treweryn
Augustus John was famous not only as a portrait painter and superb draughtsman but also for a bohemian lifestyle (he travelled with romanies in a horse-drawn caravan), with ménage a trois, numerous affairs and offspring, including Gwyneth Johnstone, who also became an artist. I doubt he quite fulfilled his great talent but his portraits have a loose deft touch and I especially like his Llyn Treweryn painting, capturing a great sense of freedom in the Welsh landscape.
~

James Dickson Innes: Pembrokeshire Coast

James Dickson Innes: Canigou in Snow

James Dickson Innes: The Seine at Caudebec, France

James Dickson Innes: Arenig, North Wales
Born in Llanelli, South Wales, Innes painted together with Augustus John in the region round Arenig in the North, and then travelled to the South of France, Spain (his mother was of Catalan parentage) and Morocco, but died of Tuberculosis aged 27 in 1914. Arenig was his Mont St Victoire, his death an important loss to Welsh and British art.
~

David Jones: Hill Pasture, Capel-y-Ffin

David Jones: Tristan and Isolde
David Jones may be best known as a poet (e.g In Parenthesis) but was also an original watercolourist, illustrator and print-maker. Based for years, along with sculptor Eric Gill, at Capel-y-Ffin, he was drawn to mythological, spiritual and Welsh subjects.
~

Margaret Williams
Margaret Williams was an established portrait painter of eminent British and US figures, including Queen Elizabeth II.
~

Stanley Spencer
Spencer, one of the major English artists of the 20th century, was a visitor rather than resident- but his art always welcome!
~

Evan Walters: Self Portrait with Candle

Evan Walters: The Communist

Evan Walters: Figure against a Striped Background

Evan Walters: A Welsh Collier (Thomas Rees of Llangyfelach)

Evan Walters: The Artist's Mother Asleep

Evan Walters: The Cockle Woman
Walters was a superb portrait painter between the world wars. When he developed his own "double vision" style in the 30s, his popularity declined, exacerbated by late abstracts. Rolf Harris' TV programme and an excellent book, Evan Walters: Moments of Vision, are raising his profile. More paintings at the Glynn Vivian Gallery in Swansea:
Woman Reading
A Welsh Miner
Nude
Blackened Face with Reclining Nude
Mrs Coombe-Tennant and her Sons
Rear Admiral Walker-Heneage-Vivian
The Blind Pianist
~

Cedric Morris: Caeharris Post Office

Cedric Morris: Spring Flowers

Cedric Morris: Loughor from Penclawdd

Cedric Morris: Belle of Bloomsbury
Born in Swansea, and son of a Welsh Rugby international, Sir Cedric Morris was an important horticulturalist (with several plants named after him) as well as respected art teacher who founded an art school in East Anglia. Lucian Freud was one of his pupils. He hated cruelty to animals and in England had a running feud with a local gamekeeper who shot cats and dogs – until he tripped over his gun and shot himself
~

Vincent Evans: After the Blast
Vincent Evans was born in 1895 in the Upper Swansea Valley of South Wales. One of a family of eight children, he started working as a miner at the age of 13, but won a scholarship to Swansea School of Art then attended the Royal College of Art in London. From 1923 he taught art in New Zealand, returning to Wales in 1932, painting portraits as well as mining scenes.
~

Edward Morland Lewis: Working Man's Room

Edward Morland Lewis: Paris
Born at Carmarthen in 1902, Lewis was a student of Walter Sickert in London, and in turn taught at the Chelsea College of Art. He died in 1943 in North Africa, serving as a camouflage officer.
~

Graham Sutherland: Trees with G Shaped Form

Graham Sutherland: Road to Porthclais with Setting Sun
Well-known English artist Graham Sutherland found himself inspired by Wales, in particular Pembrokeshire, with which he is strongly associated. His love for what he called "the exultant strangeness" of Wales shines through his work.
~

John Piper: Ebbw Vale at Night
English artist John Piper became very attached to Wales after marrying Myfanwy Evans; they lived in both Snowdonia and Pembrokeshire.
~

Ceri Richards: Girl on a Divan

Ceri Richards: Cycle of Nature

Ceri Richards: Tulips
Born Swansea 1903, Richards was a prize-winner at the 1962 Venice Biennale. His work reflects his interest in music and poetry, as well as the influence of major groundbreaking artists like Picasso and Matisse.
~

Ray Howard-Jones

Ray Howard-Jones: Sunset on Skomer
Born in Berkshire, Rosemary (known as "Ray") Howard-Jones (1903-96) grew up near Cardiff and on a visit to Pembrokeshire as a child fell in love with the coastline that was to pull and sustain her throughout her life. After being an official war artist and then moving to London, she continued to spend long periods on the uninhabited island of Skomer with its puffins and seals- for years with her long-term partner, photographer Ray Moore, then as a rather eccentric, spirited recluse.
~

Illtyd David: Groesfaen Saga
~

Rex Whistler: Plas Newydd Mural (part)

Rex Whistler: Lady Caroline Paget
English-born Whistler (1905-44) painted a large mural at Plas Newydd on Anglesey, where he fell for the Marquess of Anglesey's daughter Lady Caroline Paget. He died fighting in the Welsh Guards in World War 2 in Normandy.
~

Stanley Lewis: The Welsh Molecatcher
The Welsh Molecatcher was the public's favourite painting at London's 1937 Royal Academy show. Decades after giving up a painting career for teaching, Stanley Lewis died aged 103 during preparation of an exhibition that brought him new acclaim.
~

Nicholas Evans: Entombed- Jesus in the Midst

Nicholas Evans: My Mother was a Pit Pony
Nicholas Evans (born 1907) was a self-taught working class artist who had a unique vision blending spirituality with the dark, claustrophobic world of mining. Following his father's death in a mining accident, at his mother's wish he gave up the pits himself and became a rail engine driver.
~

Will Roberts: The Reading Room
~

Merlyn Evans

Merlyn Evans: Beechwood by Moonlight
~

Alfred Janes: Salome
Still Life: Benedictine Bottle
Alfred Janes was a member of the "Kardomah gang" of poets, musicians and artists, including Dylan Thomas, who frequented Swansea's Kardomah café in the 1930s.
~

Josef Herman: Three Miners
Josef Herman (1911-2000) was a Polish immigrant best known for his work at Ystradgynlais in South Wales. His art brings a dark primitive grandeur to mining.
~

Brenda Chamberlain: Composition with Three Figures

Brenda Chamberlain: Girl with a Siamese Cat

Brenda Chamberlain: Self Portrait
Born Bangor 1912, Brenda Chamberlain was a writer and poet as well as painter, and started Caseg Press with her husband, fellow artist John Petts. She lived for 14 years on Bardsey Island off the coast of North West Wales, before going to live on the Greek island Hydra in 1963. Following her return to Wales, she suffered a breakdown and died in 1971 from an overdose of sleeping pills.
~

Thomas Rathmell: The Red Room

Thomas Rathmell: Newport from Christchurch Road
~

John Petts: Pen yr Oleu Wen
John Petts is best known for his engravings and stained glass, including a black Christ in a church at Birmingham, Alabama.
~

John Bowen: Aegean Variations II: Temple Ruins
~

Eric Malthouse: Pit Props, Barry Docks
Born Birmingham, England in 1914, Eric Malthouse was a founder member of the "South Wales Group", and also the "56 Group" promoting modernist artists
~

Charles Byrd: Canton, a Snow Scene
Self-taught Charles Byrd from Pontypridd provided distinctive and popular views of Cardiff and its surroundings.
~

John Elwyn: Bore Sul (Sunday Morning)
~

Kyffin Williams: Farmer, Pont Llyfni

Kyffin Williams: Storm, Trearddur

Kyffin Williams: Crib Coch and Llanberis Pass

Kyffin Williams

Kyffin Williams: Sunset
Sir Kyffin Williams (1918-2006) was the grand old man of Welsh painting, as his contemporary R S Thomas was to poetry, and both adopted a pared down style. His paintings are often bleak and wintry. He rejected fads and fashions, followed his own path, and his reputation continues to rise.
~

Robert Hunter: Banner for Pwyll and Rhiannon
~

Bert Isaac: Mining Area
~

David Tinker: Celestial Air
Mixing sculptures, figurative paintings, geometric and then looser abstracts, David Tinker was an influential teacher who co-founded the innovative 56 Group and continued to promote modern and experimental art in Wales.
~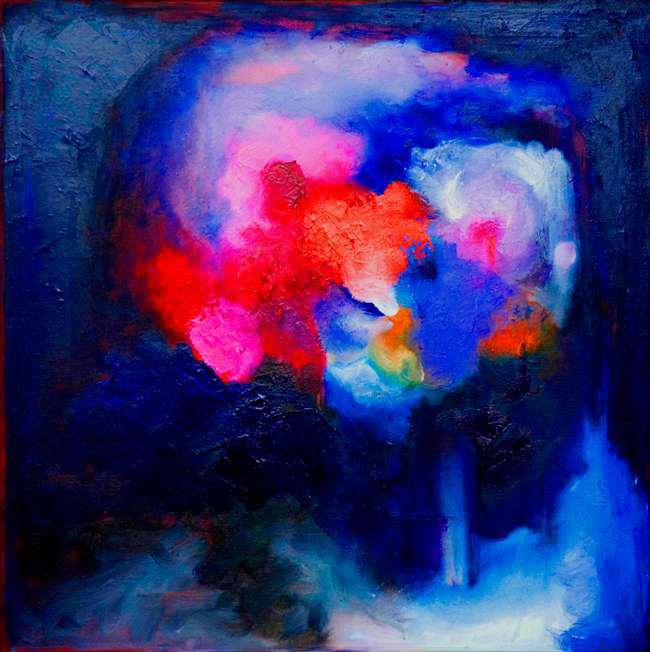 Glenys Cour
~

Keith Richardson-Jones
~

Colin Allen: A Canalside Scene in an Industrial Town
~

Glyn Morgan: Cedric Morris in his Garden
~

Ernest Zobole: A Painting about an Interior No.2

Ernest Zobole: Painting Influenced by Landscape of the Locality
The son of Italian immigrants to South Wales, Ernest Zobole (1927-1999) was an art teacher and visionary member of the Rhondda group.
~

Colin Jones: Self Portrait
Colin Jones was a Francophile convert to Catholicism, concerned with working class communities, who died in an accident aged 38.
~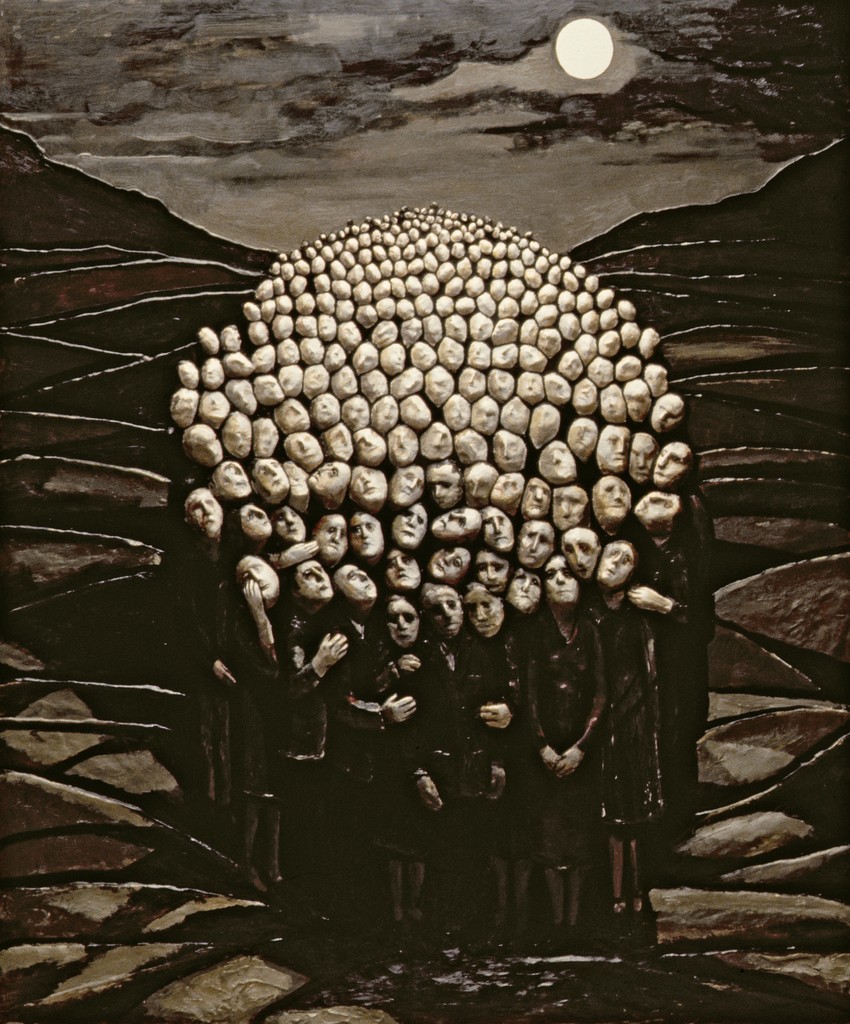 Evelyn Williams

Evelyn Williams: Two Women, No.2
Sadness, anguish, compassion. Born 1929, Evelyn has been subject of a TV film, featuring Helen Mirren. Little surprise that she's an admirer of William Blake. An evacuee from England to Blaenau Ffestiniog (reinforcing her sense of Welshness) in World War 2, she is still working at her home and studio in London. The Bridgeman gallery staff are gathering 1400 works from her career to put online.
~

Gwilym Prichard
~

Jeffrey Steele: Four Sets of Four Chromatic Oppositions in a System of Rotation

Jeffrey Steele: Harlequinade
Born Cardiff, 1931, Jeffrey Steele was one of the leading British exponents of Constructivism and Op Art, and co-founder of the Systems Group. Along with Bridget Riley he made a splash in New York in the 60s.
~

Handel Evans
~

Gordon House
Gordon House from Pontardawe came to the fore as artist and designer in the 60s, working for the Rolling Stones and Beatles, including the "White" album.
~

Thomas John Nash: Into Blue
~

William Selwyn: Lobster
~

Claudia Williams: Mother and Child
Married to the landscape artist Gwilym Prichard, Claudia's main focus has been family life and the seaside.
~

John Knapp-Fisher
~

Falcon Hildred: Newport Transporter Bridge
Born at Grimsby in 1935, Falcon Hildred, has lived at Blaenau Ffestiniog, in a derelict watermill he converted since 1969. More interested in artistic materials than materialism, he has compiled a large collection of drawings and watercolours of Wales' industrial heritage- something of a national treasure.
~

Ivor Davies: Branwen
Ivor Davies is an activist and Welsh art historian who has ranged from assured landscapes, through performance art and destruction involving explosives, to paintings of Welsh mythological and historical figures.
~

Terry Setch: Midnight Columns II
~

William Wilkins: A Spring Afternoon
Born 1938, William Wilkins has a fresh pointillist style. As well as chairman of the Artes Mundi prize, he has been director of the National Botanic Garden of Wales and held various important posts.
~

Jack Crabtree: Landscape with Pithead
English artist Jack Crabtree has specialised in mining and industry, based in Wales in the 1970s.
~

David Woodford: Nant Ffrancon
~

Tony Goble: Poet
~

Harry Holland
Glasgow-born Harry Holland has been a popular figurative painter since moving to Cardiff in 1973.
~

John Beard: Janet Laurence

John Beard: Gorilla
John Beard has made a name for himself internationally, with a range of work, including bases in Portugal and Australia.
~

Mali Morris
Born Caernarfon in 1945, Mali Morris has built an international following for her perky and pleasurable abstracts
~

Peter Prendergast

Peter Prendergast
Expressionist Peter Prendergast was a rigorous teacher, and apart from Kyffin Williams, probably the best known North Wales landscape painter of the 20th century.
~

Keith Andrew
~

Maurice Sheppard: Robert Wellington in his Home
~

Kevin Sinnott: Bit of a Wind Getting up .

Kevin Sinnott: Running Away with the Hairdresser
Running away with the Hairdresser has been a popular large painting in the National Gallery of Wales, Cardiff. Kevin brings affection, uplifting colour, movement and vitality to the South Wales valleys where he was born and returned to live in the 1990s..
~

Sonja Benskin Mesher: Noose of Light
~

Malcolm Edwards: Golygfan
~

Harry Robertson: Waterfall
~

Rob Piercy: Y Moelwynnion

Rob Piercy: Traeth Portmeirion
~

Clive Hicks-Jenkins: Turn of the Tide

Clive Hicks-Jenkins: Virgin of the Goldfinches

Clive Hicks-Jenkins: Deposition III (Mari Lwyd series)

Clive Hicks-Jenkins
Clive Hicks-Jenkins was born in Newport, Monmouthshire in 1951 and currently lives in mid Wales. He came late to painting after a career in theatre. I'm taken with his beautiful and mysterious mix of dreams and mythology, and he seems a gentle sensitive soul.
~

Jenny Jones: Self Portrait
~

Ceri Auckland Davies
~

Edward Povey
~

Gareth Parry: Looking Towards Criccieth
~

Shani Rhys James

Shani Rhys James

Shani Rhys-James
Shani was born in Australia in 1953, but as her name proclaims, of Welsh parentage and long resident in Mid Wales. With a growing and international reputation, her style is instantly recognisable: she delves unflatteringly into her own psyche and draws on her childhood memories. She was one of 4 artists fellow Welsh Aussie Rolf Harris chose to focus on in his first short series on Welsh Art.
~

Mary Griffiths: Angela and Emma
Mary Griffiths tries to counter the current imbalance in art galleries- the dominance of conceptual art, over social interactions and close relationships. She made several paintings of Angela, with Pick's disease, a degenerative brain disorder, and her daughter Emma.
~

Peter Edwards: Young Woman on a Bridge at Llangollen
~

Iwan Bala
Iwan Bala's paintings are often part of (politically committed) multi-media installations. He questions and re-imagines Wales' history and place in the world.
~

Huw Gareth Jones
~

Sue Williams
Senior lecturer in Fine Art, Sue Williams was the only Briton shortlisted for the international Artes Mundi prize in 2006. Often painting directly in large scale onto walls, she challenges the treatment of girls and women as sexual commodities.
~

Julie Roberts: Birthing Chair
~

Emrys Williams: Port

Emrys Williams: Zebra and Chateau
~

Merlin James: Yelllow
~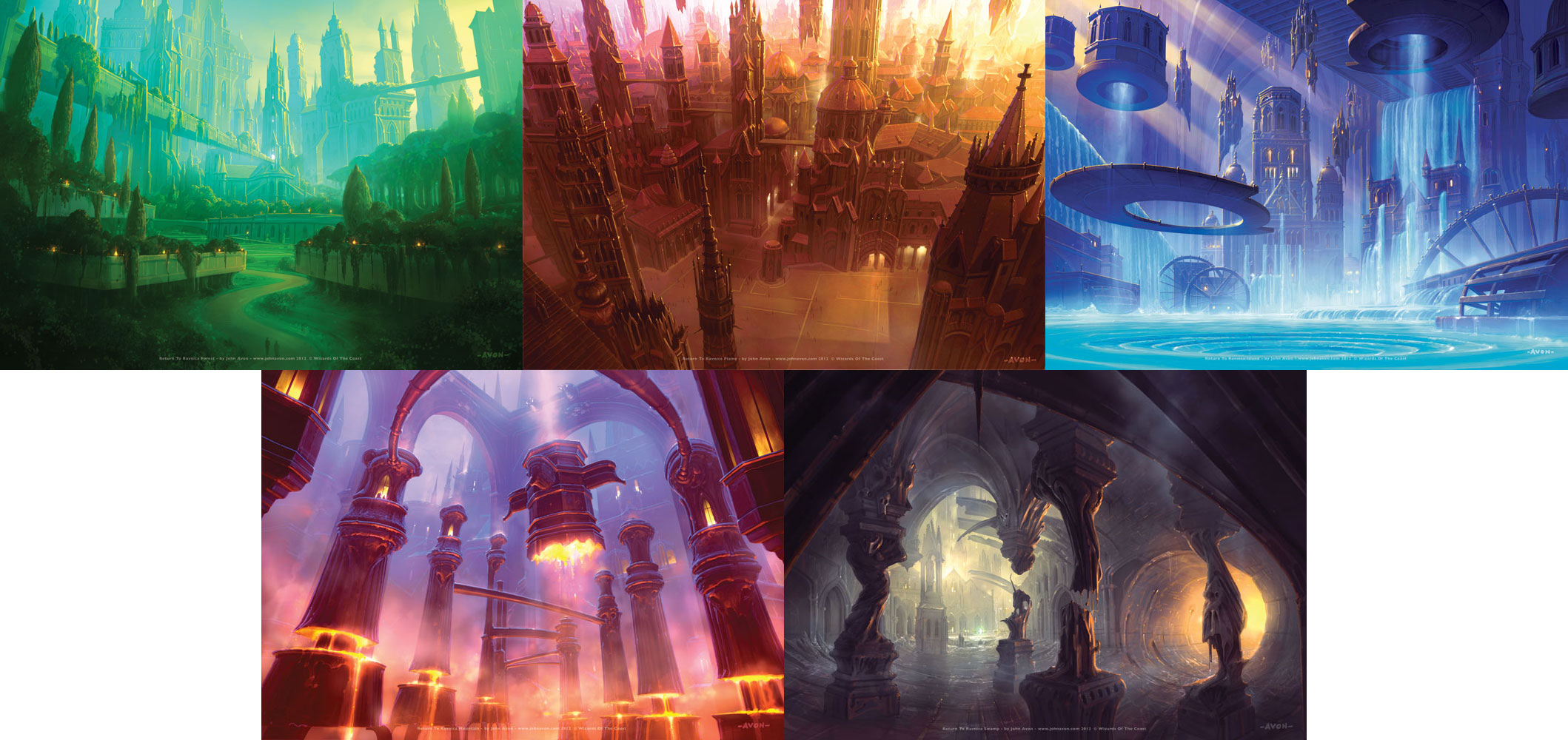 John Avon
John Avon from Cardiff is an internationally renowned fantasy artist.
~

Jackie Morris

Jackie Morris
Born in Birmingham, animal lover Jackie Morris worked for left-wing publications, designed cards for Greenpeace and Amnesty International, before moving to St David's and embarking on a career as a children's book illustrator, and artist and author in her own right.
~

David Burton Richardson: Landscape, Rainy Day

David Burton Richardson: Dark Autumn
David Burton Richardson has had longstanding mental health problems, often affecting his ability to work. It remains to be seen if his latest exhibition is indeed his last.
~

Jen Delyth: Celtic Tree of Life
Jen Delyth is an illustrator, author and textile designer specialising in Celtic creations.
~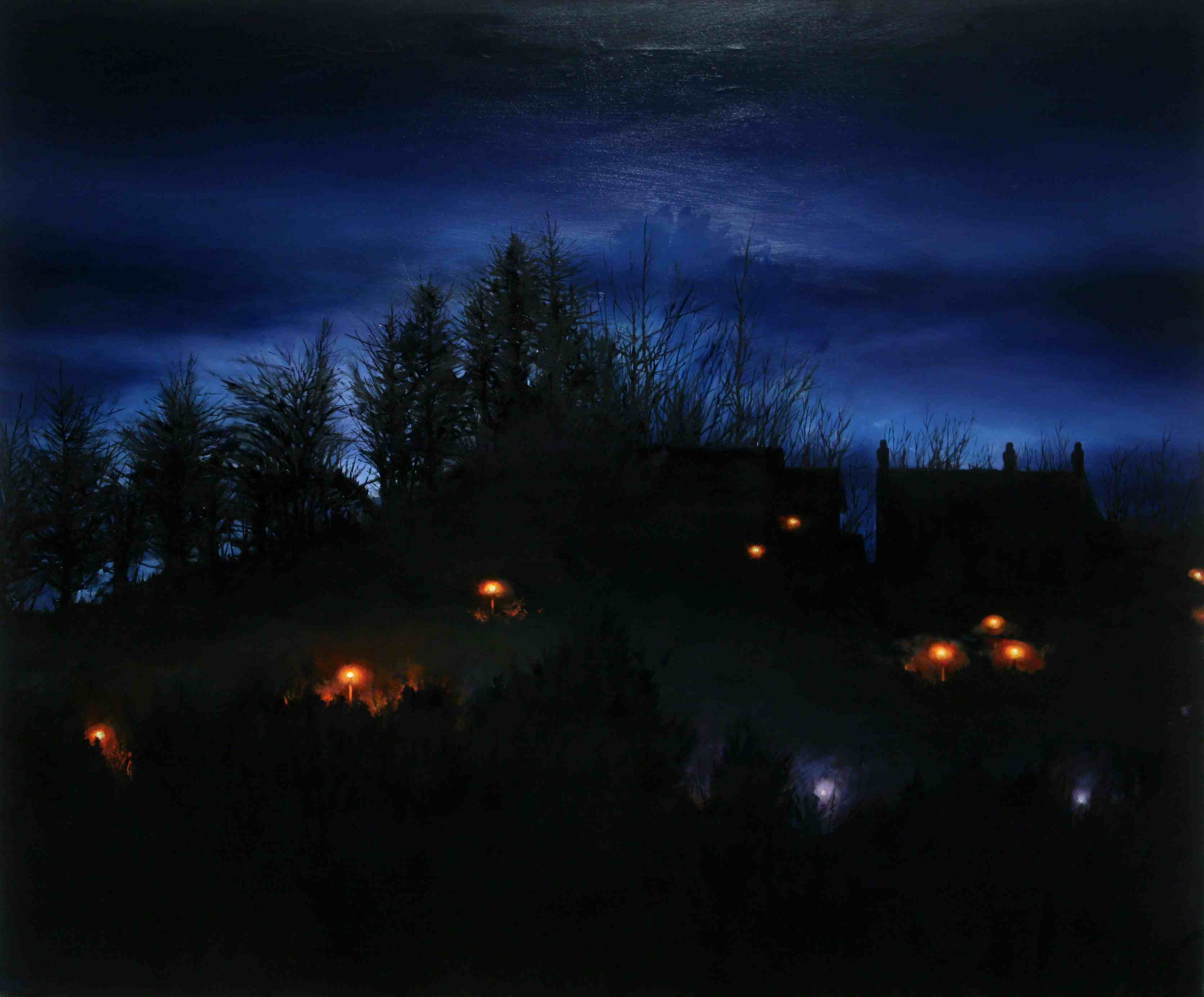 Gareth Hugh Davies: Nocturne
~

Carl Melegari
~

David Williams: Pontypridd in 1840
~

Brendan Burns
~

Sarah Carvell: Harbour View
~

Emyr Williams
~

Sarah Ball
~

Catrin Williams
Not to be confused with Catrin Webster, (another colourful painter born in 1966), North Walian Catrin Williams was brought up on a hill-farm and has lived at the coast since 1996.
~

Catrin Webster: Stackpole Quay
My wife amazed me by recognising the place from the Stackpole Quay picture- well, it is one of our favourite spots with water lily lakes by the sea.
~

Katie Allen
~

Iwan Gwyn Parry

Iwan Gwyn Parry
~

Skokholm Toilet Art
For years, visitors to the small Pembrokeshire island of Skokholm have been painting birds on the toilet walls. Here is a link to the pictures (kindly provided by Jiri Nvk)
~

Richard Oliver: Ed's Dad

Richard Oliver: Mam's Garden
From Cilfynydd in the former mining valleys of South Wales, Richard Jamie Oliver is a member of the rock band Lostprophets. His work strikes a rich seam of character in the area and its people.
~

Dan Llywelyn Hall: Tenby Harbour

Dan Llywelyn Hall: Fan Hir
~

Jamie Routley: Tony Lewis
~

Meirion Ginsberg: Uninvited Elephant
~

Eloise Govier
~

Hannah Lewis Davies
~
Also: Jacob Buckland, Nathaniel Davies, Gerald Dewsbury, John Uzzell Edwards, Will Evans, Valerie Ganz, Tom Gerrard, Archie Griffiths, David Griffiths, Nina Hamnett, Liam Hanley, Hywel Harries, Joseph Hennah, Neale Howells, Heinz Koppel, Aneurin Jones, Martyn Jones, Mary Lloyd Jones, Elfyn Lewis, Gareth Lloyd, William Leslie Moore, Gavin Nolan, Michael Gustavius Payne, Cherry Pickles, Sylvia Sleigh (feminist painter in USA), Thomas E Stephens (U.S portraits), Dorothy Tennant, Andrew Vicari (highly paid Saudi royal artist), Archie Williams, *Nathan Wyburn
~~~~~
OTHER ART

Gower Cave Reindeer, c 12,500BC
The oldest rock art in Britain.
~

Gold Mold Cape, 1900-1600 BC
~

Capel Garmon Firedog (ancient Celtic, c100 BC)
~

Carew Cross (1033-1035 AD)
~

Tree of Jesse, St Mary's Church, Abergavenny (15th century)
~

Sir John Gibson: Hylas Surprised by the Naiades (1827-36)
Born Conwy, North Wales, Gibson was Queen Victoria's favourite sculptor.
~

Edith Downing: Avarice
~

William Goscombe John: The Elf

William Goscombe John: The Glamour of the Rose
~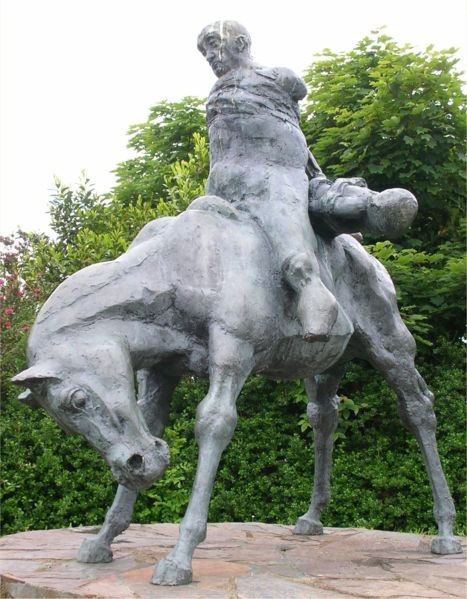 Ivor Roberts-Jones: Two Kings (Harlech)

Ivor Roberts-Jones: Winston Churchill (Parliament Square, London)
~

John Meirion Morris: Tryweryn Monument.
The village of Tryweryn was drowned, against fierce opposition, for a reservoir to provide more water for Liverpool.
~

Barry Flanagan: Hare (Chatsworth House)
~

Richard Deacon: Out of Order
~

Peter Nicholas: Guto Nyth Brân
~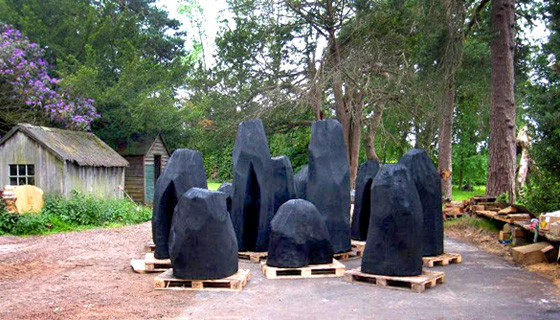 David Nash
David Nash is a landscape artist, wood carver and sculptor with an international reputation.
~

Laura Ford
Laura Ford was born in 1961 to a fairground family. An internationally popular artist, she has created a range of humans, animals and strange creatures, that can be touching or troubling while serving as social comment- for instance a set of Beatrix Potter figures to underline poverty next to consumerism.
~

Mac Adams

Mac Adams: The Moth sculpture, Iowa.
Mac Adams, born in South Wales in 1943. is well known in the USA and elsewhere for his installations and sculptures that create shadows or shapes and vistas when seen from certain angles.
~

Robert Thomas: Miner and his Family, Rhondda
~

Wendy Mayer
~

Welsh Quilt Centre, Lampeter
01

Peter Greenaway

02

Peter Greenaway