MUBI SHORT FILMS POLL (DEC 2011) RESULTS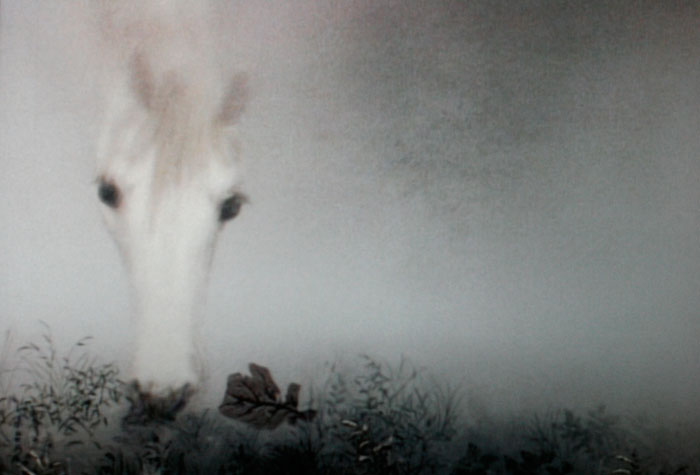 Hedgehog in the Fog
In December 2011 we had a poll of mubi users' favourite short films, of up to 45 minutes. Participants were asked to pick between 10 and 20 films; most picked 20, but some offered more, a few offered less than 10. This result is based on the number of votes within the regular limits, and then to separate many tied, the additional offerings have been taken into account (listed here as a + number alongside the initial number of votes).
There were hundreds of different films chosen, and some lists were full of films hardly picked by anyone else- no doubt many hidden treasures from different parts of the world, whereas the overall result is more predictable, with France doing very well. Two female directors made the top 5, two Canadian films in the top 11 There was a greater geographical spread further down the overall listings.
Black and white films dominate at the top. Many can be found online- the internet has opened up potential audiences for short films that might otherwise remain rarely seen, with the dominance of feature-length films at cinemas. The Russian short Tale of Tales, widely regarded as the greatest animation, came close to the overall top 20 in another recent mubi poll.
Individual lists and all the films

The House Is Black
~~
The Results (with number of votes)
La Jetée (Marker) 17 +1
Night and Fog (Resnais) 10 +3
The House is Black (Farrokhzad) 10 +2
Un Chien Andalou (Bunuel) 9 +2
Meshes of the Afternoon (Deren) 7 +2
Heart of the World (Maddin) 7 +1
Sherlock Jnr (Keaton) 7
Blood of the Beasts (Franju) 5 +1
A Day in the Country (Renoir) 5 +1
Pas de deux (McLaren) 5 +1
Zéro de Conduite (Vigo) 5 +1
By Night with Torch and Spear (Cornell) 5
Elephant (Clarke) 5
Street of Crocodiles (Quay bros) 5
Land without Bread (Bunuel) 4 +3
The Hand (Trnka) 4 +2
The Red Balloon (Lamorisse) 4 +2
The Music Box (Parrott) 4 +1
Tale of Tales (Norshteyn) 4 +1
A Trip to the Moon (Melies) 4 +1
The Wrong Trousers (Park) 4 +1
A Propos de Nice (Vigo) 4
The Act of Seeing with One's Own Eyes (Brakhage) 4
I am so Proud of You (Hertzfeldt) 4
Ilha das Flores (Furtado) 4
Letter to Uncle Boonmee (Apichatpong) 4
Origins of the 21st Century (Godard) 4
The Pearl (D'Ursel) 4
Superstar: the Karen Carpenter Story (Haynes) 4
Wavelength (Snow) 4
Tango (Rybczynski) 3 +2
Dimensions of Dialogue (Svankmajer) 3 +1
Entr'acte (Clair) 3 +1
Window Water Baby Moving (Brakhage) 3 +1
Artemis' Knee (Straub) 3
The Bakery Girl of Monceau (Rohmer) 3
Big Business (Horne, McCarey) 3
Cops (Keaton) 3
Diary of a Yunbogi Boy (Oshima) 3
Easy Street (Chaplin) 3
Elegia (Huszarik) 3
The End (Maclaine) 3
Film (Schneider) 3
Hedgehog in the Fog (Norshteyn) 3
Hold me While I'm Naked (Kuchar) 3
Inspirace (Zeman) 3
Joseph Kilian (Juracek) 3
Mirror of Holland (Haanstra) 3
Le Mistral (Ivens) 3
Neighbors (Keaton, Cline) 3
Nostalgia (Frampton) 3
An Occurrence at Owl Creek Bridge (Enrico) 3
Simon of the Desert (Bunuel) 3
The Snowman (Jackson, Murakami) 3
Spectator (Zwartjes) 3
The Street (Leaf) 3
Le Tempestaire (Epstein) 3
Tusalava (Lye) 3
L'Amour Existe (Pialat) 2 +2
Scorpio Rising (Anger) 2 +2
Brickmakers (Rodriguez) 2 +1
The Goat (Keaton, Cline) 2 +1
The Great Train Robbery (Porter) 2 +1
The Immigrant (Chaplin ) 2 +1
Katatsumori (Kawase) 2 +1
Menilmontant (Kirsanoff) 2 +1
Neighbours (McLaren) 2 +1
The Night it Rained (Shirdel) 2 +1
One Week (Keaton, Cline) 2 +1
Rabbit's Moon (Anger) 2 +1
Unsere Afrikareise (Kubelka) 2 +1
Video Game (Vijay) 2 +1
Vinni-Pukh and a Busy Day (Khitruk) 2 +1
Antigravitation (Stonys) 2
Antoine et Colette (Truffaut) 2
Berlin Horse (Le Grice) 2
The Big Snit (Condie) 2
Bridges-go-Round (Clarke) 2
Un Chant d'Amour (Genet) 2
A Corner in Wheat (Griffith) 2
Diana's Looking Glass (Gianikian, Lucchi) 2
Dream of a Rarebit Fiend (McCutcheon, Porter) 2
Duck Dodgers in the 24 1/2 Century (Jones) 2
Early Abstractions (Smith) 2
Esperalia (Kalina) 2
The Fall of the House of Usher (Watson, Webber) 2
Fantasmagorie (Cohl) 2
Father and Daughter (De Wit) 2
The Film to Come (Ruiz) 2
Get Out of the Car (Andersen) 2
Ghosts before Breakfast (Richter) 2
A Grand Day Out (Park) 2
In Memory of a Day Passed By (Bartas) 2
Inauguration of the Pleasure Dome (Anger) 2
Je Vous Salue, Sarajevo (Godard) 2
July (Omirbaev) 2
Krakatau (Grzegorzek) 2
Lapis (Whitney) 2
Lodz Symphony (Hutton) 2
Marvo Movie (Keen) 2
Mass for the Dakota Sioux (Bailie) 2
Méditerranée (Pollet) 2
Mind the Steps (Orosz) 2
Les Mistons (Truffaut) 2
The Musicians (Karabasz) 2
The Night before Christmas (Hanna, Barbera) 2
Outer Space (Tscherkassky) 2
The Phone Box (Mercero) 2
Piece Touchée (Arnold) 2
Respite (Farocki) 2
Ring/Krag (Kucia) 2
Ritual in Transfigured Time (Deren) 2
The River (Borzage) 2
Roads of Kiarostami (Kiarostami) 2
The Seashell and the Clergyman (Dulac) 2
The Seasons (Peleshian) 2
Shuffle (Ishii) 2
Skagafjordur (Hutton) 2
Steamboat Willie (Uwerks) 2
Tomatos another Day (Watson) 2
The Train Stop (Loznitsa) 2
Tramway (Kieslowski) 2
A Tree in Tanjung Malim (Tan Chui-Mui) 2
Turbulent (Neshat) 2
Visual Training (Zwartjes) 2
Water Mirror of Granada (Val del Omar) 2
When Angels Fall (Polanski) 2
White Morning (Teshigahara) 2
Windows (Greenaway) 2
The Woman who Powders Herself (Bokanowski) 2
Feed the Kitty (Jones) 1 +2
A Valparaiso (Ivens) 1 +1
Bambi Meets Godzilla (Newland) 1 +1
City of Contrasts (Mambety) 1 +1
Fire in Castille (Val del Omar) 1 +1
Franz Kafka's A Country Doctor (Yamamura) 1 +1
Lifeline (Erice)- part of Ten Minutes Older: The Trumpet 1 +1
Made of Clay (Val del Omar) 1 +1
The Marker Variations (Lacuesta) 1 +1
Meditation on Violence (Deren) 1 +1
Now (Alvarez) 1 +1
Pikoo's Diary (S.Ray) 1 +1
Les Signes (E.Green) 1 +1
Song of Ceylon (Wright) 1 +1
Toot, Whistle, Plunk and Boom (Kimball, Nichols) 1 +1

Isle of Flowers/ Ilha das Flores
Oh, this list is one that's been badly affected by a glitch causing many lost fans- sorry, i don't know who you are, but i hope it gets more attention again, cos it was one of the most worthwhile polls i've done
01

Chris Marker

02

Alain Resnais

03

Forugh Farrokhzad

04

Luis Buñuel

05

Maya Deren

06

Guy Maddin

07

Buster Keaton

08

Georges Franju

09

Jean Renoir

10

Norman McLaren

11

Jean Vigo

12

Joseph Cornell

13

Alan Clarke

14

Stephen Quay

15

Luis Buñuel

16

Jiří Trnka

17

Albert Lamorisse

18

James Parrott

19

Yuriy Norshteyn

20

Georges Méliès

21

Nick Park

22

Jean Vigo

23

Stan Brakhage

24

Don Hertzfeldt

25

Jorge Furtado

26

Apichatpong Weerasethakul

27

Jean-Luc Godard

28

Henri D'Ursel

29

Todd Haynes

30

Michael Snow

31

Zbigniew Rybczynski

32

Jan Švankmajer

33

René Clair

34

Stan Brakhage

35

Jean-Marie Straub

36

Éric Rohmer

37

James W. Horne

38

Buster Keaton

39

Nagisa Ôshima

40

Charlie Chaplin

41

Zoltán Huszárik

42

Christopher Maclaine

43

Alan Schneider

44

Yuriy Norshteyn

45

George Kuchar

46

Karel Zeman

47

Pavel Jurácek

48

Bert Haanstra

49

Joris Ivens

50

Buster Keaton

51

Hollis Frampton

52

Robert Enrico

53

Luis Buñuel

54

Dianne Jackson

55

Frans Zwartjes

56

Caroline Leaf

57

Jean Epstein

58

Len Lye

59

Maurice Pialat

60

Kenneth Anger

61

Marta Rodríguez

62

Buster Keaton

63

Edwin S. Porter

64

Charlie Chaplin

65

Naomi Kawase

66

Dimitri Kirsanoff

67

Norman McLaren

68

Kamran Shirdel

69

Buster Keaton

70

Kenneth Anger

71

Peter Kubelka

72

Vipin Vijay

73

Fyodor Khitruk

74

Audrius Stonys

75

François Truffaut

76

Malcolm Le Grice

77

Richard Condie

78

Shirley Clarke

79

Jean Genet

80

D.W. Griffith

81

Yervant Gianikian

82

Wallace McCutcheon

83

Chuck Jones

84

Harry Smith

85

Jerzy Kalina

86

James Sibley Watson

87

Émile Cohl

88

Michael Dudok de Wit

89

Raúl Ruiz

90

Thom Andersen

91

Hans Richter

92

Nick Park

93

Sharunas Bartas

94

Kenneth Anger

95

Jean-Luc Godard

96

Darezhan Omirbaev

97

Mariusz Grzegorzek

98

James Whitney

99

Peter Hutton

100

Jeff Keen

101

Bruce Baillie

102

Jean-Daniel Pollet

103

István Orosz

104

François Truffaut

105

Kazimierz Karabasz

106

Joseph Barbera

107

Peter Tscherkassky

108

Antonio Mercero

109

Martin Arnold

110

Harun Farocki

111

Jerzy Kucia

112

Maya Deren

113

Frank Borzage

114

Abbas Kiarostami

115

Germaine Dulac

116

Artavazd Peleshian

117

Sogo Ishii

118

Peter Hutton

119

Ub Iwerks

120

James Sibley Watson

121

Sergei Loznitsa

122

Krzysztof Kieślowski

123

Tan Chui Mui

124

Shirin Neshat

125

Frans Zwartjes

126

José Val del Omar

127

Roman Polanski

128

Hiroshi Teshigahara

129

Peter Greenaway

130

Patrick Bokanowski

131

Chuck Jones

132

Joris Ivens

133

Marv Newland

134

Djibril Diop Mambéty

135

José Val del Omar

136

Koji Yamamura

137

José Val del Omar

138

Maya Deren

139

Santiago Álvarez

140

Satyajit Ray

141

Eugène Green

142

Basil Wright

143

Chen Kaige

144

Ward Kimball