My Best Of 2010
So that time has come. Everyone's been compiling their lists of the best of the year so it's time for me to chip in my two cents. A bit of background first:
1) These are according to UK release dates.
2) I know that there are several films absent from here that you may wonder, 'What? How could he miss that?' Well living in the middle of multiplex land means that a lot of great stuff bypasses my way. So within my top 10 list here is another list: Stuff I Wanted To See But Couldn't Because They Open Nowhere Near Me.
*Another Year
*Carlos
*Winter's Bone
*Uncle Boonmee Who Can Recall His Past Lives
*Of Gods And Men
*The Illusionist
*Enter The Void
*The Secret In Their Eyes
*The Girl Who Played With Fire/ The Girl Who Kicked The Hornet's Nest
*Catfish
*White Material
3) Honourable Mentions:
*The American
*American : The Bill Hicks Story
*Capitalism : A Love Story
*The Girl With The Dragon Tattoo
*Green Zone
*The Kids Are Alright
*Please Give
*Shutter Island
*Up In The Air
And without further ado…
10) INCEPTION
Some people are hailing it as a modern masterpiece and while I don't quite agree with statement I do think that Christopher Nolan has furthered his vision as a film-maker and helped drag the summer blockbuster back from the pit of mediocrity. In a world where Michael Bay is allowed to work unhindered, Inception's success is something to celebrate.
9) SCOTT PILGRIM VS. THE WORLD
I'm really not a comic book or gaming guy but boy did Scott Pilgrim plug into my inner geek. Edgar Wright firmly establishes himself as one of our generations most visually comedic directors with plenty of wit and charm to spare. Despite it's unfortunate failure at the box office I think it's safe to say Scott Pilgrim is a cult hit in the making.
8) MONSTERS
Essentially Monsters does what Cloverfield failed to do. By pushing the science fiction elements to the background and bringing the human relationship to the fore, Gareth Edwards creates a world where the impossible does seem believable and with impressive lead performances builds to an surprisingly emotional and tragic finale. One of the most unique on the road movies you'll see.
7) LEBANON
Lebanon may not have anything tremendously original to say about the mechanics of war but told through an achingly claustrophobic point of view it hurls you full force into the horror of combat. It makes a fascinating companion piece with Waltz With Bashir, seeing a former soldier use cinema to confront not only his own demons but that of a nation.
6) BAD LIEUTENANT : PORT OF CALL – NEW ORLEANS
Technically a 2008 release this has only just seen release in the UK. Who cares? Nicolas Cage is back on blistering form under the ever intense eye of Werner Herzog. Is it as good as the original Abel Ferrara version? Probably not, but as an unblinking comedic trip into the 'bliss of evil', it's one the the year's most watchable films.
5) RESTREPO
The best documentary I saw all year, Restrepo turns it's eye from the politics of the Afghan war to those of the young US soldiers fighting in it. Boldly juxtaposing the straight to camera interviews from home to the terrifying footage of combat it paints a tense yet oddly uplifting portrait of courage and companionship in the face of adversity.
4) TOY STORY 3
Everyone and everything you love will one day leave you. A tough message for kids seemingly yet Pixar's latest wonder work dilutes the seeming tragedy with enough humour, pathos and child eyed wonder and joy to ensure that whatever tears are shed, both young and old, are bittersweet ones.
3) DOGTOOTH
Steadily worming it's way into my mind since I saw it, Dogtooth is a horrifying yet darkly amusing tale of parental control gone astoundingly wrong and presents us with one of the most unique portraits of family life since The Texas Chain Saw Massacre. It's also the closet thing you'll ever get to a Michael Hanke style comedy.
2) A PROPHET
Hard as nails yet tender and poetic, A Prophet deserves it's title of a modern crime masterpiece. However you choose to view it's narrative; a scathing examination of how criminals flourish inside prison, an uplifting journey of a young man discovering his identity, a telling study of French/Algerian relations or just a terrifically made thriller, it's blinding all the way with a star making performance from Tahar Rahim.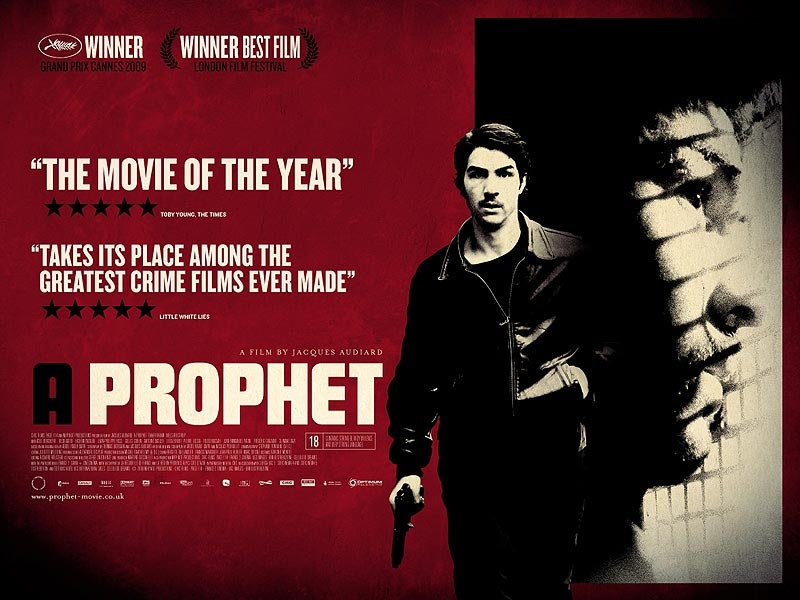 1) THE SOCIAL NETWORK
Well you would have thought it? Yes I scoffed along with everyone when it was announced yet here David Fincher and Aaron Sorkin's tale of greed, betrayal and computer nerds sits atop my best of the year list. Already dissenters are tearing into it with relish, shooting down the claims that it's the decades defining movie. Do I think it is? Only time will tell, yet by anyone's standard this is still a ruthlessly efficient drama brought to life with a sharp as piano wire script, cross-hair precise direction and some of the most surprisingly brilliant acting of the year. That and it manages to make the exploits of an anti- social, back-stabbing sexist geek the most watchable thing of the year. What are the chances?
01

David Fincher

02

Jacques Audiard

03

Giorgos Lanthimos

04

Lee Unkrich

05

Tim Hetherington

06

Werner Herzog

07

Samuel Maoz

08

Gareth Edwards

09

Edgar Wright

10

Christopher Nolan