The Cinema of Naruse Mikio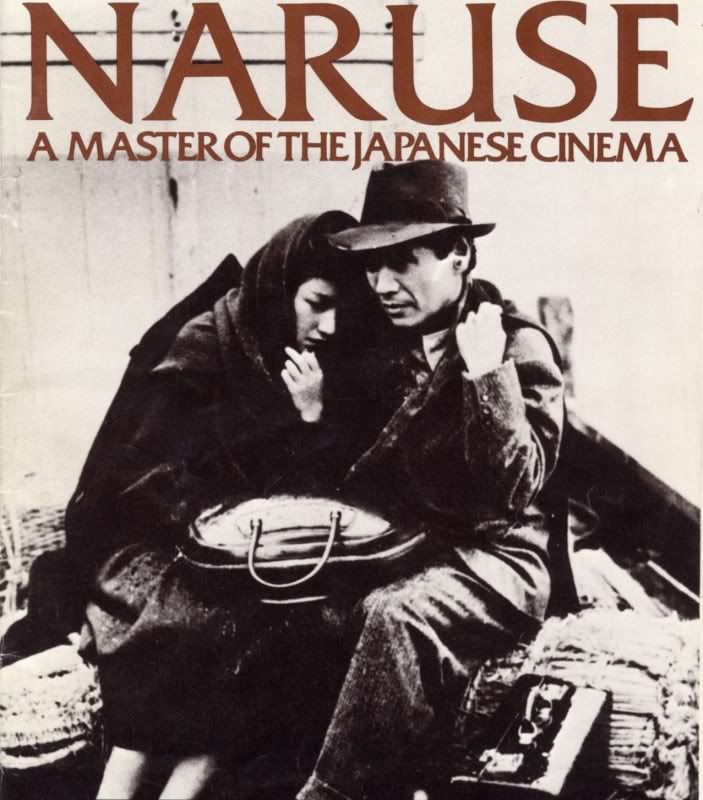 Naurse's importance is without doubt the equal of Ozu's and Mizoguchi's. — Cahiers du cinéma
Formalist critical approaches cannot fully account for the emotional effects of his cinema. — Catherine Russell
"Naruse's films celebrate, without extravagance, the lives of ordinary people struggling for something better than the hand fate has dealt them. Performed with quiet certainty by superb actors, shot and edited with a sure and relentless hand, they raise the ordinary and even the sordid to a quality near sublime" (Audie Bock).
"If women and their problems predominate in Naruse's films, as in Mizoguchi's, the unique mixture of anguish and calm that characterizes the work of the less famous (but no less great) director arises from the fact that his female figures are always doubled. For every Naruse heroine there is another woman, her rival or mirror image, whom she finds waiting when she turns a new corner, who legitimately possesses the man to whom the heroine has at best a moral or sentimental claim, or who stands as a living reproach to the heroine" (Chris Fujiwara).
"Naruse's editing method consists of building one very brief shot on top of another, but when you look at them all spliced together in the final film, they give the impression of a single long take. The flow is so magnificent that the splices are invisible. This flow of short shots looks calm and ordinary at first glance then reveals itself to be like a deep river with a quiet surface disguising a fast-raging current underneath. This sureness of his hand in this was without comparison" (Kurosawa Akira).
"Naruse, a master of depicting unspoken emotions, was notorious for eliminating dialogue from the scripts that were prepared for him. The restrained acting style and relative lack of action mean that the emotional weight and drama of the films is accomplished mainly through editing. By exploiting the possibilities of 360-degree space and mismatched eye lines, a wide range of effects could be created. That the editing itself remained somewhat invisible accounts for the realist style that made his filmmaking not "Japanese" enough for Western critics looking for an aesthetic signature they could associate with the director's cultural heritage" (Catherine Russell).
"Naruse's cinema echoes with sums and salaries, tots and computations; all is commodity, and landlords, merchants, beggars and usurers are forever arriving to collect. Even in the comparatively well-off world of some of his late domestic dramas, money concerns frequently impinge. It sometimes seems that it is this materialism – in several senses of the word – a kind of grubby acknowledgement of the fact of money's importance that has stanched admiration for Naruse among those who prefer their Japanese cinema cosmic, sublime, transcendental, serene, refined. Naruse's aging, obsolete geishas, trapped, grasping housewives, and struggling widows are blunt in their appraisal of their chances in a precarious world in which, Naruse famously said, 'if they move even a little, they quickly hit the wall.' The endings of Naruse's films often find his characters returning to routine after crisis – that is, to another round of everyday unhappiness" (James Quandt).
"It is instructive that the first major Naruse retrospective in the West was organized by Audie Bock, an American woman. The American male critics have always treated him as second-rate. They were entranced by the boyish playfulness of Ozu and the macho histrionics of Kurosawa. They could locate Zen Buddhist aesthetics in late Ozu and Mizoguchi, Zen and samurai ethics in Kurosawa. In search of spiritual elevation or showy displays of stylishness, they found Naruse too bleak in philosophy, too austere in style" (Freda Freiberg).
"Although a central director of the Classic period, there is something very modern about Naruse's characters and stories. This is perhaps one of the reasons for the recent interest in his films. Watching a Naruse film is not about examining "how they used to do films". It is about getting involved in stories that still strike a chord with us" (Eija Niskanen).
"One of the long-prevailing myths about Naruse is that he went through a prolonged 15-year slump from about 1936 to 1951. It's difficult to pinpoint how it originated, but Joseph L. Anderson and Donald Richie's discussion of Naruse in the seminal 'The Japanese Film: Art and Industry'—an immensely valuable if congested book in which the duo often have to resort to make generalizations due to the sheer amount of material they try to cover— seem to have gone a long way in cementing this myth. They even assert that Naruse was simply incapable of making a good film during this stretch (Naruse's 1937 marriage to star Chiba Sachiko, which lasted only five years, was cited as one of the reasons). This obviously without having seen a good portion of the films he made in that span, a number of which were considered lost at that point in time and would remains so for years and decades. The authors even trot out a generic quote from Naruse to support their claim. Not many filmmakers were proud of their work during the later stages of the war when censorship was at its most severe and then of course in the occupation period that followed, including Naruse, but one could cite quotes where he was happy with how certain films ended up. Again, one has to take in consideration that the aforementioned book was originally published more than 50 years ago. To her credit, Audie Book, in the chapter she devotes to Naruse in her 1978 'Japanese Film Directors', acknowledges the greatness of The Whole Family Works and mentions a few others from this period in a positive light, but at the same time she also relies heavily on what had previously been written about Naruse, and passes comment on many a film in the fairly well-researched filmography based simply on that. Catherine Russell, the author of the sole full-length English-language study on Naruse, has the fortune of being able to access all of Naruse's extant films. The problem one encounters in her discussion of the applicable films is that they do not quite fit the criteria or prism through which she largely observes Naruse. She does look at every one of them, though not in great detail, and seems reluctant to praise any of them. One would have to have a mighty agenda to not find anything of value in The Whole Family Works or Spring Awakens or Traveling Actors or Hideko the Bus Conductress or in half-a-dozen other films that belong to this period, an unsteady but important one in Naruse's career" (Arsaib).
From the youngest age, I have thought that the world we live in betrays us; this thought still remains with me — Naruse
Naruse Mikio (20 August 1905 – 2 July 1969) is one of the least known of Japan's early master directors, both in the West and in Japan, yet he created some of the most moving, darkly beautiful works in Japanese cinema. Like Mizoguchi Kenji, Naruse showed an uncanny understanding for the psychology of women. Like Ozu Yasujiro, he preferred subtle shifts of character over broad strokes of plot. Unlike either of these early greats, however, Naruse's vision of humanity was much darker and more clinical.
Born in Tokyo, in 1905, Naruse was the youngest of three sons of a desperately poor embroiderer. Although he excelled in elementary school, his family could not afford to further his education. He was instead enrolled in a two-year technical school. There, he spent virtually all of his free time reading borrowed books from the library. Soon after he graduated in 1920, his father died. At age 15, Naruse had no choice but to work. He found employment at the newly founded Shochiku company as a prop man. During this same time, Mizoguchi and Ozu rose, within three years, from lowly apprentices to directors. Excessively modest and painfully shy, Naruse rose through the studio's ranks more slowly. After eight years as an assistant director to Gosho Heinosuke and Ikeda Yoshinobu , he finally got the chance to direct. But soon thereafter, Naruse moved to P.C.L studio which later merged into Toho. (Note: Of Naruse's 24 silent films, 19 have been lost, and of the 65 sound films, 2 have been lost, and one is available only in incomplete form.)
His films are populated with proud, willful women who find themselves searching for dignity in desperate circumstances, only to find false promises and continuing degradation. Naruse's characters are stubborn, experienced, and self-aware. They are women who knowingly enter doomed relationships, as in Floating Clouds; barmaids who struggle to support their children, as in Ginza Cosmetics; or aged geishas who try to resist a decline into prostitution, as in Flowing. Yet they continue to struggle and endure in spite of their bleak prospects. Naruse shoots his actors close-up in confined spaces. His claustrophobic aesthetic seems to deny the possibility, not just of transcendence, but even of communication or happiness. Naruse films rely on subtle changes of expression to create brilliantly nuanced studies of these remarkable and desperate women.
Naruse, like other Japanese directors, worked with a consistent crew of scriptwriters, technicians, and actors, who may have evolved and changed over the decades, but who nevertheless helped to create a certain style associated with the director's name. Among Naruse's most important collaborators were two women screenwriters: Mizuki Yoko (who worked on 7 films from 1952 to 1957) and Tanaka Sumie (who worked on six films between 1951 and 1962). (Note: Naruse based 6 of his films on the works by the great Hayashi Fumiko: Repast, Lightning, Wife, Late Chrysanthemums, Floating Clouds, and A Wanderer's Notebook.) The other notable screenwriter, Ide Toshiro, worked on 12 films, from 1951to 1966. As for cinematographers, Suzuki Hiroshi shot 13 films from 1935 to 1952, and Tamai Masao shot 16 films from 1949 to 1960. Composer Saito Ichiro worked on all the 1950s and early 1960s films. Art director Chuko Satoshi worked with Naruse on 25 films, from 1939 to 1967. As early as 1934, actresses felt privileged to work with him, and he continued to earn their respect until his very last film. Takamine Hideko did 17 films with Naruse. Hara Setsuko, Sugimura Haruko, Yamada Isuzu, Tanaka Kinuyo, Tsukasa Yoko, Sugi Yoko, Okada Mariko, Irie Takako, and Awashima Chikage were also frequently cast in his films.
References/Reading
Wikipedia / All Movie Guide
Audie Bock, Japanese Film Directors, Kodansha International, Tokyo, San Francisco & New York, 1978
Audie Bock, Naruse Mikio: Un maitre du cinema japonais, Locarno, Edition du Festival international du film de Locarno, 1983
Catherine Russell, The Cinema of Naruse Mikio: Women and Japanese Modernity, 2008, Durham, NC: Duke University Press
Chris Fujiwara, Naruse Mikio: The Other Women and the View from the Outside." Film Comment, Sep-Oct 2005
Hasumi Shigehiko, "The International reputation of Naruse: In the Face of Misfortune, in the Age of Discovery." HKIFF, 1987
Kano Ayako, Acting Like a Woman in Modern Japan: Theater, Gender and Nationalism. New York: Pelgrave, 2001
Miguel Marias, "Naruse's Serene Splendor." Edited by Hasumi Shigehiko and Yamane Sadao. San Sebastian Film Festival, 1998
Jean Narboni, Naruse Mikio: Les temps incertains, Paris: Cahiers du cinéma, 2006
Okamoto Kihachi, "What the Master Naruse Mikio Taught Me: Spirit and Technique." Chicago: The Film Center, 1984
Andre Scala, "Naruse and some Dutch Painters." Cahiers du cinéma, 1993
Edward Yang, "Generosity: The invisible Invisible." Edited by Hasumi Shigehiko and Yamane Sadao. San Sebastian Film Festival, 1998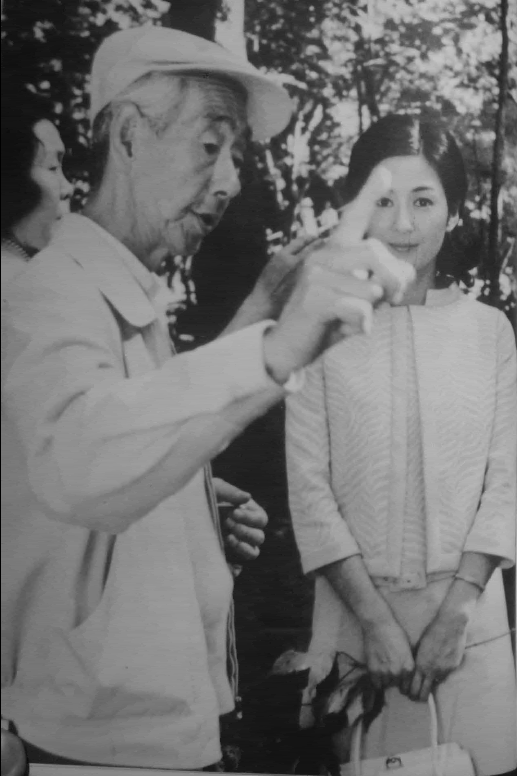 _____________________________
Top 30
I. (
in alphabetical order
ANZUKKO (ANZUKKO, 1958)
DAUGHTERS, WIVES, AND A MOTHER (MUSUMA, TSUMA, HAHA, 1960)
A splendid cast which features not only stellar Naruse regulars (Hara Setsuko, Takamine Hideko, Uehara Ken, Mori Masayuki) but also the redoubtable Nakadai Tatsuya, graces this drama, shot in Scope and color, which is appropriate for a work of such narrative complexity. The Sakanishi family live in comfort in the suburbs of Tokyo; the eldest son takes care of the sixty-year-old matriarch, while his two sisters and wife fill out the domestic spectrum suggested by the film's title. A loan secured from mortgaging the family home leads to a chain of disasters and recriminations, leaving the Sakanishis in disarray and their aging mother feeling that she must admit herself to a nursing home for the children's sake. One of Susan Sontag's favorite Naruse films. (James Quandt)
FLOATING CLOUDS (UKIGUMO, 1955)
This is it: for many critics, film historians, and Narusians, the ultimate masterpiece of the director's career. Especially revered in Japan – even Ozu noted his admiration for it in his diary – Floating Clouds opens in the bombed-out ruins of Tokyo as Yukiko (Takamine Hideko, more luminous than ever) searches for her old lover Tomioka, with whom she worked in Southeast Asian during the war. They renew their affair, though he tells Yukiko he cannot leave his ailing wife. She sacrifices her health and happiness pursuing him while he, a typically weak Naruse male, vacillates, their turbulent relationship reaching its conclusion on the island of Yakushima, amid dense rain forests. As Miguel Marias has pointed out, the two central characters are adrift and in constant motion, but Naruse shoots their strolls and movements with traveling shots so imperceptible that all seems fixed, immobile. (James Quandt)
FLOWING (NAGARERU, 1956)
Naruse gathered an ensemble of great veteran actresses for the superb Flowing; it's hard to imagine a trio more impressive than Takamine Hideko, Tanaka Kinuyo, and Yamada Isuzu. Tanaka plays Rika, a maid hired by the proud mistress of a failing geisha house. The maid quickly comes to realize that the mistress is deep in debt and that her desperate attempts to save her establishment are in vain. The maid's clear-eyed comprehension of her employer's dilemma, as traditional geisha establishments were closing or becoming bordellos to survive in rapidly changing Tokyo, constrasts with the blind naïveté of the samisen-playing mistress (Yamada) and her emotionally deprived daughter (Takamine). Phillip Lopate ranks this "delicate, absorbing chamber drama" as one of Naruse's three greatest masterpieces. (James Quandt)
____________________________________
Even more so than Hitchcock, though not quite in the same psychoanalytical terms, Naruse had a penchant for doubling his characters, especially women. As Chris Fujiwara rightly points out, it's fairly common for a Naruse heroine to have a "rival or mirror image, whom she finds waiting when she turns a new corner, who legitimately possesses the man to whom the heroine has at best a moral or sentimental claim, or who stands as a living reproach to the heroine." From No Blood Relations ('32) (in which it's a child, not a man, at the center of the conflict) to Yearning ('64) (remember the wayward young woman who wanders into the shop one day?), from Wife! Be Like a Rose! ('35) (in which both the mother and the daughter in the city have rural counterparts) to Untamed ('57) (two of Takamine's three husbands in the film are stolen by her rival), this motif is expertly deployed by Naruse. And one could locate dozens of other such examples throughout his remarkable oeuvre. In Flowing, Yamada Isuzu's character has not one but two 'rivals': her parsimonious step-sister (Kahara Natsuko) and her calculating mentor (the great Kurishima Sumiko, in her final role, her first in 18 years). (Arguably, the characters played by Sugimura Haruko and Nakakita Chieko could also be added to the list, not to mention that of our surrogate of sorts, Tanaka Kinuyo.) And here it's not a person who comes between them, but rather a place: a financially crumbling 'okiya'. "To act in his films was really an honor for actresses," Tsukasa Yôko once stated. "He understood perfectly the psychology of women." Featuring one of the greatest, most generationally diverse female casts ever assembled in cinema history, Flowing is the ultimate embodiment of Naruse's disposition toward women. (Arsaib)
GINZA COSMETICS (GINZA GESHO, 1951)
Though derived from a story by Inoue Tomoichirô, this nuanced psychological portrait of a woman, largely rendered in a humble, slice-of-life mode, a Naruse specialty, could easily be mistaken for a Hayashi Fumiko adaptation, the author whose temperament suited Naruse the most (and whose work is responsible for some of his greatest films). Which wouldn't exactly be wrong. Naruse once admitted that also took cues from a Hayashi story that he had in mind while at Shochiku, which, along with his and the screenwriter's personal experiences of the Ginza, helped form the basis of the story. If in outline—a bar hostess raising a kid on her own—the film looks back to the director's 1933 Every-Night Dreams, arguably his first masterpiece, then with its dignified yet weary protagonist, movingly played by Tanaka Kinuyo, who is best known for her work with Mizoguchi but she is equally good in the films she did with Naruse, it anticipates Takamine's character in the 1960 When a Woman Ascends the Stairs, another genteel, guarded woman who is in far less control than she thinks she is. In Ginza Cosmetics, Naruse often places Tanaka in a narrow alley or captures her in long shots through an open shoji screen to metaphorically portray her inescapable fate. While Repast is often regarded as Naruse's first major accomplishment of the '50s (and his return to form after a long slump—a falsity), this film is no less worthy of the honor. (Arsaib)
LIGHTNING (INAZUMA, 1952)
It could be argued that the poetry in Naruse's cinema is as simultaneously constant yet opaque as it is in our physical world, noticeable perhaps only to the attentive, thoughtful viewer, and possibly requiring a retake. A paradox, indeed. It certainly isn't known to 'arrive' on the scene in the form of an artfully composed tableaux à la Mizoguchi or charged pillow-shots à la Ozu. And even when a poetic moment appears in condensed form as it does about midway through Lightning, a shot no more than 10 seconds long of a boat passing under a walkway and leaving ripples in the stream behind it, the only such moment in the entire film, it doesn't register very strongly, at least not at first, due to its placement in the overriding sequential structure and, just as importantly, the surrounding dramatic texture. In Narurse, it's the cumulative effect of the shots that matters the most. Adapted from a Hayashi Fumiko novel, Lightning, which finished second in Kinema Junpo's annual poll behind Kurosawa's Ikiru, is often regarded as one of Naruse's lighter, more hopeful films, but that would be to ignore its incisive reflection on the the dissolution of the Japanese patriarchal family and any remaining ties and bonds than can both nurture and destroy. (Arsaib)
MOTHER (OKAASAN, 1952)
The great Tanaka Kinuyo is formidable in this beloved classic, often cited as Japan's most important contribution to postwar neorealism. (Venerable film historian Sato Tadao brackets it with Mizoguchi's The Life of Oharu and Kurosawa's Ikiru as the beginning of "the second golden age of Japanese cinema.") Tanaka plays the enterprising matriarch of the Fukahara family, struggling to survive amid the poverty and devastation following the war. The film begins in chirpy, almost comic mode, as the elder daughter of the family introduces us to the Fukaharas and their neighborhood, but inexorably, inevitably, Naruse's tragic sense takes hold. The parents' dream to reopen their once prosperous laundry comes true, but is accompanied by death, loss, untenable sacrifice. (These are mostly, as so often in Naruse, confined to ellipses, and the effect is doubly powerful.) The pragmatic mother is finally faced with a choice between keeping her (diminished, fragmented) family intact or ensuring that one of her children has opportunities. Naruse transforms the mawkish genre of "mother" movies (known as haha-mono) so popular in Japan into something astringent and complex, dense with social observation; the film's poignancy is hard-earned and authentic. Momentarily moved to show an instance of true, unfettered happiness, Naruse resorts to an uncharacteristic flashback as mother and father reminisce about good times long gone. "One of Naruse's best films" (Donald Richie and Joseph L. Anderson). (James Quandt)
EVERY-NIGHT DREAMS (YOGOTO NO YUME, 1933)
Few recent discoveries have created as much excitement as this, which has been called Naruse's most visually audacious work. "An outstanding work of film art" (William M. Drew), Every-Night Dreams was an early statement of Naruse's cardinal theme of a woman trapped and betrayed by weak or corrupt men. Using the finest writers, technicians, and actors offered by the Shochiku studio, Naruse developed this dire story form the experiences of a geisha who lived nearby. A young woman, abandoned by her husband, works as a hostess in a Tokyo harbor bar to support her small son. Her husband suddenly reappears but cannot find employment, and when their boy is injured by a car, the reassembled family once again fragments, this time more tragically. A virtuoso display of camera movement, unusual angles, deep field composition, and startling montage, Every-Night Dreams also features an early instance of an actress (Kurishima Sumiko) prodded to greatness by Naruse's directing. The supporting performances, including that of Ozu regular Saito Tatsuo, are also very fine. (James Quandt)
____________________________________
Among his surviving films, this is perhaps Naruse's first bona fide masterpiece, in which every aesthetic choice, whether it relates to mise-en-scène or montage, works in perfect harmony with the narrative content and the emotional and psychological states of the characters. And the economy with which Naruse operates here is breathtaking to behold. Even in this relatively early effort, a sense of modernity could already be detected in Naruse's work through the strength and resourcefulness of his female protagonist, beautifully played here by Kurishima Sumiko, a popular star at the time who retired not long thereafter but returned nearly two decades later to work in another Naruse gem, Flowing, which turned out to be her final film. (Arsaib)
OLDER BROTHER, YOUNGER SISTER (ANI IMOTO, 1953)
SOUND OF THE MOUNTAIN (YAMA NO OTO, 1954)
"This is one of my all time favorites, " commented Naruse, "I love this picture." So do many critics: Sound of the Mountain is frequently ranked at the top of Naruse's pantheon by Japanese and European commentators. Hara Setsuko, so sublime in Ozu's films, brings serene intensity and "incredible sensuality" (Cahiers du cinéma) to her role as the wife of a businessman who is indifferent to her desperate loneliness in this adaptation of a work by Nobel prize-winning author Kawabata Yasunari. Returning to their home in Kamakura from drunken forays after work in Tokyo, the sodden, insolent husband remains unaware that his wife is considering aborting their baby, so abject is her sense of their future together. Among the film's triumphs is the portrait of the husband's father, a wise, emphatic man, played by the great Yamamura So, who shares his daughter-in-law's distress; his walk with Hara in a park of bare limbed trees at the end of the film is classic Naruse in its sense of bereft resignation. Full of marvelous details and set pieces, including a storm that causes a blackout. "I would put Sound of the Mountain on equal footing with the best of Mizoguchi, Ozu, Ford, McCarey, Chaplin, Rossellini, Dreyer, Renoir or Hitchcock; that is to say, among the greatest films ever made" (Miguel Marias). (James Quandt)
THREE SISTERS WITH MAIDEN HEARTS (OTOME-GOKORO SANNIN SHIMAI, 1935)
UNTAMED (ARAKURE, 1957)
Though one of Naruse's toughest films, Untamed unfolds via a series of ellipses whose poetic resonance is only further enhanced by what they help mask: the film's secret heart, which comprises of a beautiful, tender relationship between Takamine, an unrefined, disadvantaged yet fearlessly enterprising woman, and Mori, a man weak in both body and spirit (in some respects it is the opposite of what the two actors shared in Naruse's earlier Floating Clouds). The film's sense of humor, at times atypically pointed for Naruse, is also worth a mention (Takamine quite literally whaling away at Katô, her third husband and one of five men she is associated with during the duration of the film, whom she earlier referred to as the ugliest guy she's ever met, is certainly a highlight). Adapted from a novel by Tokuda Shūsei, an influential figure for Hayashi Fumiko, this Taishō-era set effort was the product of Narure's ambition to make a film about a strong-willed woman. Ironically, by looking at the past Naruse ended up offering a prototype of sorts for the future—an immediate future as the strength and indomitable spirit of Takamine's Ôshima would soon become an identifiable trait of the women in new wave films, especially those of Imamura. (Arsaib)
THE WHOLE FAMILY WORKS (HATARAKU IKKA, 1939)
WIFE! BE LIKE A ROSE! (TSUMA YO BARA NO YO NI, 1935)
YEARNING (MIDARERU, 1964)
"As a love story it climbs to sublime heights" (Miguel Marias). Yearning stars Takamine Hideko as a headstrong war widow who has supported her family with the dwindling earnings of a small store that is losing out to proliferating supermarkets. Her brother-in-law returns from Tokyo, promising to help out, but soon resumes his life of booze and women, while his sisters try to marry the widow off and when unsuccessful, conspire to sell the store out from under her. (The selfishness of such characters in Naruse never ceases to amaze.) As he did in Summer Clouds, Naruse entwines a fated love story between a desperate war widow and a philandering man with a portrait of Japan's changing economy and mores. Taiwanese master Edward Yang, a great admirer of Naruse and of Yearning, has written very eloquently about how the calm discretion of the film's closing sequence summarizes Naruse's world view and manifests what Yang rightly calls his generosity. (James Quandt)
____________________________________
Takamine Hideko only got to see Yearning, in its complete form, in the winter of 1989, at Tokyo's Kawakita Memorial Film Institute. Until then, she had only taken in a few rushes during the making. After the screening, she told an interviewer that Kayama's character was supposed to get drunk and die accidentally in the snow, but Naruse got tired of waiting for a snowstorm and had the character commit suicide. While what we glean from the proceedings is slightly more ambiguous, the odds are that that, in fact, is what actually occurred. Nevertheless, it eventually sets up the final shot, a close-up of Takamine's Reiko (exquisitely captured by Yasumoto Jun, who shot a number of Naruse's 'scope film in the Sixties; in this film, his medium- and long-shot compositions often help emphasize Reiko's loneliness), where she might as well be an embodiment of Munch's 'silent scream.' But as the late, great Taiwanese master Edward Yang has argued, however, "her expression suddenly becomes calm as if she were saying to herself, 'This is life, and life must go on.'" While to me the transformation is much more subtle (closer to what the Dardennes accomplished with Émilie Dequenne at the end of Rosetta), which only speaks to the greatness of Takamine's performance in this moment, perhaps even surpassing the state of 'midareru' or 'anguished confusion' she portrayed in an earlier train sequence, her expression every so slowly moves from desperate to quietly defiant. I don't think we need to pity Reiko; she'll be okay. (Arsaib)
II.
in alphabetical order
APART FROM YOU (KIMI TO WAKARETE, 1933)
THE GIRL IN THE RUMOR (UWASA NO MUSUME, 1935)
HIDEKO THE BUS CONDUCTRESS (HIDEKO NO SHASHO-SAN, 1941)
HUSBAND AND WIFE (FUFU, 1953)
LATE CHRYSANTHEMUMS (BANGIKU, 1954)
NO BLOOD RELATION (NASANUNAKA, 1932)
REPAST (MESHI, 1951)
SCATTERED CLOUDS (MIDAREGUMO, 1967)
SPRING AWAKENS (HARU NO MEZAME, 1947)
One of Naruse's most lyrical films, this "democracy picture" about sex education (at least ostensibly so) can be viewed as an up-to-the-minute report on the fluctuating mores and values of the Occupation period and how various social and cultural spheres were affected by this uncertainty. Also a sublime coming-of-age story, Spring Awakens deserves to be ranked among Naruse's best films of the 1940s. (Arsaib)
THE STRANGER WITHIN A WOMAN (ONNA NO NAKA NI IRU TANIN, 1966)
An adaptation of Lebanese-born Edward Atiyah's 1951 crime novel The Thin Line, later employed by Chabrol for his equally remarkable (and nearly as neglected) 1971 effort Just Before Nightfall. But whereas Chabrol customarily uses the central murder to aim at the façade of bourgeois respectability, Naruse's film, perhaps unwittingly, brings into question something at once more elusive and concrete: Japanese conformity, which is challenged here initially by the youth culture in the form of a modern sexualized young woman, and eventually by an ostensibly docile housewife. Featuring his stock company veteran Kobayashi Keiju in the lead role, this was Naruse's most exquisite foray into "noir" territory. (Arsaib)
SUMMER CLOUDS (IWASHIGUMO, 1958)
A WOMAN'S STORY (ONNA NO REKISHI, 1963)
Largely told in flashbacks, this sprawling, beautifully realized drama sees both Naruse and Takamine once again at the height of their considerable powers. Besides Floating Clouds, this might be the only other Naruse film in which the war plays an integral role in shaping and defining the characters and their eventual fates. But unlike that masterpiece, the relationship at the heart of the film is between a woman and her mother-in-law who persevere through various traumatic events and personal tragedies, all handled with grace and dexterity by the master. Yet another unheralded gem in the ever-remarkable Naruse canon. (Arsaib)
A WANDERER'S NOTEBOOK (HOROKI, 1962)
WHEN A WOMAN ASCENDS THE STAIRS (ONNA GO KAIDAN O AGARU TOKI, 1960)
A WIFE'S HEART (TSUMA NO KOKORO, 1956)
(Note: I have seen 64 of Naruse's 67 surviving films.)
NARUSE ON DVD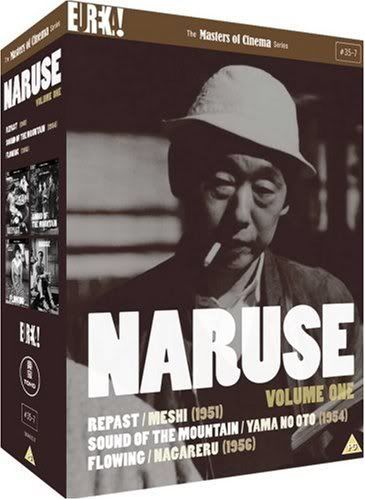 Naruse on the Web
WHEN A WOMAN ASCENDS THE STAIRS (1960)
NARUSE ON HULU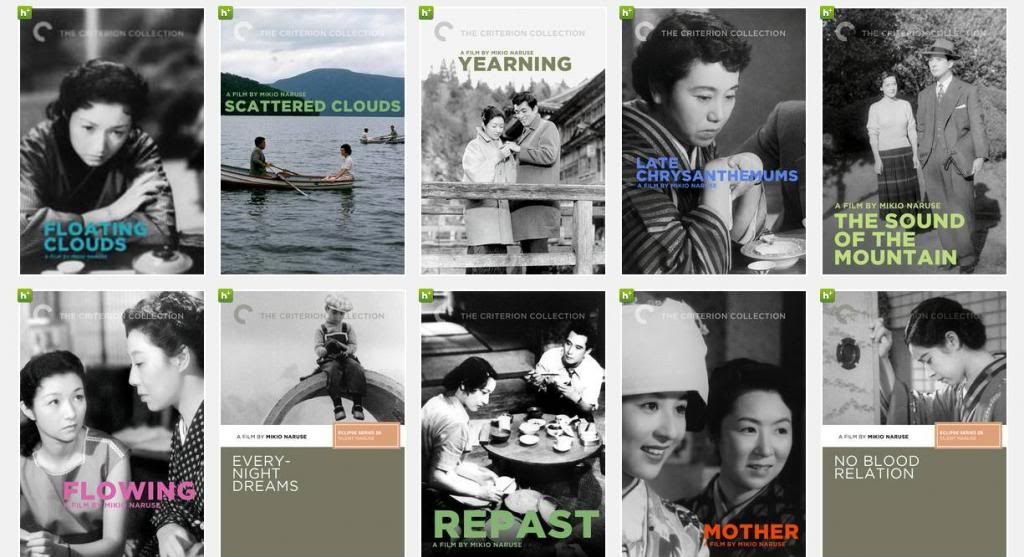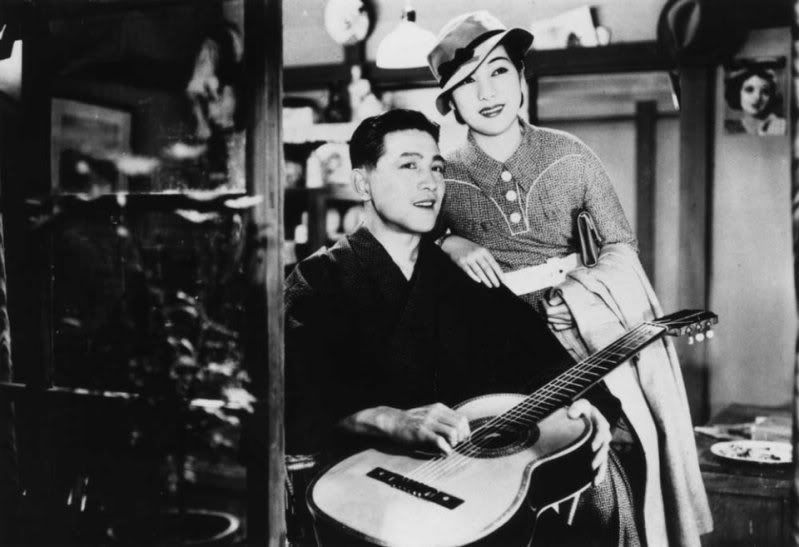 in chronological order
01

Mikio Naruse

02

Mikio Naruse

03

Mikio Naruse

04

Mikio Naruse

05

Mikio Naruse

06

Mikio Naruse

07

Mikio Naruse

08

Mikio Naruse

09

Mikio Naruse

10

Mikio Naruse

11

Mikio Naruse

12

Mikio Naruse

13

Mikio Naruse

14

Mikio Naruse

15

Mikio Naruse

16

Mikio Naruse

17

Mikio Naruse

18

Mikio Naruse

19

Mikio Naruse

20

Mikio Naruse

21

Mikio Naruse

22

Mikio Naruse

23

Mikio Naruse

24

Mikio Naruse

25

Mikio Naruse

26

Mikio Naruse

27

Mikio Naruse

28

Mikio Naruse

29

Mikio Naruse

30

Mikio Naruse

31

Mikio Naruse

32

Mikio Naruse

33

Mikio Naruse

34

Mikio Naruse

35

Mikio Naruse

36

Mikio Naruse

37

Mikio Naruse

38

Mikio Naruse

39

Mikio Naruse

40

Mikio Naruse

41

Mikio Naruse

42

Mikio Naruse

43

Mikio Naruse

44

Mikio Naruse

45

Mikio Naruse

46

Masanori Kakei

47

Mikio Naruse

48

Mikio Naruse

49

Mikio Naruse

50

Mikio Naruse

51

Mikio Naruse

52

Mikio Naruse

53

Mikio Naruse

54

Mikio Naruse

55

Yuzo Kawashima

56

Mikio Naruse

57

Mikio Naruse

58

Mikio Naruse

59

Mikio Naruse

60

Mikio Naruse

61

Mikio Naruse

62

Mikio Naruse