The more refined one is, the more unhappy: Chekhov in film
My favorite playwright is Anton Chekhov, a man who wrote boldly ahead of his time, freeing Russian theater of its historical drama constraints, or at least tried to. A young Constantin Stanislavsky didn't quite know what to make of Chekhov's plays and still tried to stage them as historical dramas, often with bad results. It was later that Stanislavsky would discover his method and treat Chekhov the way he should, as comedy, albeit dark and sometimes brooding. Over the years, many many directors have taken their shot at the great master, some with good results.
I am particularly drawn to the numerous attempts at The Cherry Orchard, perhaps Chekhov's finest drama. Early Russian attempts tended to play up the aristocratic Madame Ranevskaya and her brother Gaev. Even Stanislavsky chose Gaev over Lopokhin, much to Chekhov's annoyance. Later, the Soviet drama made the peasant Lopakhin the hero of the play, with the great Vladimir Vysotsky in the lead role in 1974. Foreign versions also tend to favor the aristocratic pair with a young Judy Dench transformed from her role as Ana in the 1962 British version to Madame Ranevskaya in the 1981 version. A more recent Russian version, directed by Anna Chernakova, tries to strike a balance. Mihalis Kakogiannis directed a new version in 1999, starring Charlotte Rampling and Alan Bates as the aristocratic siblings. Sam Mendes and Tom Stoppard were not content to leave Chekhov as Chekhov, but draw a connection with Beckett in their 2009 theatrical version. There was also a Japanese version, Sakura no sono, set in a Japanese boarding school, and one by Lester James Peries set in Sri Lanka, entitled Mansion by the Lake.
Uncle Vanya has similarly seen many stage and screen incarnations. Chekhov had not been pleased with an earlier version of the play entitled The Wood Demon, and chose to recast it with focus shifting from the Doctor to Uncle Vanya, although the doctor is still a major figure in the play. The most familiar version to many viewers would be Vanya of 42nd St, adapted by David Mamet and directed by Louis Malle. A radiant Julianne Moore plays the professor's wife. Laurence Olivier directed a version in 1962, where he also played Astrov, the doctor. The Russian version was directed by Andrey Konchalovskiy and featured the great Sergei Bondarchuk as the good doctor. Anthony Hopkins reworked the story into August, transforming the landscape to North Wales.
Another perennial favorite is The Seagull, which Chekhov fully intended as a comedy, but likewise was treated as a historical drama in its early inceptions. The Russian version, Chayka, directed by Yuri Karasikis, a classic, featuring two of the leading ladies of Russian cinema, Alla Demidova and Lyudmila Savelyeva. this was Chekhov at his theatrical best, creating a wonderful flow of dialog and very compelling characters. Sidney Lumet also did a very good version of the play featuring Simone Signoret as the ever young Arkadina and David Warner as her idealistic son. Claude Miller's recent La petite Lili is based on The Seagull . I wonder if Tennessee Williams had this play in the back of his head when he created Sweet Bird of Youth.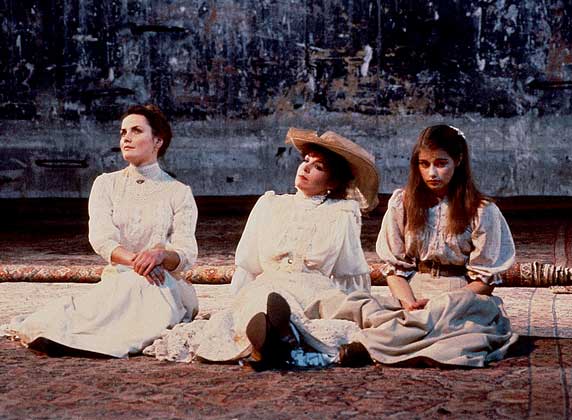 Three Sisters is probably the most heartfelt of his plays, as it is hard not to feel empathy for the three embattled sisters on their fading estate, with their every move seemingly being undermined by their sister-in-law Natasha. Here again one can see Laurence Olivier both as director and actor with a young Joan Plowright as Masha in this British version, dating from 1970. There have been many Russian versions over the years, but it seems that this 1994 version is the most recent. The story has also inspired many interpretations including a Hammerstein and Kern musical, which premiered in 1934.
Other plays to be adapted to the screen including this recent lavish production of Ivanov by Vadim Dubrovitskii. NIkita Mikhalkov transformed Platanov, Chekhov's first play into Unfinished Piece for the Player Piano.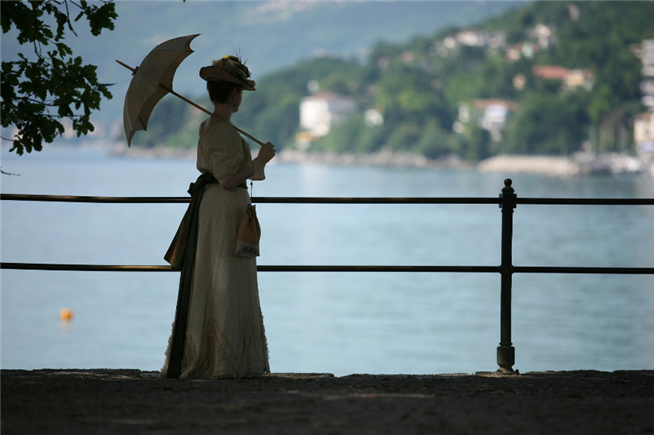 A great number of Chekhov's short stories and novels have been adapted into movies. Iosif Kheifits adapted The Lady with the Little Dog and A Bad Good Man to the screen in the early 70s. A Bad Good Man featured a young Vladimir Vysotstky. Nikita Michalkov re-interpreted The Lady with the Little Dog into Dark Eyes, with Marcello Mastroianni finding himself smitten by a Russian beauty, Yelena Safonova. Sergei Bondarchuk directed his version of The Steppe in 1979. Bondarchuk also played in a 1955 version of The Grasshopper, or Poprygunya in Russian. Kira Muratova explores Chekhovian Motifs in this 2002 movie. There have been more recent screen adaptations of The Duel and Ward No. 6. Ken Loach reinterpreted A Misfortune in 1973, and John Cleese took a turn at Chekhov in Romance with a Double Bass in 1974. There is also a wonderful Czech animated version of this story by Jiri Trnka, dating from 1949. Michael Meredith transposed six short stories in Cleveland in his debut film, Three Days of Rain.
His stories have also served as fodder for Hollywood movies, such as Summer Storm (1944), directed by Douglas Sirk and featuring Linda Darnell as Olga.
There have been several attempts to capture Chekhov in biopics including this overwrought 2007 production, which explores the relationship between Chekhov and his sister during his final years. If one hunts around one can find some interesting biographies such as From Chekhov with Love, featuring John Gielgud as Chekhov. BBC radio also produced an adaptation of Irene Nemirovsky's short biography, A Life of Chekhov, which was published after her death in 1951. The book provides a wonderful overview of Chekhov's life. There is a 1981 German documentary as well.
01

Mihalis Kakogiannis

02

Shun Nakahara

03

Lester James Peries

04

Louis Malle

05

Andrei Konchalovsky

06

Yuli Karasik

07

Sidney Lumet

08

Claude Miller

09

Paul Bogart

10

Nikita Mikhalkov

11

Iosif Kheifits

12

Iosif Kheifits

13

Nikita Mikhalkov

14

Samson Samsonov

15

Emil Loteanu

16

17

Dover Koshashvili

18

Karen Shakhnazarov

19

Robert Young

20

Jiří Trnka

21

Michael Meredith

22

Douglas Sirk

23

Eric Till

24

Sohrab Shahid Saless