TUMBLEWEED AND TOMAHAWKS: ESSENTIAL WESTERNS

The Wild Bunch

My Darling Clementine

Canyon Passage
This list is now a representative selection, no longer just favourites.
I think this is a genre that would benefit from a hefty dose of the Native Americans' viewpoint: it was a bloody business. For all the romance attached to them their descendants are hardly at the feast today, in their own land. It's not always been the most progressive genre, but has travelled the world and colonised the collective subconscious. Like so many, as a kid we played cowboys and injuns, and Champion the Wonder Horse was my favourite aged 7. Still i often imagine those "red indians" on their horses majestically framed against the sky on the top of certain hills. There are parts of Wales that would be great for a Western. The legend has been printed, history written by the winners. There have been revisions but some way to go for a full picture. Broken Arrow was something of a landmark in 1950 but in that decade we still had white men and women in make up, Burt Lancaster as an Apache, though at least as the hero. In the early 60s John Ford made some films questioning his own myth-making, and yes, even black men existed. In 1980 Heaven's Gate, which has been called a Socialist western (rarity indeed), was a financial disaster and is widely considered to have spelled the end of the "Movie Brats"' Easy Riders to Raging Bulls era, replaced by so many juvenile rollercoaster rides. In 1990 Costner's Oscar winner Dances with Wolves, acclaimed as revisionist and sympathetic to native Americans, still had a white couple at its centre. Little Big Man had delved further into the genocide in 1970, following on from the alternative visions of a rebellious decade, the baroque operas of Leone and the brutal blood-spattered montage of The Wild Bunch. Here is a forum thread on Native American cinema- not yet fully represented on mubi..

Chief Sitting Bull
The West was the place for the pioneer spirit, bold trail-blazers, hardened independent men as rugged as the landscapes, who taught their compatriots and the world what it means to be American. They could shoot hard, drink hard amidst the whoopin' and hollerin' saloons and on occasion, if a more feminine audience required it, kiss hard. But the gun was king and it's a surprise anyone lived to tell the tale. A manly genre, and the undertakers were glad of it. Johnny Guitar (beloved of the French New Wave) with its female protagonists was an exception. Female directors are notable by their scarcity- Kelly Reichardt's austere female-centred Meek's Cutoff a (recent) rarity. I'm tempted to pick some Japanese films like Seven Samurai and Yojimbo, models for famous Westerns, and there have been Australian (Story of the Kelly Gang, The Proposition), Hungarian (The Wind Is Whistling Under Their Feet) and Eastern European (see Anton Williams' list The Red Western), even Thai (Tears of the Black Tiger) and one from Niger (Le Retour d'un Aventurier), as well as Spaghetti westerns. Still, i am sticking to American-set films, including a few modern cowboy films (Brokeback Mountain) that may not strictly qualify as Westerns, and The General (seemingly more a "Southern" than a Western, but filmed in Oregon) too. The Great Train Robbery was a cinematic landmark in 1903, and i've included a few other important silents, Last of the Mohicans, The Covered Wagon, The Iron Horse. Stagecoach was crucial to the careers of both Ford and Wayne, and the development and popularisation of the Western, but now may appeared clichéd from its imitations and influence, an influence that spread to Belgium, France and the Lucky Luke comic books. Lucky could have rounded up the James gang, Butch and Sundance and any number of desperadoes single-handed, he could smoke the peace pipe, ride like the wind, throw a neater lassoo than Buffalo Bill, charm the ladies in their finery from gay Paree, shoot straighter than Annie Oakley and draw faster than Billy the Kid, faster even than his own shadow.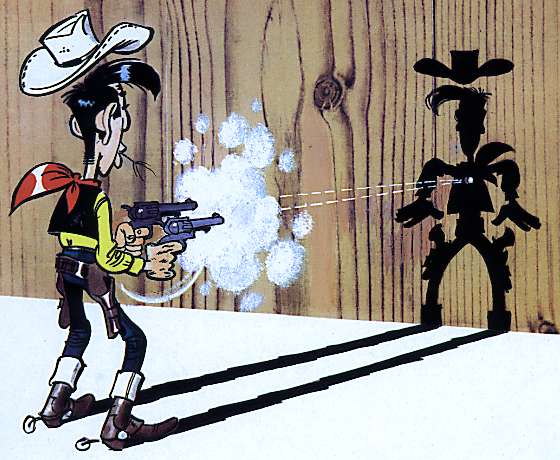 Not on Mubi:
Deadwood (TV)
Lonesome Dove(TV)

Tears of the Black Tiger (Roy Rogers meets Kwaidan)
My favourites:
The Wild Bunch
The General
Track of the Cat
The Searchers
Once upon a Time in the West
The Outlaw Josey Wales
One Eyed Jacks
Johnny Guitar
Way of a Gaucho
Treasure of the Sierra Madre
Stars in my Crown
Canyon Passage
Wagon Master
The Good the Bad and the Ugly
The Far Country
Meek's Cutoff
The Man who Shot Liberty Valance
My Darling Clementine
There Will be Blood
over to you, Annie
~


The Searchers
01

Robert Aldrich

02

Andrew Dominik

03

John Sturges

04

Sam Peckinpah

05

Anthony Mann

06

William Wyler

07

Sergio Sollima

08

Howard Hawks

09

Raoul Walsh

10

Mel Brooks

11

Sam Peckinpah

12

Ang Lee

13

George Roy Hill

14

David Butler

15

Jacques Tourneur

16

John Ford

17

Ken Burns

18

Michael Winterbottom

19

Budd Boetticher

20

Sergio Corbucci

21

James Cruze

22

Kevin Costner

23

Jim Jarmusch

24

George Marshall

25

Sergio Corbucci

26

Sergio Leone

27

King Vidor

28

Anthony Mann

29

Sergio Leone

30

Sergio Leone

31

John Ford

32

Samuel Fuller

33

Buster Keaton

34

Jack Nicholson

35

Sergio Leone

36

Sergio Corbucci

37

Edwin S. Porter

38

Phillip Borsos

39

John Sturges

40

Henry King

41

Charles Swickard

42

Fred Zinnemann

43

Clint Eastwood

44

John Ford

45

Martin Ritt

46

John Ford

47

Samuel Fuller

48

Nicholas Ray

49

Clarence Brown

50

Michael Mann

51

Arthur Penn

52

David Miller

53

Walter Hill

54

Nicholas Ray

55

John Sturges

56

Anthony Mann

57

Anthony Mann

58

John Ford

59

Robert Altman

60

Kelly Reichardt

61

Arthur Penn

62

John Ford

63

Anthony Mann

64

Robert Enrico

65

Sergio Leone

66

Marlon Brando

67

Kevin Costner

68

Howard Hughes

69

Clint Eastwood

70

William A. Wellman

71

Sam Peckinpah

72

Richard Brooks

73

Raoul Walsh

74

Fritz Lang

75

Howard Hawks

76

Budd Boetticher

77

Sam Peckinpah

78

Ang Lee

79

Howard Hawks

80

John Ford

81

Samuel Fuller

82

John Ford

83

Budd Boetticher

84

George Stevens

85

John Ford

86

Monte Hellman

87

Don Siegel

88

Allan Dwan

89

John Ford

90

Jacques Tourneur

91

Ilisa Barbash

92

Raoul Walsh

93

Budd Boetticher

94

Paul Thomas Anderson

95

Tommy Lee Jones

96

Delmer Daves

97

Anthony Mann

98

George Pan Cosmatos

99

Alejandro Jodorowsky

100

William A. Wellman

101

John Huston

102

Henry Hathaway

103

Ethan Coen

104

King Baggot

105

Robert Aldrich

106

Clint Eastwood

107

Robert Aldrich

108

John Ford

109

Jacques Tourneur

110

William Wyler

111

Michael Crichton

112

Sam Peckinpah

113

Anthony Mann

114

Victor Sjöström