As an avid film watcher I try to catch a movie a day, and visit the cinema once week. Luckily in my home town we have a Picturehouse Cinema so we get a good cross section of art house and mainstream films, plus many of the remastered classics doing the rounds these days.
If I had to have a favourite film at the moment it would probably be Cronenberg's Existenz. However, some of my favourite films include…
Existenz – (Cronenberg 1999)
A Matter of Life and Death – (Powell and Pressburger 1946)
Woman of the Dunes (Teshigahara 1964)
The Third Man – (Reed 1949)
Goodfellas – (Scorcese 1990)
Le Notti di Cabiria – (Fellini 1957)
Amadeus – (Forman 1984)
2001: A Space Odyssey – (Kubrick 1968)
Apocalypse Now! (Coppola 1979)
The Big Sleep – (Hawks 1946)
Day of the Jackal (Zinneman 1973)
Rita, Sue and Bob, Too (Clarke 1987)
Rififi (Dassin 1955)
Cube (Natali 1997)
Rocco and His Brothers (Visconti 1960)
Wages of Fear (Clouzot 1953)
The Ninth Gate (Polanski 1999)
Aguirre, Wrath of God (Herzog 1972)
The Fountain (Aronofsky 2006)
O Brother Where Art Thou? (Coen 2000)
Strangers on A Train (Hitchcock 1951)
The Day the Earth Stood Still (Wise 1951)
Blade Runner (Scott 1983)
The Saragossa Manuscript (Has 1965)
Dressed to Kill (De Palma 1980)
Sleuth (Mankiewicz 1972)
Oliver Twist (Lean 1948)
Bob Le Flambeur (Melville 1959)
Cape Fear (Thompson 1962)
Nine Queens (Bielinsky 2000)
Le Trou (Becker 1960)
Favourite Actors
James Cagney
Tony Leung
Joan Greenwood
Ricardo Darín
Robert Newton
Sterling Hayden
Kristin Scott Thomas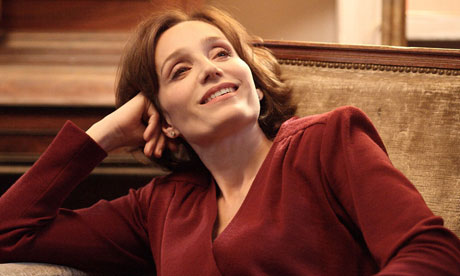 Bruce Willis
Daniel Auteuil
Vincent Cassell
Roger Livesey
My recommendations today are
- Serge Bromberg's L'enfer d'Henri-Georges Clouzot (2009). What a film Inferno could have been.
- Room 237 (2012) Exploring some of the more "out there" theories behind Kubrick's The Shining.
What film am I waiting for?
An adaptation of Arthur C Clarke's Rendezvous With Rama.
It appears David Fincher and Morgan Freeman are still talking about the possibility….