Chilean film chronology
Not a pretty picture. Chile's film industry went into decline in the late 1940s and hundreds of early films are lost or out of circulation. Much of what is available is mediocre at best. Good documentary and fiction work started to emerge in the late 1950s (with 1967-1973 being the key years of New Chilean Cinema) but the 1980s was the most barren period, as filmmakers went into exile after the US-backed 1973 Pinochet coup and support for film dried up. The most internationally famous Chilean directors (Jodorowsky, Ruiz, Guzmán and Amenábar) made their names abroad – Littin, Caiozzi and Wood are probably the best known Chilean directors in Chile itself.
Directors:
Adelqui Migliar (1891-1956)
Pedro Sienna (1893-1972)
Jorge Délano 'Coke' (1895-1980)
Alberto Santana (1897-1966)
Juan Pérez Berrocal (1898-1988)
Eugenio de Liguoro (1899-1952)
José Bohr (1901-1994)
Tito Davison (1912-1985)
Rafael Sánchez (1920-2006)
Patricio Kaulen (b.1921)
Naum Kramarenco (b.1923)
Fernando Balmaceda (1923-2014)
Armando Parot (1923-1995)
Aldo Francia (1923-1996)
Sergio Bravo (b.1927)
Claudio Guzmán (1927-2008)
Alejandro Jodorowsky (b.1929)
Claudio Di Girólamo (b.1929)
Helvio Soto (1930-2001)
Pedro Chaskel (b.1932)
Alvaro Covacevich (b.1933)
Raúl Ruiz (1941-2011)
Patricio Guzmán (b.1941)
Miguel Littin (b.1942)
Rolando Klein (b.1942)
Silvio Caiozzi (b.1944)
Carlos Flores del Pino (b.1944)
Marilú Mallet (b.1944)
Valeria Sarmiento (b.1948)
Claudio Sapiaín (1948-2010)
Sebastián Alarcón (b.1949)
Cristián Sánchez (b.1951)
Ignacio Agüero (b.1952)
Gonzalo Justiniano (b.1955)
Andrés Wood (b.1965)
Alejandro Amenábar (b.1972)
Mainstream Hollywood product remains pretty much dominant in Chilean cinemas, though locally made biopics and sex comedies (often direct tie-ins with talk radio and reality TV) sometimes do find an audience. Young auteurs like Alejandro Fernández Almendras (b.1971), Marcela Said (b.1972), Alicia Scherson (b.1974), Sebastián Lelio [formerly Campos] (b.1974), José Luis Torres Leiva (b.1975), Cristián Jiménez (b.1975), Pablo Larraín (b.1976), Marialy Rivas (b.1976), Matías Bize (b.1979) and Sebastián Silva (b.1979) have started doing interesting work during the last decade which has got some international festival recognition. There are also genre-minded guys like Ernesto Díaz Espinoza (b.1978), Jorge Olguín (b.1977) and Nicolás López (b.1983) who no doubt would like a Hollywood career like Alexander Witt or Oscar-winning cinematographer Claudio Miranda (rather than being another Cristián Galaz, Boris Quercia or Marcelo Ferrari). Partly thanks to the State's improved cultural policies since 2000, production has increased greatly between 1990 and 2013 (15 or so features are currently being made annually rather than just 1 or 2). We shall see.
Chilean films which are well known outside Chile:
The Battle of Chile (1975), The Frontier (1991), Machuca (2004), Tony Manero (2008), The Maid (2009), Nostalgia for the Light (2010), No (2012, the first Chilean film to be nominated for a Best Foreign Language Oscar)
Chilean films which are well known in Chile:
The Big Chamorro Circus (1955), Largo viaje (1967), Three Sad Tigers (1968), Jackal of Nahueltoro (1969), Valparaiso My Love (1969), Little White Dove (1973), Julio Begins in July (1977), Johnny 100 Pesos (1994), Gringuito (1998), The Sentimental Teaser (1999), Coronation (2000), Taxi para tres (2001), Ogu and Mampato in Rapa Nui (2002), Sex with Love (2003), Subterra (2004), Machuca (2004), The King of Idiots (2006), Violeta Went to Heaven (2011), Stefan v/s Kramer (2012)
Actors:
Eugenio Retes (1895-1985)
Antonio Prieto (1926-2011)
Luis Alarcón (b.1930)
Nelson Villagra (b.1937)
Sergio Hernández (b.1957)
Alfredo Castro (b.1962)
Actresses:
Rosita Serrano (1914-1997)
Bélgica Castro (b.1921)
Malú Gatica (1922-1997)
Chela Bon (1930-2010)
Valentina Vargas (b.1964)
Amparo Noguera (b.1965)
Leonor Varela (b.1972)
Writers:
Alberto Blest Gana (1830-1920)
Gabriela Mistral (1889-1957)
Pablo Neruda (1904-1973)
María Luisa Bombal (1910-1980)
Nicanor Parra (b.1914)
José Donoso (1924-1996)
Antonio Skármeta (b.1940)
Ariel Dorfman (b.1942)
Isabel Allende (b.1942)
Luis Sepúlveda (b.1949)
Diamela Eltit (b.1949)
Pedro Lemebel (b.1952)
Roberto Bolaño (1953-2003)
Roberto Ampuero (b.1953)
Alberto Fuguet (b.1964)
Cinematographers:
Héctor Ríos (b.1927)
Jorge Müller Silva (1947-1974)
Claudio Miranda (b.?)
Composers:
Alfonso Leng (1894-1974)
Gustavo Becerra-Schmidt (1925-2010)
Luis Advis (1935-2004)
Sergio Ortega (1938-2003)
Jorge Arriagada (b.1943)
Non-Chilean films of interest:
State of Siege (1972, Costa-Gavras)
The Suns of Easter Island (1972, Pierre Kast)
The Embassy (1973, Marker)
The Tiger Leaps and Kills but It Will Die… It Will Die (1973, Álvarez)
Lördags Chile (1974, Nestler)
It's Raining on Santiago (1974, Soto)
Earthquake in Chile (1975, Sanders-Brahms)
La spirale (1976, Mattelart, Mayoux, Meppiel and Marker)
Cantata de Chile (1976, Solás)
Night Over Chile (1977, Alarcón and Kosarev)
Prisioneros desaparecidos (1979, Castilla)
Missing (1982, Costa-Gavras)
Sweet Country (1987, Kakogiannis)
Terre sacrée (1988, Pacull)
Death and the Maiden (1994, Polanski)
Chili con carne (1999, Gilou)
11 09 01 September 11 (2002, the Loach segment)
The Motorcycle Diaries (2004, Salles)
Pinochet's Last Stand (2006, Curson Smith)
El clavel negro (2007, Faringer)
Quantum of Solace (2008, Forster)
The Dancer and the Thief (2009, Trueba)
Threads:
What's your favorite chilean film?
Movies from Chile and other Latin American Films
Cuales piensan que son las mejores películas chilenas?
Other lists:
pelis chilenas (ainosat​toram)
Cine Chileno (Mauro)
cine chileno (David Germán Ordenes)
EL NOVISIMO CINE CHILENO (Gonzalo Maza)
¡Viva Chile, mierda! (Agustin​a)
Chile (paulo machado)
Cine//B_3: 10 películas chilenas en competencia. (antonin​o)
Chile's Oscar submissions
Altazor for Best Director
More regional lists:
Argentina In Mubi (Lucas Granero)
Cine Peruano and Other Peru Bits (Amy)
Unheard Voices: Cinema of Bolivia (kuxa kanema)
Uruguayan Cinema (Kolar)
América Latina: Los Andes (América Latina The List)
Spanish-language audiovisual resources:
Cine chileno online (Chilean films for free)
Historias del cine chileno (in-depth interviews with Chilean filmmakers)
Gato Vargas and RBN1967 (YouTube channels with many goodies)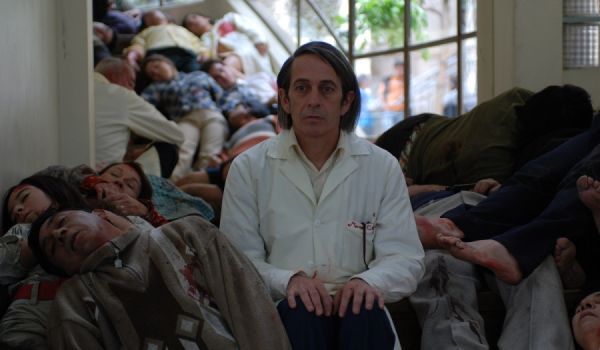 01

Pedro Sienna

02

Jorge Délano

03

Jorge Délano

04

Eugenio de Liguoro

05

Carlos Hugo Christensen

06

Adolfo Berchenko

07

José Bohr

08

José Bohr

09

José Bohr

10

Naum Kramarenco

11

Sergio Bravo

12

Rafael Sánchez

13

Joris Ivens

14

Raúl Ruiz

15

Naum Kramarenco

16

Alvaro Covacevich

17

Patricio Kaulen

18

Raúl Ruiz

19

Germán Becker

20

Alejo Álvarez

21

Humberto Ríos

22

Aldo Francia

23

Miguel Littin

24

Helvio Soto

25

Charles Elsesser

26

Raúl Ruiz

27

Helvio Soto

28

Patricio Kaulen

29

Raúl Ruiz

30

Miguel Littin

31

Guillermo Cahn

32

Raúl Ruiz

33

Miguel Littin

34

Raúl Ruiz

35

Julio Coll

36

Raúl Ruiz

37

Aldo Francia

38

Claudio Guzmán

39

Raúl Ruiz

40

Raúl Ruiz

41

Silvio Caiozzi

42

Raúl Ruiz

43

Percy Matas

44

Patricio Guzmán

45

Sergio Navarro

46

Silvio Caiozzi

47

Cristián Sánchez

48

Carlos Flores del Pino

49

Reynaldo Sepúlveda

50

Ignacio Agüero

51

Marilú Mallet

52

Valeria Sarmiento

53

Cristián Sánchez

54

Antonio Skármeta

55

Claudio Di Girólamo

56

Claudio Di Girólamo

57

Miguel Littin

58

Patricio Guzmán

59

Gonzalo Justiniano

60

Luis R. Vera

61

Pablo Perelman

62

Ignacio Agüero

63

Gonzalo Justiniano

64

Miguel Littin

65

Esteban Schroeder

66

Tom Phillips

67

Silvio Caiozzi

68

Ricardo Larraín

69

Valeria Sarmiento

70

Raúl Ruiz

71

Pablo Perelman

72

Gonzalo Justiniano

73

Leonardo Kocking

74

Ignacio Agüero

75

Gustavo Graef-Marino

76

Miguel Littin

77

Tatiana Gaviola

78

Claudio Sapiaín

79

Patricio Guzmán

80

François-Jacques Ossang

81

Sergio M. Castilla

82

Christine Lucas

83

Cristián Sánchez

84

Ricardo Larraín

85

Nicolás Acuña

86

Silvio Caiozzi

87

Christine Lucas

88

Cristián Galaz

89

Gonzalo Justiniano

90

Juan Vicente Araya

91

Ignacio Agüero

92

Silvio Caiozzi

93

Miguel Littin

94

Juan Carlos Bustamante

95

Ricardo Harrington

96

Jorge Olguín

97

Sergio M. Castilla

98

Andrés Wood

99

Patricio Guzmán

100

Marcela Said

101

Cecilia Barriga

102

Orlando Lübbert

103

Rodrigo Sepúlveda

104

Ricardo Carrasco

105

Carmen Luz Parot

106

Rodrigo Gonçalves

107

Raúl Ruiz

108

Raúl Ruiz

109

Raúl Ruiz

110

Raúl Ruiz

111

Alejandro Rojas

112

Dionisio Perez Galindo

113

Jorge Olguín

114

Gonzalo Justiniano

115

Nacho Argiro

116

Boris Quercia

117

Gonzalo Justiniano

118

Marilú Mallet

119

Matías Bize

120

Andrés Waissbluth

121

Andrés Wood

122

Ignacio Agüero

123

Andrés Racz

124

León Errázuriz

125

Marcelo Ferrari

126

Edgardo Viereck

127

Dauno Tótoro

128

Rodrigo Ortuzar Lynch

129

Raúl Ruiz

130

Nicolás López

131

Patricio Guzmán

132

Silvio Caiozzi

133

Nicolás Acuña

134

Andrés Wood

135

Gregory Cohen

136

Alex Bowen

137

José Luis Torres Leiva

138

Alberto Fuguet

139

Matías Bize

140

Rodrigo Sepúlveda

141

Alicia Scherson

142

Pablo Larraín

143

Oscar Cárdenas Navarro

144

Claudio Dabed

145

Sebastián Lelio

146

Nicolás Acuña

147

Boris Quercia

148

Luis R. Vera

149

Ernesto Díaz Espinoza

150

Ernesto Díaz Espinoza

151

Joaquín Eyzaguirre

152

Roberto Artiagoitía

153

Sebastián Silva

154

Carmen Castillo

155

Raúl Ruiz

156

Alejandro Rojas

157

Raúl Ruiz

158

Ignacio Agüero

159

Cristián Galaz

160

Jorge Olguín

161

Ché Sandoval

162

Cristián Sánchez

163

Sergio Castro San Martín

164

Gonzalo Justiniano

165

Elisa Eliash

166

Andrés Wood

167

José Luis Torres Leiva

168

Nicolás Acuña

169

Sebastián Lelio

170

Pablo Larraín

171

Sebastián Silva

172

Francisco Hervé

173

Cristian Lecaros

174

Colectivo Miope

175

Martín Seeger

176

Valeria Sarmiento

177

Victor Cubillos

178

Cristián Jiménez

179

Miguel Littin

180

Alicia Scherson

181

Pablo Carrera

182

León Errázuriz

183

Ernesto Díaz Espinoza

184

Alejandro Fernández Almendras

185

Raúl Ruiz

186

Peter McPhee

187

Pablo Larraín

188

Sebastián Silva

189

Edwin Oyarce

190

María José San Martín

191

Matías Lira

192

René Ballesteros

193

Camilo Becerra

194

Nicolás López

195

Macarena Aguilo

196

Diego Rojas Sastre

197

Carlo Sánchez

198

Vincent Moon

199

Fabio Power G.M.

200

Marialy Rivas

201

Felipe Egaña

202

Guillermo Ribbeck Sepúlveda

203

Oscar Cárdenas

204

Matías Bize

205

Andrés Wood

206

Julio Jorquera Arriagada

207

Alberto Fuguet

208

Cristóbal Valenzuela Berríos

209

Niles Atallah

210

José Luis Torres Leiva

211

Cristián Jiménez

212

Sebastián Lelio

213

Carolina Adriazola

214

Alejandro Fernández Almendras

215

Marcelo Ferrari

216

Cecilia Vicuña

217

Germán Berger

218

Sebastián Brahm

219

Patricio Guzmán

220

Patricio Guzmán

221

Patricio Guzmán

222

Valeria Sarmiento

223

Luis Hermosilla

224

Amanda Mora Klein

225

Ram Prasad Devineni

226

Cristóbal León

227

Darío Órdenes Duarte

228

Camila Ramírez Arévalo

229

Jairo Boisier Olave

230

Omar Zúñiga Hidalgo

231

Elena Varela López

232

Maite Alberdi

233

Iván Osnovikoff

234

Omar Zúñiga Hidalgo

235

Nicolás Guzmán

236

Cristian Vidal L.

237

Luis Pérez García

238

Benjamín Rojo

239

Carlo Guillermo Proto

240

Manuel Loyola Bahrs

241

Juan Pablo Arias

242

Sebastián Soto-Chacón

243

Renato Pérez Arancibia

244

Oscar Godoy

245

Francisca Fuenzalida

246

Marcela Said

247

Gonzalo Justiniano

248

Matias Cruz

249

Marialy Rivas

250

Sebastián Freund

251

Dominga Sotomayor Castillo

252

Mauricio López Fernández

253

Carlos Klein

254

Omar Zúñiga Hidalgo

255

Elisa Eliash

256

Nicolás López

257

Cristian Soto

258

Ignacio Agüero

259

Jorge Olguín

260

Pablo Larraín

261

Raúl Ruiz

262

Alejandro Jodorowsky

263

Sebastián Silva

264

Sebastián Silva

265

Sebastián Lelio

266

Alicia Scherson

267

Fernando Guzzoni

268

José Luis Torres Leiva

269

Isabel de Ayguavives

270

Marcela Said

271

Ché Sandoval

272

Fernando Lavanderos Montero

273

Moisés Sepúlveda

274

Sebastián Sepúlveda

275

Matías Rojas Valencia

276

Joaquín Cociña

277

Alejandro Fernández Almendras

278

Dominga Sotomayor Castillo

279

Sudabeh Mortezai