Horror: Top Ten 2011
Having produced a weekly Horror chat show (This Week in Horror) for the last year I've watched more Horror films then ever and while it wasn't the strongest year for horror the top three films would have made my list in any year.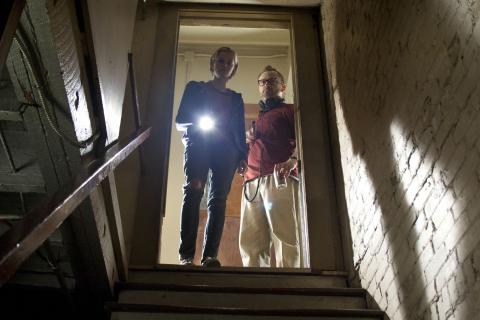 1. The Innkeepers
Funny, sad and scary. How often does this combination appear in post-70's Genre films? Ti West continues to evolve into the most atmospheric of genre directors with a real knack for tension.
2.Insidious
Most fun I had watching a horror film this year- finally a ghost story that isn't found footage. The seance scene was spectacular.
3. Kill list
I was totally blindsided by this film and that feeling is so rare these days. Great performances and such a great slow build towards impending doom. The Tunnel scene is the best horror sequence of the year. Period.
4. Kidnapped
I'm a sucker for style and the long fluid takes completely sucked me in despite the bad English dubbing and needlessly gory conclusion it's a very effective home invasion thriller.
5. I saw the Devil
Interesting role reversal of the cat and mouse game won me over despite being needlessly long.
6. Red State
I was shocked that Kevin Smith could make such a fluid and well directed film. Solid performances and a break-neck pace help to make up for the thin story.
7. Attack The Block
Critters for the 2000's was a throw-back blast.
8. Wake Wood
The most interesting film from the new Hammer studios is certainly flawed but created a compelling tone of grief and despair clearly reminiscent of 'Don't Look Now'. I'll take flawed and original over a polished remake any day.
9. Removal
This one has gone under the radar so far but hopefully will get noticed on DVD, its a real mind-fuck psychodrama that felt like the kind of slow burn character piece that was so common in the 70's. Great chemistry between the leads Mark Kelly and Oz Perkins (Son of Anthony Perkins) and some strong cameos make it a dark stylish thriller worth hunting down.
10. A Horrible Way to Die
So even though the camerawork is distracting this still has two of the best central performances of the year and a really fun spin on the serial killer genre. Bowen does a fantastic job of making us empathize with someone who feels the pain of his actions.
Best Performances: Sara Paxton (The innkeepers) AJ Bowen ( A Horrible Way to die), Michael Smiley (Kill List), Pollyanna McIntosh (The Woman)
Worthy mentions: The Woman, Human Centipede 2, Tucker and Dale vs Evil, The Reef.
Best Book on Horror: Shock Value – How a Few Eccentric Outsiders Gave Us Nightmares, Conquered Hollywood, and Invented Modern Horror
Best Doc: Never Sleep Again : The Elm Street Legacy
Worst Film: Dylan Dog: Dead of Night
Most anticipated for 2012: You're Next!
01

Ti West

02

James Wan

03

Ben Wheatley

04

Miguel Ángel Vivas

05

Kim Jee-woon

06

Kevin Smith

07

Joe Cornish

08

Adam Wingard

09

Nick Simon

10

David Keating