Lost Continent: Cinema of Cameroon
The former French Cameroon and part of British Cameroon merged in 1961 to form the present country. Cameroon has generally enjoyed stability, which has permitted the development of agriculture, roads, and railways, as well as a petroleum industry. Despite movement toward democratic reform, political power remains firmly in the hands of an ethnic oligarchy.
So a handful of filmmakers in Cameroon with good international reputations gained acclaim, but there is little in the way of a formal film production infrastructure. Local skills are available in the country and in the rest of the region. Having both English and French as official languages, filmmakers and technicians from the country have special advantages on the regions larger products. They are surrounded by countries which are either Anglophone or Francophone, hence the Cameroonians are well presented in camera productions all over the region. On screens, however, Cameroonian films are hardly shown at all to the local audience. Foremost because the audience strongly favours Hollywood and French action productions, but another influence also inhibits showing local movies on local screens. Programming in Cameroonian theaters is controlled by European distributors. Cameroonian theater owners have nothing to do with film selection; they simply screen the films supplied to them year-round by the distributor. Theatre owners keep a certain percentage of box-office earnings and send the rest back to the distributor. Programming African films-which are not part of the distributors' package-involves reducing the screenings of pre-programmed films, cutting into distributors' profits and introducing an African filmmaker into the financial equation. Cameroonian theater owners are reluctant to create tension with European distributors on whom they depend so completely.
Cameroon is slowly building a popular mainstream cinema. Based on the recent success of video productions in Nigeria (Nollywood), and Ghana (Ghollywood), Cameroon is following in their footsteps and "Camollywood" may become the next African video industry to take off.
Cameroon has a rich culture with a lot of diversity. Cameroon, often referred to as "Africa in miniature" until now has been known for it's football. The fast growing nature of Cameroon's film industry is pointing to a new era whereby Cameroonians will no longer be identified with football only. Movie directors and producers like Neba Lawrence, Asaba Ferdinand, actors and actresses like Yimbu Emmanuel and Chinepoh Cosson will soon become the Spike Lee, Wills Smith and Whitney Houston of Cameroon. You will soon be having a tough time choosing from Hollywood productions like "The Pursuit of Happyness", Nollywood classics like "Hidden Treasure" and Collywood productions like "Forsaken Rose" all lying together on the shelves of the closest movie store to your home.- Camer film productions.
Here is a look at ten film directors who have helped to shape and form Cameroon's film history.
1.Jean Paul Ngassa
The history of Cameroonian cinema starts in Paris with a documentary by Jean-Paul Ngassa covering the situation of Cameroonian students in France, Aventure en France (1962). This same topic inspired Thérèse Sita Bella, the director of Tom-Tom in Paris (1963). On return to his country, Ngassa started working for the State service producing propaganda films, such as the 1965 film La Grande Case Bamiléké and the 1970 documentary Une nation est née.
Aventure en France, 1962
La Grande Case Bamileke, 1965
Une Nation est Nee, 1970
2.Daniel Kamwa
Kamwa is a prolific actor director and producer and one of the founding fathers of Cameroon cinema. He studied drama in Paris, France, before producing his first film, Boubou-cravate, in 1973. More recently in 1994 he made the film Totor A boy and his turtle provide the main story in this film which alternates between surrealism, comedy and graphically violent drama. The film does contain a very realistic circumcision scene which may be disturbing to some viewers. Mentse is a young boy. After his mother is burned to death in a murder, Mentse goes to a neighboring village where he is adopted. Totor, an adorable turtle, provides much comic action as the villagers fight for him.
Mah Sa-Sah, 2008
Circle of Powers, 1998
Totor, 1994
Notre fille, 1980
Pousse-pousse, 1976
Boubou cravate, 1972
3.Alphonse Beni
One of the most popular film makers and actors during the seventies and eighties was Alphonse Beni. He made several author movies in Cameroon, acted in French erotic comedies and even played a ninja in Godfrey Ho's ninja flick, Ninja: Silent Assassin. He had a genuine fame in African countries during the seventies. He directed several genre pictures such as Cameroon Connection in his native country, most of which were box office successes in Africa. As Cameroonese cinema collapsed in the eighties, he found work in films made in such different places as Italy and Hong Kong.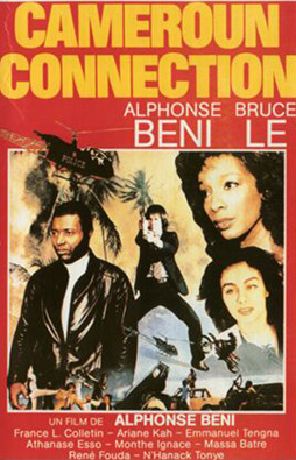 Cameroon Connection, 1985
Coup dur, 1982
Saint voyou, 1980
Anna Makossa, 1980
Danse mon amour, 1979
Les 69 positions, 1976
Les tringleuses, 1974
Un enfant noir, 1973
4.Jean Pierre Dikongue Pippa
Jean-Pierre Dikongué Pipa is a Cameroonian film director and writer. He produced Cameroon's first full-length feature film, Muna-Moto, in 1975. Dikongué Pipa's films deal with the interrelationships between elements of traditional Cameroonian culture and the wider world. Muna Moto is a landmark film in African cinema and is often compared in style to his counterpart in Senegal Ousmane Sembene. It the Grand Prix FESPACO in 1976. Dikongue went on to make many other films including Courte maladie and Badiaga.
Badyaga, 1987
Histoires drôles et drôles de gens, 1983
Music and Music: Super Concert, 1981
Le prix de la liberté, 1978
Muna Moto, 1975
5.Jean Marie Teno
Jean-Marie Teno, Africa's preeminent documentary filmmaker, has been producing and directing films on the colonial and post-colonial history of Africa for over twenty years. Films by Jean-Marie Teno have been honored at festivals worldwide: Berlin, Toronto, Yamagata, Cinema du Reel, Visions du Reel, Amsterdam, Rotterdam, Liepzig, San Francisco, London. In the U.S., many of his films including Africa, je te plumerai; A Trip to the Country; Clando; Chief!; *Alex's Wedding; and The Colonial Misunderstanding, have been broadcast and featured at festivals across the country. Teno has been a guest of the Flaherty Seminar, an artist in residence at the Pacific Film Archive of the University of California, Berkeley, and has lectured at numerous universities. Most recently, he was a visiting artist at Amherst College as a 2007-08 Copeland Fellow.
Sacred Places, 2009
The Colonial Misunderstanding, 2004
Le mariage d'Alex, 2003
A Trip to the Country, 2000
Chief!, 1999
Clando, 1996
La tête dans les nuages, 1994
Afrique, je te plumerai, 1993
L'eau de misère, 1988
De Ouaga à Douala en passant par Paris, 1987
La gifle et la caresse, 1987
Hommage, 1985
6.Bassek Ba Kobhio
Ba Kobhio is one of Cameroon's most exciting film makers working today. In 1990 he made his first feature Sango Malo about the young, arrogant Malo who has come to a small Cameroonian village as a teacher. Since he believes that book learning is unlikely to benefit his students, he shocks the school administrator (and the villagers) by leading his charges out into the bush, teaching them some practical skills in the process and sharing some insights into what it means to be male and female. However, not only is he innovative, but Malo has a gift for alienating everyone in sight: when he fails to observe the proper customs for a bridegroom, his new father-in-law feels that his family has been shamed, and commits suicide. Malo is definitely not the only misguided person in this rare film from Cameroon, but he is surely the most outstanding. Ba Kobhio has completed another two films The Forest, 2003 and Le grand blanc de Lambaréné, 1995.
The Forest, 2003
Le grand blanc de Lambaréné, 1995
Sango Malo, 1990
7.Jean Paul Bekolo
Jean Pierre Bekolo, the noted African film director, was nominated for a British Film Institute award in 1993, for Quartier Mozart (1992). His style is playful, comic, and sardonic. His film, Le complot d'Aristote (1996), started out as the African entry in the British Film Institute's series of films commemorating the centenary of cinema. Part meditation on the trials of African filmmaking, part action movie send-up, part parody of Aristotle's rules, part satire on Africa's preoccupation with itself, this film shows Bekolo to be an "increasingly fearless trickster." The British Film Institute also invited such directors as Bernardo Bertolucci, Stephen Frears, Martin Scorsese, Anne-Marie Mieville & Jean-Luc Godard, and Edgar Reitz. But instead of turning in a respectful documentary, as Martin Scorsese did for the U.S. and Stephan Frears did for Britain, Bekolo rendered a wild hybrid "that is certain to be the most talked about African film of the year 1997." Aristotle's Plot was featured at the Sundance Film Festival in January 1997. Bekolo's films have also appeared at film festivals in England, Ireland, France, India, Israel, Burkina Faso, Canada and throughout the U.S. in New York, Chicago, L.A., Washington, and Philadelphia. At his young age, has made a name for himself teaching his filmmaking style at Duke University 2003, University of North Carolina at Chapel Hill 2001, Virginia Tech 1998.
The Bloodiest, 2005
Le complot d'Aristote, 1996
Quartier Mozart, 1992
8.Eloi Bela Ndzane
Ndzane is a director of the audiovisual production structure of the Archdiocese of Douala, and is one of the most prolific producers in Cameroon. He is a Member of the Board of Directors of Civil Society in audiovisual and photographic arts (SCAAP) and president of the Independent Producers Association of Cameroon (CNS), Bela Ndzana Eloi is the author of such works as My School Day (crossed lives of three children from different classes), The Chekouang (a curiosity to see an African refugee on African soil), the Heirs of Malé Makom (a study of European diseases and witchcraft with traditional plants) and finally A school for the Baka, about a German Christian pastor who has founded a school for pygmies.
My School Day
A School For Beka
the Cheokuang
the Heirs of Male Makom
9.Francis Woukouche
Woukouche is another promising film maker. In 2000 he made his best known film, the documentary Nous ne sommes plus morts. The film is about the Tutsi genocide in Rwanda and follows some of the survivors to see how they live and cope. He has also made several well received fiction films and remains a director for the future.
Nous ne sommes plus morts, 2000
Fragments de vie, 1999
Asientos, 1996
10.Josephine Bertrand
The most widely acclaimed female director is without a doubt Josepine Bertand. She directed several shorts and Fanta (2002) her first full feature movie was premiered at the Carthage film festival.
Fanta, 2002
OTHER NOTABLE CAMEROONIAN FILMS
Tom Tom In Paris, Therese Sita Bella, 1963
Les Coopérants, Arthur Sibata, 1983
Suicides, Jean Claude Tchulien, 1983
Otheo, l'Africain, Olivier Bile, 1998
Génération perdue, M Pounie, 1999
Ces gosses qui bossent, Margaret Foude, 1997
Le balafon du Caméroun, Pie Claude Ngoumou, 1983
La brûlure, Urbain Dia Mokouri , 1982
Mboutoukou, Victor Viyuoh, 2002
Involuntary Gift, Serge Alain Noa, 2008
On the Border of Life, Narcisse Mbarga, 2008
Urban Jungle, Jude Ntsimenkou, 2008
FILMS SET IN OR CO-PRODUCED BY CAMEROON
White Material, Claire Denis, 2009, France
Chocolat, Claire Denis, 1988, France
Bridging the Gap, Katja Draaijer, Corinne van Egeraat, 2008, Holland
One Country Cameroon, Two Different Quartiers, Jon Wettrau, 2007, USA
Je sais, Frank Blaess, 2007, Canada
Before the Sunrise, Fred Amata, 2005, Nigeria
Sisters In Law, Florence Ayisi, Kim Longinotto, 2005, United Kingdom
Shadows In the Forest, Roxanna Amini, Carly Pandza, 2010, USA
FILMS SUBMITTED TO DATABASE
Asientos, Francois Wakoache, 1996
the Bloodiest, Jean Pierre Bekolo, 2005
Quartier Mozart, Jean Pierre Bekolo 1993
Aristotle's Plot, Jean Pierre Bekolo, 1996
Sango Malo, Bassek Ba Kobhio, 1990
Africa I Fleece You, Jean Marie Teno, 1993
Clando, Jean Marie Teno, 1996
Sacred Places, Jean Marie Teno, 2009
Muna Moto, Jean Pierre Dikongue Pipa, 1975
Pousse Pousse, Daniel Kamwa, 1976
Totor, Daniel Kamwa, 1994
01

Florence Ayisi

02

Daniel Kamwa

03

Jean-Pierre Bekolo

04

Jean-Marie Téno

05

Daniel Kamwa

06

Jean-Pierre Bekolo

07

Jean-Marie Téno

08

François Woukoache

09

Jean-Pierre Bekolo

10

Bassek Ba Kobhio

11

Jean-Marie Téno

12

Kouemo Auguste Bernard

13

Christopher Baldi

14

Victor Viyuoh

15

François Woukoache

16

François Woukoache

17

Jean-Marie Téno

18

Jean-Marie Téno

19

Jean-Pierre Dikongue-Pipa

20

Jean-Pierre Dikongue-Pipa

21

Bassek Ba Kobhio

22

Jean-Marie Téno

23

Jean-Marie Téno

24

Jean-Marie Téno

25

Jean-Marie Téno

26

Jean-Marie Téno

27

Jean-Marie Téno

28

Jean-Marie Téno

29

Jean-Marie Téno

30

Daniel Kamwa

31

Daniel Kamwa

32

Idrissou Mora Kpai

33

Jean-Marie Téno

34

Jean-Marie Téno

35

Daniel Kamwa

36

Jean-Pierre Bekolo

37

Lionel Meta

38

Lionel Meta

39

Jean-Pierre Bekolo

40

Jean-Pierre Dikongue-Pipa