"THEY DO NOT EXIST": PALESTINE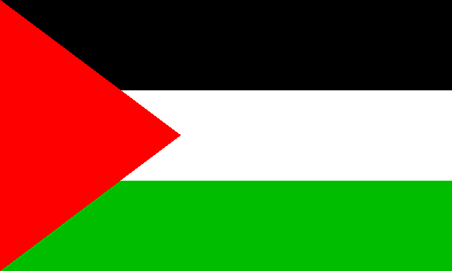 The moon is rising past the cedar,
a woman sings from her window again.
How fresh now taste the mint and water,
how bright shines the iris after rain.
~
Starting from a point of ignorance, i'm using a wikipedia article, which is cursory and- encouragingly- already overtaken by several films from the last few years. This list includes films sympathetic to the Palestinians from other countries, as well as Israel. Unsurprisingly, many included here depict life under and resistance to the ongoing massacres, occupation, ethnic cleansing and what is effectively an apartheid system, as Jimmy Carter, among others, has recognised. The list title quote comes from the Israeli leader Golda Meir, referring to the Palestinians, and a rarely seen film, from 1974 by Mustafa Abu Ali (can be viewed below).
~
"Palestinian cinema is relatively young in comparison to Arab cinema as a whole, many Palestinian movies are made with European and Israeli funding and support. Palestinian movies are not exclusively produced in Arabic and some are made in English, French and Hebrew. It is believed that there have been over 800 films produced about Palestinians, the Israeli-Palestinian conflict, and other related topics.
History
The first period: The beginning, 1935-48
The first Palestinian film to be made is generally believed to be a documentary on King Ibn Saud of Saudi Arabia´s visit in 1935 to Palestine, made by Ibrahim Hassan Sirhan (Serhan), based in Jaffa. Sirhan followed the King and around Palestine, "from Lod to Jaffa and from Jaffa to Tel Aviv". The result was a silent movie that was presented at the Nabi Rubin festivals. Following this documentary, Sirhan joined Jamal al-Asphar to produce a 45-minute film called The Realized Dreams, aiming to "promote the orphans´cause". Sirhan and al-Asphar also produced a documentary about Ahmad Hilmi Pasha, a member of the Higher Arab Commission. In 1945 Sirhan established the "Arab Film Company" production studio together with Ahmad Hilmi al-Kilani. The company launched the feature film Holiday Eve, which was followed by preparations for the next film A Storm at Home. The films themselves were lost in 1948, when Sirhan had to flee Jaffa after the town was bombarded.
The second period: The epoch of silence, 1948-67
The Naqba of 1948 had a devastating effect on the Palestinian society, including its nascent film industry. Cinematic endeavours, requiring infrastructure, professional crews, and finance, nearly ceased for two decades. Individual Palestinians participated in the film-production of neighbouring countries. It is reported that Sirhan was involved with the production of the first Jordanian feature film, The Struggle in Jarash, (1957), and another Palestinian, Abdallah Ka´wash, directed the second Jordanian feature film, My Homeland, My Love, in 1964.
The third period: Cinema in exile, 1968-82
After 1967 Palestinian cinema was founded under the auspices of the PLO, funded by Fatah and other Palestinian organisations like PFLP and DFLP. More than 60 films were made in this period, mostly documentaries. The first film festival dedicated to Palestinian films was held in Baghdad in 1973, and Baghdad also hosted the next two Palestinian film festivals, in 1976 and 1980. Mustafa Abu Ali was one of the early Palestinian film directors, and he helped found the Palestinian Cinema Association in Beirut in 1973. Only one dramatic movie was made during the period, namely The return to Haifa in 1982, an adaptation of a short novel by Ghassan Kanafani.
The fourth period: The return home, from 1980 to the present
The different organisations set up archives for Palestinian films. The largest such archive was run by PLO's Film Foundation/Palestinian Film Unit. In 1982, when the PLO was forced out of Beirut, the archive was in storage (in the Red Crescenty Hospital), from where it "disappeared" under circumstances which are still unclear.
The 1996 drama/comedy Chronicle of a Disappearance received international critical acclaim, and it became the first Palestinian movie to receive national release in the United States. A break-out film for its genre, it won a "New Director's Prize" at the Seattle International Film Festival and a "Luigi De Laurentiis Award" at the Venice Film Festival.
Notable film directors in this period are especially:
Michel Khleifi
Rashid Masharawi
Ali Nassar
Elia Suleiman
An international effort was launched in 2008 to reopen Cinema Jenin, a cinema located in the Jenin Refugee Camp.
In 2008, three Palestinian feature films and an estimated eight shorts were completed, more than ever before.
In 2010, Hamas, the governing authority in the Gaza Strip, announced the completion of a new film. Titled The Great Liberation, the film depicts the destruction of Israel by Palestinians.
Currently in the Gaza Strip, all film projects must be approved by Hamas' Culture Ministry before they can be screened in public. Independent filmmakers have claimed that the Culture Ministry cracks down on content not conforming to Hamas edicts. In a notable 2010 case, Hamas banned the short film Something Sweet, directed by Khalil al-Muzzayen, which was submitted at the Cannes Film Festival. Hamas banned it from being shown locally due to a four-second scene where a woman is shown with her hair uncovered. In 2011, a film festival hosted by the Gaza Women's Affairs Center which included documentaries and fictional pieces on women's issues, but the Culture Ministry censored numerous scenes. One film had to remove a scene where a woman lowered one shoulder of her dress, and another had to remove a scene of a man swearing.

Divine Intervention
Notable directors
Hany Abu-Assad
Scandar Copti
Mustafa Abu Ali
Mohammed Bakri
Tarek Al Eryan
Annemarie Jacir
Michel Khleifi
Rashid Masharawi
Mai Masri
Montaser Marai
Rosalind Nashashibi
Ali Nassar
Mohamad Al-Sawalma
Notable films
The Alhamra Cinema, Jaffa, 1937, bombed December 1947,
They Don't Exist (1974)
Wedding in Galilee (1987) (International Critics Prize, Cannes),
Chronicle of a Disappearance (1996) ("Luigi De Laurentiis" Award for a Debut Film at the 1996 Venice Film Festival)
Divine Intervention (2002).
Olive Harvest, The (2003)
Arna's Children (2003)
Women in Struggle (2004)
Paradise Now. (2006) (Golden Globe for Best Foreign Language Film winner)
The Color of Olives (2006)
Iron Wall (2006)
Goal Dreams (2006)
First Picture (2006)
Maria's Grotto (2007) (Silver Muhr Award, Dubai International Film Festival)
Salt of this Sea (2008)
Taste the Revolution (2008)
The View (2008) (Best Short Film ($75,000) , Middle East International Film Festival)
Till When? (2008) (Officially selected in Cergy Pontoise Film Festival in Paris,Honorable Mention in Digicon 6 Festival in Tokyo)
cup final (1991) takes place during the Israeli invasion of Lebanon.
Notable film festivals
Boston Palestine Film Festival
Chicago Palestine Film Festival
London Palestine Film Festival
Al-Kasaba International Film Festival, in Ramallah, West Bank
Reading
Rapfogel, Jared: A Report of Dreams of a Nation – A Palestinian Film Festival, January 24-27, 2003, Senses of Cinema.
Palestinian film festival planned, 18 May, 2004, BBC
Dabashi, Hamid: For a Fistful of Dust: A Passage to Palestine, 23 – 29 September 2004, Al-Ahram
Film Jan. 14, 2006, IMEU,
Kemp, Rebecca: "Interviews with Palestinian Filmmakers", 6 Degrees Film, Fall 2006
Rastegar, Kamran, "Palestine Only Exists in Cinema", Bidoun Magazine, Issue 8, Vol. 1, Fall 2006
Provan, Alexander (February 2007). "Requesting Permission to Narrate: Dreams of a Nation: On Palestinian Cinema".
Annemarie Jacir: Coming Home: Palestinian Cinema, 27 February 2007, The Electronic Intifada
Khaled Elayya: A Brief History of Palestinian Cinema, This week in Palestine
Khadija Habshneh: Palestinian Revolution Cinema, This week in Palestine
Nana Asfour: Reclaiming Palestine, One Film at a Time, Cineaste Magazine, Vol. XXXIV, No. 3, Summer 2009
External links
Dreams of a Nation, an independent project founded to provide resources and information on Palestinian cinema. Based at Columbia University, USA.
Palestinian Film: News and Reviews at IMEU.net
Review of a film that explores the story of the lost archives of the PLO film unit
History and Trends in Palestinian Filmmaking
Literature
Dabashi, Hamid, and Said, Edward (preface) (2006): Dreams Of A Nation: On Palestinian Cinema, Verso Books, London, United Kingdom, ISBN 1844670880
Gertz, Nurith; Khleifi, George (2008): Palestinian Cinema: Landscape, Trauma, and Memory, Indiana University Press. ISBN 0253220076
Hassan al-Odat: The Cinema and the Palestinian Cause. Dar al-Sawar: Acre, 1989.
Adnan Madanat, "Palestinian Cinema," Encyclopedia Palestine, Vol. II.
Bashar Ibrahim, The Palestinian Cinema in the Twentieth Century. Syrian Education Ministry – Public Cinema Institution.
~
FLORA/FAUNA
Other living things are destroyed by war and bulldozers. A useful site here

Palestine Sunbird
FOOD
Yum yum
~
.
They Do Not Exist
Hourray! The UN has now recognised Palestine as the world's 194th state. Yes, Palestine does exist.
Not on Mubi:
Gaza Calling
The list below is in year order of films on mubi, many of which i've not seen, not my own selection or favourites.
01

Tewfik Saleh

02

Mustafa Abu Ali

03

Bashir Safiya

04

Mohamed Malas

05

Michel Khleifi

06

Michel Khleifi

07

Michel Khleifi

08

Rashid Masharawi

09

Michel Khleifi

10

Elia Suleiman

11

Rashid Masharawi

12

Hany Abu-Assad

13

James Longley

14

Elia Suleiman

15

Tony Stark

16

Annemarie Jacir

17

Rashid Masharawi

18

Mohammed Bakri

19

Hanna Elias

20

Susan Youssef

21

Michel Khleifi

22

Ayreen Anastas

23

Yousry Nasrallah

24

Avi Mograbi

25

Hany Abu-Assad

26

Rashid Masharawi

27

Lina Makboul

28

Nida Sinnokrot

29

Maya Sanbar

30

Eran Riklis

31

Annemarie Jacir

32

Rashid Masharawi

33

Elia Suleiman

34

Julia Bacha

35

Alberto Arce

36

Neta Efrony

37

Sameh Zoabi

38

Dahna Abourahme

39

Scandar Copti

40

Nabil Ayouch

41

Rashid Al-Marri

42

Maysaloun Hamoud

43

Zübeyr Sasmaz

44

Tawfik Abu Wael

45

Yoav Gross

46

Shlomi Elkabetz

47

Thierry Binisti

48

Susan Youssef

49

Ahmad Habash

50

Ziad Doueiri

51

Emad Burnat

52

Mahdi Fleifel

53

Yariv Mozer

54

Suha Araj

55

Annemarie Jacir

56

Hany Abu-Assad

57

Khaled Jarrar

58

Mais Darwazah

59

Rashid Masharawi

60

Connie Field

61

Basma Alsharif